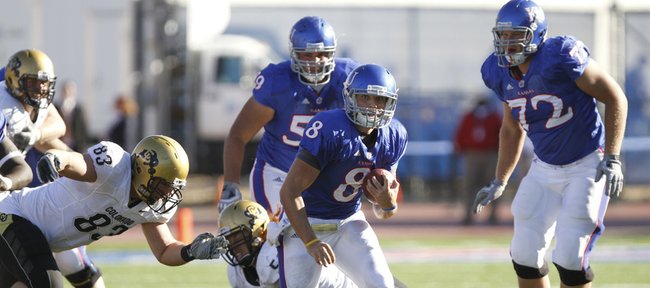 When junior quarterback Quinn Mecham arrived on the Kansas University campus, he was a quiet guy with a loud resume.
Through the first seven games of the 2010 season, the Snow College transfer remained in the background, on a path to red-shirting and packed only with the potential to become the odd man out in KU's quarterback rotation.
However, three weeks ago against Texas A&M;, KU's top two QBs — starter Jordan Webb and backup Kale Pick — were injured, and Mecham was tossed onto the field. The red shirt was toast, the Jayhawks were down to their third quarterback, and all hope seemed to be lost.
Good thing for Kansas, Mecham's self-discipline and devotion remained strong all along.
"I've always said this to a quarterback, and it's held true," offensive coordinator Chuck Long said. "If you work hard enough and you have a passion for this position, it will pay off for you someday, somehow. It's held true in all my years, with any quarterback who's worked hard. (Mecham has) certainly displayed it all the way through, and look where he is today. It's paid off for him."
Last week, KU coach Turner Gill delayed making a decision on a starting quarterback. He didn't reveal his choice until gameday. This week, Gill wasted no time, naming Mecham the starter the matchup with Nebraska — 6 p.m. Saturday in Lincoln, Neb. — at his weekly news conference Tuesday.
"At this point in time, I think he has earned the starting spot," Gill said. "His poise has been very high. He has been able to execute our offense. He has made one or two mistakes, but I really like the way that our players have responded (to him). He is not going to be a flashy guy on the field, but he is going to be productive. I think he will get better as he continues to play and get more reps."
Long took his pat on the back for his quarterback one step further.
"Just what he's done the last two games as far as poise, confidence and being unflappable, he's as good as I've coached," Long said. "And that's saying a lot. I've coached some really good players."
Included among those productive passers Long spoke about are 2003 Heisman Trophy winner Jason White and 2000 Heisman Trophy finalist Josh Heupel, both of Oklahoma. Long was OU's quarterbacks coach in 2000 and the offensive coordinator in 2003.
It's not just Mecham's coaches who have appreciated what the 6-foot-2, 207-pound righty has done to lift the KU offense. His teammates also have sung his praises.
"Coming in, walking into the quarterback room, 10 weeks ago he saw his name on the bottom of the list, but he kept his head high," sophomore receiver Bradley McDougald said of Mecham. "He didn't take any animosity towards anyone. He came in and worked every day, took coaching very well, and when his number was called, he went out and executed to the best of his ability."
Colorado comeback still fresh
Though the Jayhawks have shifted their focus to this week's game, many were happy to relive last week's record-setting, comeback victory against Colorado in which KU scored 35 fourth-quarter points to win, 52-45.
"We'll never forget this game," Long said. "This is the greatest comeback I've ever been involved in as a player and a coach. I think there's 115 years of offensive experience (on the KU coaching staff), and I asked them all, I said, 'Hey, have any of you guys been involved in a comeback like this?' and none of them had."
Added junior tight end Tim Biere: "It should be a turning point in this program. We realize what coach Gill is teaching us is working, and we can play like we did in the fourth quarter."
Biere familiar with Gill long ago
Speaking of Biere, the Omaha, Neb., native recalled Tuesday his memories of hearing Turner Gill stories throughout his childhood.
"Growing up in Nebraska, I'd heard of the guy before," Biere said. "They play highlights of old Nebraska games all the time so you definitely knew who Turner Gill was if you grew up in Nebraska."
Saturday, Gill, a standout quarterback at Nebraska in the early 1980s, will make his first trip to Lincoln, Neb., as a visitor, something many Jayhawks said they believed would be a moving experience for the former NU star. Despite the flood of emotions Gill's sure to encounter, his current players said their coach's focus has been on finding a way to win the game.
"I expect him to be level-headed like he is with everything," Biere said. "I'm sure he'll have some extra motivation to beat these guys, going home like that. But I'm sure we won't see it out of him."
Gill and former Nebraska coach Tom Osborne — now the athletic director at NU — have remained friends throughout the past three decades. Gill said Osborne called and left a voice message on Monday but that he wasn't sure if the two would speak before Saturday's game.
Injury update
Gill said sophomore safety Lubbock Smith was doubtful for Saturday's game because of a concussion.
Smith, who ranks fourth on the team with 48 tackles, was left off KU's most recent depth chart. In his place was former starter Olaitan Oguntodu, a senior who was third on the team in tackles (42) prior to being moved to linebacker two weeks ago.
KU comeback costly for Hawkins
KU's 28-point, fourth-quarter comeback victory against Colorado last weekend proved to be the final game in the Colorado coaching career of Dan Hawkins.
Hawkins, who arrived in Boulder, Colo., in December of 2005 after a highly successful run at Boise State, was fired by CU on Tuesday. He guided the Buffs to a 19-39 record in five seasons.
"Really, ending the negativity is what it's all about," CU athletic director Mike Bohn told The Denver Post.
Colorado assistant coach Brian Cabral will serve as the team's interim head coach for the remainder of the season.