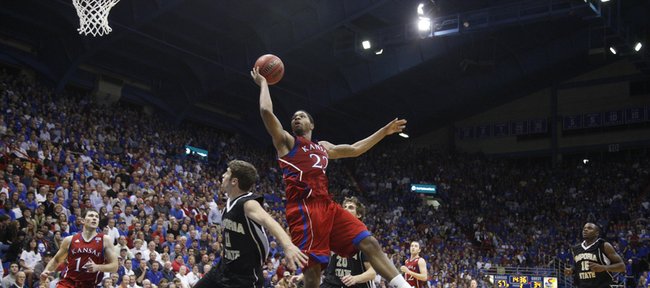 Tharpe to sign
Naadir Tharpe, a 6-foot senior point guard from Brewster Academy in Wolfeboro, Mass., said Tuesday he will sign a national letter-of-intent with Kansas University today.
It's the first day of the week-long early signing period.
Tharpe orally committed to KU on Oct. 13. He chose the Jayhawks over Oklahoma, Minnesota, St. John's, UCLA, North Carolina State and others.
Tharpe averaged 13 points and six assists a game last season for 35-5 national prep champion Brewster, then had a big spring and summer competing for the New England Playaz AAU team.
Originally from Worcester, Mass., Tharpe was a standout at St. Peter-Marian High before heading to Brewster two years ago.
KU discovered him while recruiting two of the top players in the Class of 2012 — New England Playaz' Kaleb Tarczewski, a 7-foot center, and Alex Murphy, a 6-8 forward, who are ranked Nos. 13 and 11 respectively. Tharpe is rated No. 91 in the Class of 2011.
KU in the early period is also hoping to land Ben McLemore, 6-5 senior from Oak Hill Academy in Mouth of Wilson, Va. McLemore, who is Rivals.com's No. 17-rated player, has a final two of KU and Missouri. As of Tuesday, McLemore had still not made a decision. Most recruiting analysts believe he's leaning toward KU.
Teahan sits
KU senior guard Conner Teahan did not play in KU's second and final exhibition game. It's expected he will red-shirt the season and extend his career through 2011-12. The finance major plans to get an MBA.
"It may be 60-40 probably as far as red-shirting," Teahan said. "There are probably more benefits for me to do that."
Releford nets dozen
Travis Releford, who red-shirted last year, had 12 points off 5-of-6 shooting.
"Coach said take open shots, don't try to force anything and create for others, so that's what I was trying to do," Releford said.
Withey plays
Jeff Withey, who had surgery in September to repair a broken bone in his foot, played three minutes.
Coach says …
KU coach Bill Self on the game: "We had some really good possessions defensively where we rebounded the ball decent. We also had some really poor possessions defensively. Offensively, I thought the ball stuck more than it did the other night. We don't guard as a team like we should. I don't know if there is near enough pride in that regard with our team. There were some bright spots. I thought Tyshawn Taylor played well. Mario (Little) played decent in the second half after struggling in the first half. Thomas (Robinson) did some good things. Overall, it was just kind of a mediocre performance. Everybody just played OK, I don't think anybody was exceptional."
He added: "The two guys we know can play and impact the game are Brady (Morningstar) and Tyrel (Reed) and they're not impacting the game either with shooting or defense. We will get there. The pieces just don't quite fit. I'm not sure all the pieces fit for any team this early in the season. We're fine, but there are big steps that need to be taken and we need to take them pretty soon because we start for real on Friday."
Stats, facts
Marcus Morris left the game with nine minutes left after taking a hard shot to the groin area. He was fine after some recovery time on the bench . ... KU has won 37 straight exhibition games dating to 1995 when KU lost three games to teams in France. ... Self's KU teams are 23-0 in exhibitions. ... KU wore crimson uniforms for the first time since the Alcorn State game last season (Dec. 2). ... In KU's two exhibition wins this season, the team shot 67-for-75 from the free-throw line (89.3 percent), including 35-for-40 against Emporia State. The 35 free throws made would be the most by a Jayhawk team since Feb. 9, 2008, when the team recorded 36 in a game against Baylor. ... Tyshawn Taylor, who had his fingers taped in response to a dislocated right ring finger, had six assists, which would have been his best total since he recorded six against Missouri in last season's finale. ... Marcus Morris is 15-for-15 from the line this preseason.