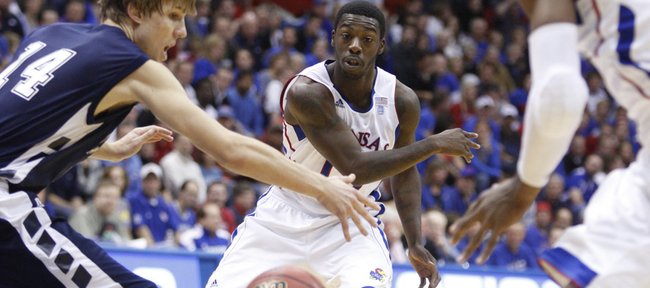 Kansas University basketball coach Bill Self, who is known to mix and match all sorts of combinations at practice, recently played lightning-quick Josh Selby, Elijah Johnson and Tyshawn Taylor on the same team — at the same time.
"Coach said he wanted to see what it looked like. We ran the table — up and down, back and forth, up and down the whole time," Johnson, KU's insanely athletic sophomore combo guard, said Monday.
Because the NCAA's snail-paced investigation into the amateur status of freshman point guard Selby continues ... Self cannot use that small lineup in today's 7 p.m home exhibition game against Emporia State.
If Self wishes to do so, however, he could employ a threesome that's similarly speedy — at least in the 6-foot-4, 195-pound Johnson's eyes.
"Tyrel moves just like Josh, little do people know. He just doesn't get credit because they (fans) say, 'He's a white boy,''' Johnson said with a laugh, referring to 6-3 senior Tyrel Reed. "Tyrel can move. Tyrel is pretty athletic. He can do a lot of stuff that I can't even do (athletically)," Johnson added.
Johnson has been asked to play a lot of lead guard at practice as Self prepares for the possibility of going without Selby for what could be an extended period of time.
"The thing that concerns me about Elijah is that he is so careless with the ball. Either we need to get him off the ball or he needs to take better care of it," Self said. "We have a whole bunch of combo guards, which is good, but I really wish there would be somebody that would be more of a consistent handler back there."
Johnson has been trying his best to impress his boss.
"I just feel like he's testing me every day to see how much he can trust me, putting me in different situations, putting me in situations that's made for me to fail most of the time," Johnson said.
"He's trying to see how you react in those situations because it might happen in the season where you've got your back up against the wall. He wants to know, if there's pressure all around me, will I fold or will I play?"
Johnson was asked to pinpoint situations where he's made to fail.
"Putting me on the Red Team, which is basically the B team. Trying to have me run the show when you have the starting five on Blue and just have us run up and down the court, try to kill us, try to kick our butt, 10 minutes non-stop, no out of bounds, no fouls, no nothing," Johnson explained. "Just play all out and see what type of demeanor I have during the process. Not before or after, but during, when it's the most frustrating for me."
Senior Reed says he's noticed the pushing of Johnson at practice.
"Coach Self tests everybody in different ways. I think he's testing Elijah and Elijah has been responding well," Reed said, "getting on him and wanting him to do well. Once a coach stops coaching you is when they don't care about you any more. Definitely he cares about Elijah. We all do. He's going to be a good player."
Overall, Johnson relishes running the offense.
"There's more control you have over the whole game," he said. "You can control most of the tempo on the court."
Johnson scored two points off 1-of-6 shooting (0-for-4 threes) with two assists, two turnovers, two rebounds and a steal in 20 minutes in KU's 92-62 exhibition opening victory over Washburn last Tuesday.
"I felt that was the first game jitters. I can shoot the ball. Everybody knows I can shoot the ball," Johnson said. "It wasn't falling. Everything felt good. I looked at it (shot) on tape. It looked good. It wouldn't fall for me. I got in the gym and put up more shots. I felt the rhythm again, so we'll see what happens tomorrow."
It's KU's second and final exhibition game. Season opener is against Longwood at 7 p.m., Friday, in Allen Fieldhouse.
More like this story on KUsports.com