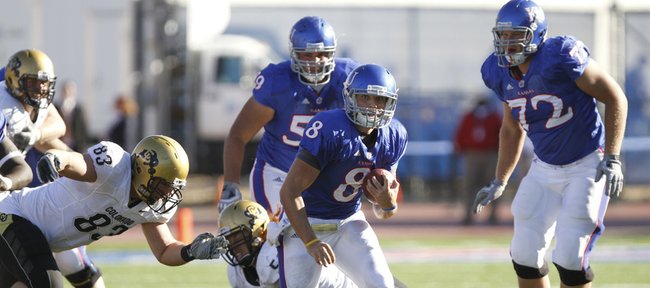 Kansas University wide receiver Johnathan Wilson admitted after Saturday's wild, 52-45 football victory against Colorado that he had no idea what to expect from junior quarterback Quinn Mecham after Mecham tossed his second interception of the first half with 4:58 to play in the second quarter.
"After the two picks, I was like, 'Oh, man,'" Wilson said. "I'd never seen him in that position, so I didn't know how he was gonna react. But he really showed no weakness, and he just bounced back and made plays."
That's putting it mildly. After completing 11 of 16 passes in the first half, with two interceptions and one touchdown, Mecham was lights-out in the second half. He finished the game 23-of-28 through the air for 252 yards and two touchdowns. He completed all 12 of his passes in the second half, including three big-time completions on KU's game-tying and game-winning drives.
"You just use the term, 'He got hot,'" KU coach Turner Gill said. "That's what happened. I think part of it is (offensive coordinator) Chuck Long getting to know him better, and I think he gets into a rhythm."
One of the most fantastic things about Mecham's big day was that it almost didn't happen. After watching his junior QB toss his second pick of the day — both by underthrowing open receivers — Gill said he contemplated switching to Jordan Webb or Kale Pick.
"Oh, we thought about it," Gill said. "(Mecham) was doing things right, he just wasn't making the physical plays. We thought that he was still doing some things that we wanted to get done, and we just said, 'Hey, let's stick with him.' You gotta make some decisions, and I think Chuck (Long) and I made a good one in sticking with him."
Mecham agreed.
"It's huge," he said. "You always wanna have that opportunity to prove yourself, especially after mistakes."
In two games as KU's starter, Mecham has completed 45 of 61 passes for 401 yards, three TDs and three interceptions. Though Gill certainly would like to the interception total to be lower, he has been thrilled with Mecham's production.
KU competed in both games Mecham started, and the junior-college transfer's completion percentage of 74 percent clearly has given the KU offense a lift.
However, despite Mecham's productive debut, Gill was not quite ready to name him the team's permanent starting quarterback.
"We're still evaluating," Gill said. "We'll talk about it more (today), and we may make a decision early, and we may not. But we'll take it another day or two and discuss that more."
Mecham's more worried about the big picture than anything else.
"It'll definitely be interesting to see," he said Saturday, asked if he thought he'd be KU's starter Saturday at Nebraska. "But I think the most important part is to try to help the team's success and try to finish up these last three games with some wins."
FOX to show KU comeback
FOX Sports Kansas City and FOX Sports Midwest have decided to broadcast a one-hour version of KU's record-setting comeback against Colorado this week.
The first showing will be at midnight Wednesday, and the second will be at 1:30 p.m. Friday, both as part of FOX Sports Net's "Big 12 No Huddle" series.
Kansas overcame a 28-point fourth-quarter deficit with 35 points in the final 11 minutes. The victory was the largest deficit overcome in KU history, and, in addition to being a new school record for points in a single quarter, the 35 fourth-quarter points were the second-most scored in a fourth quarter to win a game in NCAA history.