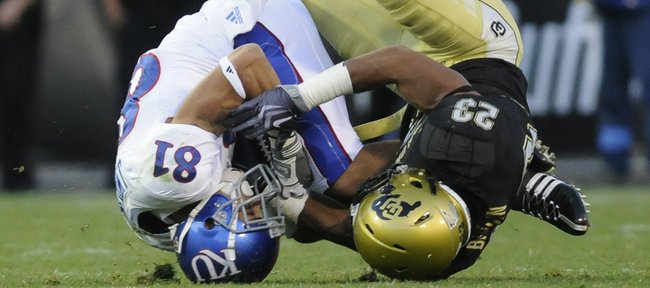 After rattling off five victories in a row to open the 2009 season, the Kansas University football team suffered its first hiccup in Game No. 6 at Colorado.
When it comes to Big 12 play, the Jayhawks have been holding their breath ever since.
As the Jayhawks (2-6 overall and 0-4 in Big 12 play) welcome Colorado (3-5, 0-4) to town for a 1 p.m. kickoff Saturday, at least part of the focus will be on snapping the program's 11-game conference losing skid.
Senior offensive lineman Brad Thorson said after practice Wednesday that revenge would play only a small part in KU's efforts this week. Ending the streak is the idea. And it doesn't really matter who they're playing when they snap it.
"Yes, exactly," Thorson said. "You get into these situations and every game becomes its own issue. I think we're confident in the fact that we're gonna go out there and it's just gonna be a battle all day. And it'd be great to end this. We're gonna say that every week."
Thorson was not alone in thinking back to last year's loss to Colorado this week.
"Of course I've thought about it," senior running back Angus Quigley said. "I was like, 'Man, we were 5-0 when we went in (there), and they beat us. It's been pretty much a rough go in the conference since then."
Like Quigley, senior defensive lineman Jake Laptad said the memories — good and bad — of last year's game were not relevant this weekend.
"We're not looking at it as they beat us last year," Laptad said. "We're looking at it as this is this year and we gotta go out there and get a win for this year's team."
The only thing that is relevant is that the Jayhawks believe they can win this weekend. While KU is hoping to break its 11-game Big 12 losing streak, Colorado is treating Saturday's game against the struggling Jayhawks as a prime opportunity to snap its own 15-game road losing streak, which includes 11 straight road losses in conference play.
"It's a big opportunity, and I'm sure they're thinking the same thing," Quigley said. "They're coming in here, and they've watched film, and we haven't looked so good ourselves. It's just one of the things where they're going to come out to play, and we have to come out to play, too, because they're going to be hungry for a win the same way we are."
Still no starter at QB
Kansas University football coach Turner Gill said after Wednesday's practice that the Jayhawks still had not identified their starting quarterback for Saturday's game and that the team may not know the answer until as late as Friday.
Gill's options include junior Quinn Mecham, who started last week against Iowa State and was named KU's offensive player of the week; red-shirt freshman Jordan Webb, the team's No. 1 quarterback when healthy; and sophomore Kale Pick, the Week 1 starter turned second-stringer, who missed last week with a concussion.
Gill said all three had practiced on and off throughout the week.
"We're still evaluating," Gill said. "We'll probably make a decision here Thursday or Friday. All three guys are in the mix."
Though many Jayhawks believe they would benefit from knowing who their quarterback will be, none of them seemed worried about the delay.
"We always work with them in practice, and we get a feel for all of them by the end of the week," wide receiver Erick McGriff said.
Added senior running back Angus Quigley: "It doesn't matter now, because they've all started."
Thorson takes year in stride
After playing all 12 games of the 2009 season as an offensive guard — eight at left guard and four at right — KU senior Brad Thorson has spent most of 2010 on the outside, starting all eight games at right tackle.
In addition to playing a new position, Thorson spent the early part of the season recovering from a foot injury that forced him to miss the final few weeks of preseason practice.
Despite the uphill climb, Thorson has not made any excuses and said he has enjoyed each challenge.
"It hasn't been easy," he said. "But football is about adversity and responding to it. I didn't play healthy last year so it's not something I'm not accustomed to. If this game's taught me anything it's that there's no time to cry because the next play is coming."
Though he seems to be a more natural fit at guard, Thorson said adjusting to the new position has made for some memorable moments.
"It's been fun playing tackle," he said. "Because I've got to see a lot of great (defensive) ends. If I can be proud of one thing about my senior season it's that I'm playing against the best that the Big 12's got to offer."
Thorson said he owed his positive attitude to his ability to live for the moment.
"When I look back, I don't want to have regrets about my season," he said. "So I'm not gonna look at anything I'm doing with, 'I wish I was here,' 'I wish this had changed.' Nothing we can do.
"Among the negatives that are going on, and they're easy to cover, easy to talk about, inside the building we like to look at what's going well, what are we doing right. We acknowledge the negatives. We acknowledge that we're thin on the offensive line, that guys may not be playing their natural position. But that's college football; you figure those things out and you go with it."
Thorson, 6-foot-5, 310 pounds, said he'd take the same approach even if the coaches asked him to line up in KU's backfield.
"That'd be interesting," he said. "I've always thought it would be fun to run the ball, but some of the hits those guys take, when they're, like, head down and going through the line, some of that stuff I don't know if I could handle. But coach (Reggie) Mitchell could get me ready to run the ball. Just give me a week."
Last hurrah with Colorado
Saturday's game against Colorado will mark the final game between the Jayhawks and Buffs as members of the Big 12 Conference.
Colorado announced this summer that it would leave the Big 12 next season to join the Pac-10. Colorado will be joined by Nebraska — which is headed for the Big Ten — in departing the Big 12 next season.
Since Nebraska is the next game on the Jayhawks' schedule — KU and NU will hook up Nov. 13 in Lincoln, Neb. — the Jayhawks will face the conference's two turncoats in back-to-back weeks.
Despite the matchup with the Huskers looming, Thorson said KU's emphasis this week was on upending Colorado, not looking ahead to Nebraska.
"You can't," Thorson said. "Not where we are right now. We gotta (focus) with everything we've got on Colorado. We need to start with one win this week and carry it over. We're gonna try and do as many positive things in a row as we can."
Colorado leads the all-time series between the Buffs and Jayhawks, 42-24-3. That mark includes a 24-9 record in Boulder, Colo., a 17-15-3 clip in Lawrence and a 1-0 record in Denver.