Oklahoma City — Baylor shortstop Landis Ware hit a two-run homer as part of a three-run sixth inning, which proved to be the difference in the Bears' 6-3 triumph over Kansas University in the Big 12 Baseball Championships on Saturday at Bricktown Ballpark.
Document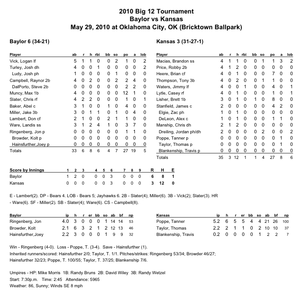 The loss was KU's sixth straight overall and third in three games in the Big 12 tourney. Kansas fell to 31-27-1, while Baylor moved to 34-21 overall and 3-0 in the tournament.
The Bears will face Texas A&M; in the title game at 1 p.m. today.
Senior Robby Price, junior Tony Thompson and sophomore Chris Manship each collected a pair of base hits for the Jayhawks.
Baylor broke out to a 6-0 lead on the strength of Ware's two hits and four RBIs, including a two-run homer to greet relief pitcher Thomas Taylor in the top of the sixth.
In the bottom half of the inning, KU came back with three runs to cut the deficit in half. The Jayhawks collected four straight singles, including one by Price with men on first and second, which brought home a pair of runs after Baylor's Don Lambert misplayed the ball in center field.
The Jayhawks tacked on another run when Jimmy Waters grounded into a fielder's choice with Price on third base to make it a 6-3 game.
However, KU could not close the deficit any further despite putting men on in all of the final three innings.
"I felt like we swung the bat well, and in some situations we had guys running in scoring position today," Thompson said. "When you hit it hard right at a guy, it takes a little wind out of the sails, but I think we still battled pretty hard today. We had our opportunities and just couldn't come through when we needed to."
The Jayhawks outhit the Bears 12-8, but hit into four double plays, which tied a Big 12 Championship record. KU brought the tying run to the plate in both the seventh and the ninth, but Baylor pitcher Joey Hainsfurther earned his first save of the season by stranding four base-runners.
More like this story on KUsports.com