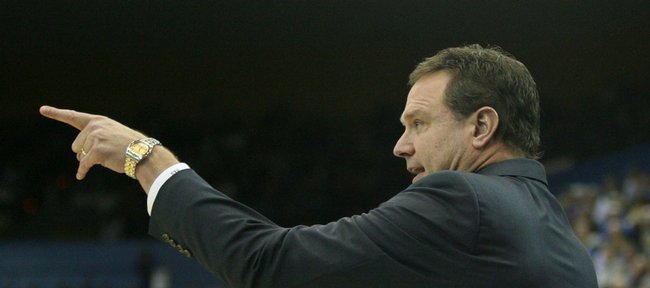 Reader poll
vs. Arizona (Las Vegas)

14%

254 votes

vs. UCLA

19%

354 votes

vs. Memphis (New York City)

44%

802 votes

vs. USC

1%

34 votes

at Cal

4%

89 votes

at Michigan

11%

210 votes

Other

2%

40 votes
1783 total votes.
Home games against Pac-10 teams USC and UCLA, road battles versus Michigan and California, as well as appearances in the Jimmy V Classic and Las Vegas Invitational highlight the Kansas University men's basketball team's 2010-11 non-conference schedule, which was released Monday.
"Once again, this schedule will be as competitive as any in the country," KU coach Bill Self said. "We have some great trips for our team and fans."
The first trip is to Vegas, where the Jayhawks will meet Ohio University on Nov. 26 and Arizona on Nov. 27 in Orleans Arena. KU has two home games in the event — Nov. 15 against Valparaiso and Nov. 23 versus Texas A&M-Corpus; Christi.
KU will travel to New York on Dec. 7 to face Memphis in the one-day Jimmy V Classic twinbill at Madison Square Garden. Syracuse will meet Michigan State in the other contest.
The Jayhawks will play UCLA on Dec. 2 and USC on Dec. 18 in Allen Fieldhouse. KU heads to Cal on Dec. 22 and Michigan on Jan. 9. This year's games against UCLA, Michigan and Cal conclude home and home series. KU will travel to USC in 2011-12 to complete that deal.
One-year, guarantee games will be played at Allen against Longwood (Nov. 12), North Texas (Nov. 19), UT-Arlington (Dec. 29), Miami of Ohio (Jan. 2) and UMKC on Jan. 5. KU will meet Lawrence High grad Dorian Green's Colorado State team on Dec. 11 in Sprint Center in Kansas City, Mo.
"I think it'll be a good schedule. If you look at RPI, UCLA and Michigan are typically top 30. Last year they were in the 130s," KU's senior associate athletic director Larry Keating said of rare down years by the two programs. "I suspect they'll both be back in the top 50. Arizona will be good as usual. Cal will be picked 1 or 2 in the Pac-10. Memphis will be ranked top 10, 15 nationally. USC will likely be top four in that league. Colorado State is a good game, Miami and Ohio have traditionally had good records in the MAC," Keating added.
There was no master plan to schedule home guarantee games against the three Texas schools, Keating said.
"Corpus Christi is part of the Vegas tournament. They brought them to us," Keating said of Vegas Invitational officials. "Arlington was a game we scheduled early. North Texas was added last week. We weren't trying to specifically look to schedule more Texas schools (in addition to Big 12 partners)."
Keating said he'd be looking for two home games against high major teams and possibly one away game for the 2011-12 season to go with the USC contest.
"We go to Maui (Invitational), so I'm not sure if we'll play another away game," he said. "I believe Duke, Georgetown, UCLA and Michigan are in it (and possibly Tennessee). It should be one of the strongest fields ever."
Notes: KU, which has won 59 straight home games, is three shy of the school-record homecourt win streak of 62 set from 1993-98. KU could tie the record by beating Longwood, Valparaiso and North Texas. The record-setting victory could come against Texas A&M-Corpus; Christi as early as Nov. 19. ... KU's game against UCLA is part of the Big12/Pac-10 Hardwood Series. KU beat the Bruins, 73-61, last year at Pauley Pavilion. ... KU and Arizona split games during the 2007-08 and 2008-09 seasons. ... KU will be traveling to Ann Arbor, Mich., for the first time since 1985. KU beat the Wolverines for the first time in six meetings, 75-64, last season. ... KU has won five straight against USC, including a 2-0 mark in the Bill Self era. ... KU topped Memphis last season, 59-57, in St. Louis. ... Cal won the Pac-10 title last season. KU beat the Bears, 84-69, in Allen Fieldhouse. ... Ohio U won the MAC tourney title and North Texas the Sun Belt regular season and postseason tourney titles before falling to Kansas State in the NCAAs. ... Longwood is an independent located in Farmville, Va. ... KU is 2-0 versus Valpo with the last meeting in 2002. ... KU has never met Corpus Christi or Arlington. ... KU will play exhibitions versus Washburn (Nov. 2) and Emporia State (Nov. 9). Late Night is Oct. 15.
More like this story on KUsports.com