Document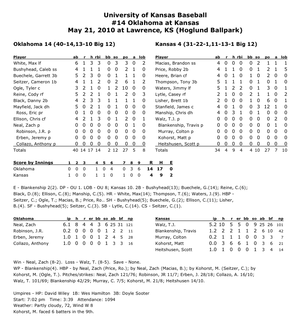 T.J. Walz waltzed through the first five innings Friday night at Hoglund Ballpark.
"To be honest with you, I thought he had an opportunity to go out there and pitch a complete game tonight," Kansas University baseball coach Ritch Price said.
Walz, KU's 6-foot junior righthander from Omaha, Neb., struck out nine Oklahoma batters and walked none, while allowing one run off two hits in staking the Jayhawks to a two-run lead. The No. 14-ranked Sooners, however, plated four runs off five hits in the sixth en route to a 14-4 victory.
"The first five ... the way he was in the strike zone ... the way he was so dominant when he had two strikes (was impressive)," Price said. "It (sixth) was a devastating inning, there's no doubt about it.
"Obviously we faced one of the best guys in our conference in their guy (Zach) Neal tonight. We had to win, 4-3, if we were going to win. You are not going to give up eight, nine runs in a ballgame and win on Friday night in this conference."
OU's Zach Neal allowed four runs off eight hits, while striking out six and walking three in 61⁄3 innings and improved to 8-2.
As far as Walz, he dropped to 8-5 because of a sub-standard sixth inning for the second straight week. Kansas State also scored four runs off five hits in the sixth of last Friday's 5-4 victory over KU at Hoglund.
"The balls seem to find every hole," Walz said of the fatal sixth. "They found a way that third time around (in the order). Instead of swing-and-missing, they were able to make contact and paint some lines. Every one of their guys can swing the bat."
Danny Black had the big hit, a two-run double to right to give OU its 5-3 lead. KU did slice the gap to 5-4 on a home run by Tony Thompson in the seventh. But OU answered with three in the eighth and six in the ninth.
Black, Max White and Garrett Buechele each had three hits for OU (40-14, 13-10). Black and White had three RBIs apiece, as did Chris Ellison. Jimmy Waters had two hits in five at-bats, including his ninth home run of the season for KU (31-22-1, 11-13-1). Designated hitter Chris Manship had three hits and an RBI.
KU's Cameron Selik (6-3, 4.62 ERA) will be opposed by OU's Jack Mayfield (4-0, 1.29) at 6 tonight at Hoglund.
"Cameron's got to go seven innings," Price said. "We're in the same situation we were last weekend. We got a bad start from T.J. on Friday night, went down to Manhattan, and Selik was absolutely special (in 7-3 win). That's the same position we're in tomorrow. They've got as good a guy pitching tomorrow as they did tonight. They didn't even use (Ryan) Duke, their closer. He's going to have to be better than their starter to give us a chance."
More like this story on KUsports.com