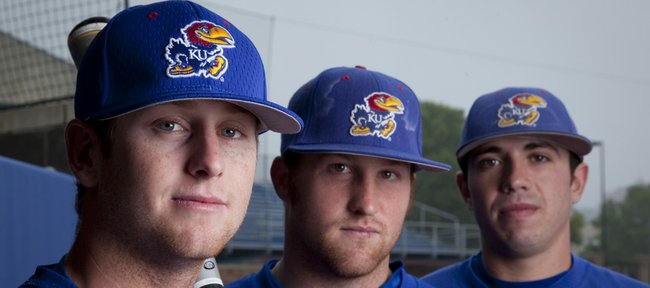 In every group of friends there exists a certain dynamic that surfaces after years of spending time together.
Typically, someone emerges as the leader, while another acts more like a younger sibling or class clown, and the rest fill the spaces in between.
The Kansas University baseball team has one such unique set of friends, a group of Free State High graduates who played their high school ball together and wound up wearing KU uniforms in college. They didn't take the same path to get here, but this weekend, when the Jayhawks open their series against Oklahoma at Hoglund Ballpark, the three KU seniors will suit up together for the final time as teammates in the city they grew up in.
"I think it's something that we've all been thinking about," second baseman Robby Price said. "It's been a special ride for everyone, and it's something we'll remember for years."
Price is the lone member of this group who spent all four years at Kansas. Because of that, first baseman Brett Lisher and pitcher Travis Blankenship have called him the leader of this pack of former Firebirds.
"Robby's been here four years so when I'm on the field or even in the dugout, I always look up to him," Lisher said. "I looked up to him even when I was in high school because I knew he was such a special baseball player."
It's funny, but even knowing that, Price said there was little difference between the three players.
"I think we're just three guys that play baseball," Price said.
In fact, the son of KU coach Ritch Price said if it hadn't been for the warm welcome extended to him by Blankenship and Lisher when he first came to town, there's a chance he wouldn't be where he is today.
"Those two are the most genuine people I've been around. When I moved out here, they were the first two guys I met and we built a pretty strong relationship in high school and carried it all the way through college. Those two have always had my back, and there's not one bad bone in their bodies."
Unless you're talking about on the diamond. In addition to their taste in movies, music and things to do during down time, these three share one trait that has helped the Jayhawks tremendously in 2010 — competitiveness.
The season hasn't gone exactly the way the Jayhawks pictured it going back when they were picked to finish second in the Big 12 in the preseason. Injuries and jostled lineups have contributed to that. But the Free State threesome has gone a long way toward righting the ship and leading KU to a 31-21-1 record with three games to play. The Jayhawks already have clinched a spot in next week's Big 12 Tournament and currently are in sixth place in the conference standings. They could climb as high as third by the end of the weekend and are guaranteed to avoid eighth place with a single victory against the Sooners.
No matter how things play out, though, the chance for this group to play together and contribute collegiately in the same town they won a high school state title has been its own reward.
"In high school, it was our dream for all of us to go play at the same place together," Lisher said. "But, to be honest with you, when I was coming out of my sophomore year at Allen County, I never thought I'd be in this position. But I'd always hoped for it."
KU coach Ritch Price had the following to say about this special group:
On Lisher: "He wanted to play at KU out of high school, but he wasn't polished enough right out of high school to come here and compete. But he is now, and I can't be more proud of a guy than I am of him. He's worked his tail off and has become an every-day player for us."
Lisher enters the weekend with a .290 batting average, three home runs and 30 RBIs.
On Blankenship: "His (velocity) is significantly better than when he got here. I watched him pitch in the state championship game in high school, and he wanted to come here, too, but I told him, 'Travis, you need to go to junior college to improve your velocity and develop your secondary pitch.' He's going to leave here having had an absolutely outstanding career. I think he's accomplished every dream he had in the game when he started playing."
Blankenship has thrown 392⁄3 innings for the Jayhawks this season and has recorded 45 strikeouts against 14 walks.
On Robby Price: "He's the best defensive second baseman I've coached in my career, and he's also one of the best fastball hitters in America. If he gets in the right organization, he has a legitimate chance to play in the big leagues someday."
Robby Price leads the team in runs (71), doubles (17) and triples (4), is second in home runs (6), batting average (.337) and fielding percentage (.983) and third in RBIs (48).
KU will open its final series of the season at 7 tonight when junior T.J. Walz (8-4, 5.05 ERA) squares off against Oklahoma's Zach Neal (7-2, 4.02).
More like this story on KUsports.com