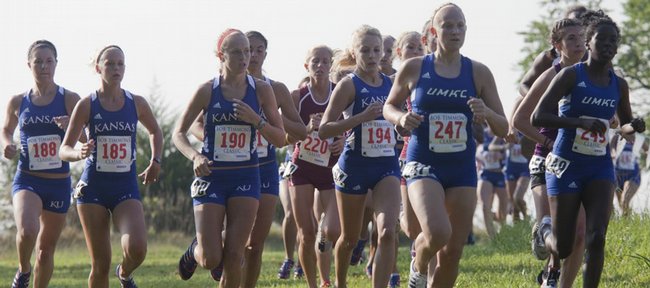 For the second consecutive year, three Kansas University athletic programs — men's basketball, men's cross country and women's cross country — received a perfect score in the Academic Progress Rate, KU officials said Monday.
In addition, all 18 of KU's athletic programs measured by the APR came in above the magic number of 925. A score of 925 or higher puts a program in good standing with the NCAA and a 1,000 is a perfect score.
"Kansas will have no penalties, no scholarship-loss penalties, no practice penalties, no nothing," said Paul Buskirk, KU's associate athletic director for student support. "All of our programs are in good standing and we are excited about that."
On solid ground
The following is a look at Kansas University's APR scores that were released Monday. A (four-year) score of 925 or higher puts a program in good standing with the NCAA and a 1,000 is a perfect score.
Sport, Score
Baseball, 963
Men's Basketball, 1,000
Men's Cross Country, 1,000
Football, 952
Men's Golf, 986
Men's Track (Indoor), 946
Men's Track (Outdoor), 944
Women's Basketball, 975
Women's Cross Country, 1,000
Women's Rowing, 970
Women's Golf, 993
Women's Softball, 988
Women's Soccer, 978
Women's Swimming, 969
Women's Tennis, 974
Women's Track (indoor), 970
Women's Track (outdoor), 966
Women's Volleyball, 961
Buskirk and Jim Marchiony, KU associate athletic director for external relations, were especially enthused about the score of KU's most visible athletic program, men's hoops.
"We're all proud of it," Buskirk said. "But I think the two people most proud of it are (athletic director) Lew Perkins and (men's basketball coach) Bill Self."
Started in 2003-04, the APR is a system used to monitor the overall academic performance of Div. I athletic programs throughout the country. It includes, but is not limited to, graduation rates and team grade-point averages. Specifically, the APR is a multi-year score that takes into account academic performance from the previous four years to reach a final number. Therefore, the numbers released Monday were based on each program's individual academic performance from the 2005-06, 2006-07, 2007-08 and 2008-09 academic years.
"The purpose of using four (years) is to take out the bumps in the roller coaster that are inevitable," Buskirk said.
In addition to having strong multi-year scores, all of KU's programs scored 925 or higher during the 2008-09 academic year. This included perfect scores from men's basketball, men's cross country and women's cross country along with scores of 1,000 from women's basketball, softball, women's golf and men's golf.
"Our coaches are more in tune to academics today, because of this thing, than has ever been the case in history and I've been doing this for 25 years," Buskirk said. "It has succeeded in getting coaches' attention."
Added Marchiony in praising the APR system: "It's putting emphasis where emphasis needs to be."
For years college coaches have been evaluated, at least in some manner, on the academic success of their student-athletes. Sometimes that evaluation has painted a picture of a coach who stresses the importance of education and other times it's done just the opposite.
Buskirk said since the inception of the APR, coaches at KU have ramped up their involvement with academics.
"I got a call last week from one of our coaches who was talking with a student who was interested in transferring out," Buskirk said. "And he wanted to know very clearly how this was going to impact the APR score. It doesn't necessarily change the decision but it keeps the awareness and I think that's great, we're thinking long term."
In June, the NCAA is expected to release APR ratings for individual coaches for the first time. For now, the scores will focus only on coaches in men's and women's basketball, football, baseball and men's and women's cross country and track and field.
New KU football coach Turner Gill, for instance, would have an APR rating based on the performance of his student-athletes at the University of Buffalo. When the numbers come out for 2009-10, Gill's rating would include his first year at Kansas.
"We would hope that this is a priority that they already have in their lives," Buskirk said. "My guess is that very few schools are going to have programs under 900. Because if they haven't gotten it by now, they're going down."