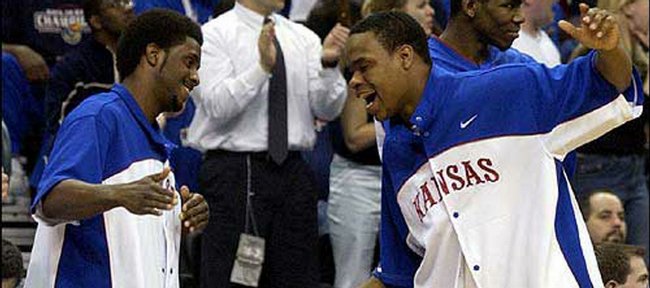 Jeff Hawkins plans to borrow from a pair of his mentors as he embarks on his career as a high school head boys basketball coach.
"I'm in the process of trying to remember as much as I can from coach (Roy) Williams and his beliefs and coach (Bill) Self and his beliefs and piece it all into one," said 27-year-old former Kansas University point guard Hawkins, who recently accepted the head-coaching post at Perry-Lecompton High.
Hawkins — he worked as an assistant last season at Ellis High School in western Kansas — red-shirted one season and played one season for Williams, then played three years for Self at KU.
"I'm in the process of mixing all the little philosophies I have into one big pot, so I can make my own dish," said Hawkins, who worked alongside Ellis coach Dave Wildeman, during a 16-7 season that included a conference title and spot in the Class 2A sub-state finals.
"I love being around kids and basketball. I feel blessed that I have a chance to be a head coach. I now can honestly say I love my job."
Plans are in the works for Hawkins' KU teammate — Moulaye Niang — to work as his assistant coach at Perry-Lecompton.
"For a (Class) 4A high school to have a couple former KU players — not one, but two on the bench leading the way — would give the kids here a great experience," said Perry-Lecompton principal J.B. Elliott, who contacted Hawkins about P-L's head coaching vacancy. He first checked the KSHSAA website for teams that had outstanding seasons, identifying the names of winning head coaches and assistants.
"The assistant coach's name at Ellis stood out. I was curious if he was the same Jeff Hawkins who played at KU," said Elliott, who next received contact information from Ellis High officials. Hawkins toured P-L's school and facilities, was offered the job, accepted and was approved unanimously by the school board.
"We had our first team meeting on Friday. The boys got to meet their head coach. He (Hawkins) did a great job," Elliott said. "Some of the kids knew the name and put the name with the face. Ten kids continued to talk to him after the meeting. He has the boys excited about the upcoming season."
Hawkins — he plans to live in Lawrence with fiancee Heather and 3-year-old son Mav — is equally enthused.
"I know it's a long road ahead, and I'll bump my head a lot, but it's the kind of bumping my head I like," Hawkins said.
His preliminary plan? "Running the floor, getting great spacing, stopping the ball by denying," he said. "I will try to be a good coach and personable. Yesterday I talked to the kids and I think they got the feeling I'm a little laid back. That's what I thought when coach Self came in. But at practice he was all business. That's what I respect."
Hawkins doesn't know if he'll try to advance from high school coach to college someday.
"I have to see how this goes. I could love it so much I might stay a high school coach the rest of my life," said Hawkins, a former K.C. Sumner standout who graduated in the spring of 2005 in communications at KU. "I want to help improve lives of these kids. I'm coaching to try to brighten their future.
"I'm worried about Perry-Lecompton ball right now. Sometimes if you look too far ahead you can lose focus on the present. I'm focusing on doing what's right now, so my future can be bright."
Hawkins will hold a camp for boys basketball players June 1-5 at P-L's gym. Age groups range from second to 12th grade. Information soon will be available at the high school and on Perry-Lecompton's school website.
Boschee heads to Joplin
Former KU guard Jeff Boschee, who compiled a 64-14 record in three seasons as head boys basketball coach at Barstow School in Kansas City, Mo., has been hired as an assistant coach at Missouri Southern State University.
"Obviously, Jeff was an outstanding basketball player at Kansas and had an opportunity to play under a great coach in Roy Williams. He has taken that skill with him and has done a great job at Barstow," said Missouri Southern coach Robert Corn.
After graduating from KU with a degree in sports management in 2002, Boschee played professionally in the USBL, ABA and Europe. He runs the Jeff Boschee Basketball Academy in K.C.
"My goal throughout my coaching career always has been to get to college and be a college head coach at some point of my life, and that's not going to happen by being in high school. It's about time for me to get into college," Boschee told the Joplin Globe.
Mo. Southern is an NCAA Div. II school in the MIAA.
"Pitt State, Washburn, Fort Hays and Emporia, we played them when I was in school," the 30-year-old Boschee said. "A buddy, John Crider at KU, played at Washburn. I know of the teams. I do know it's probably the top Div. II conference in the entire country, and we'll be up against some good teams and good talent."
Boogie time
Self isn't afraid to dance to promote his second Basketball Boogie. A promo tape of Self's boogie-ing is available at http://vimeo.com/11582018. In the video, he can be seen in a white leisure suit with gold chains. The boogie will be held June 11 at the College Basketball Experience in Kansas City. Information is available at www.basketballboogie.org.
Collins set to graduate today
Kansas University senior basketball guard Sherron Collins today will graduate with a degree in African American studies. It's a huge milestone for Chicago native Collins, who long ago promised his mom, Stacey, he'd earn a diploma.
"I'm the first male in my family to do it. It means a lot to my mother and my family and my neighborhood," Collins said of the rough west side. "A lot of people back home tell me how proud they are of me all the time. I'm just thankful."
Collins said "no," asked if, during his days at Chicago Crane High, he thought he'd ever graduate from college.
"It was the neighborhood I was in, beating the odds, people telling you that you are not going to make it or are not good enough. It was tough," Collins said. "I had people in my corner. My mother and brother kept me out of trouble, especially my uncle (Walt). He was my father figure."
Coach Bill Self applauds the success story of Collins, who is expected to be selected in the second round of the 2010 NBA Draft. Some consider him a possible late first-rounder.
"If you go back to all his high school teachers and principal and counselors, I don't know if they'd all have bet the percentage play he'd walk down the hill at any time, let alone in 4.0 years," Self said. "Seeing him evolve ... there's a lot of kids out there that don't like school. Many don't, but it's something we do. For him to evolve into a guy who saw his degree as being so important, I think is a great story in itself.
"I guarantee you he didn't come to school here believing he'd be here four years," Self added. "I guarantee you he didn't come saying, 'I can't wait until I graduate.' He came here saying, 'I am here to play ball and move on.' A lot of kids do that. To see how this place has changed him and how he allowed this place to change him is a pretty neat story."