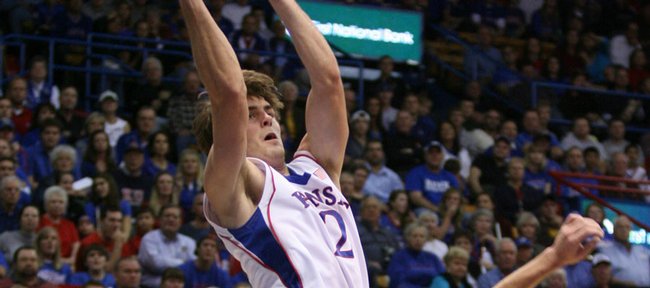 Kansas University junior basketball guard Conner Teahan, who participated in spring drills with the Jayhawk football team, has decided to play basketball only during his senior season at KU.
"Conner told me today he's not going to play football and will be a full-time basketball player," KU basketball coach Bill Self said on Friday.
"I do think he owed it to himself to give it a chance. For him to play quarterback at this level, he felt he was several years behind the other guys (at QB). He liked coach (Turner) Gill, the players and coach Gill's staff. He visited with coach Gill and thanked him for the opportunity."
Teahan was a football/basketball standout at Kansas City Rockhurst High who declined a football scholarship offer from Tulsa to walk-on KU's hoops team.
He completed one of two passes for 10 yards in KU's spring game on April 24. Last season, he averaged 3.9 minutes while playing in 19 games for the 33-3 Jayhawks. He scored 20 points and dished six assists against four turnovers.
"It was a great experience and I appreciate coach Gill and the rest of the coaches and players for giving me the opportunity," Teahan said. "I wish the football team the best of luck next season and I will continue to support them."