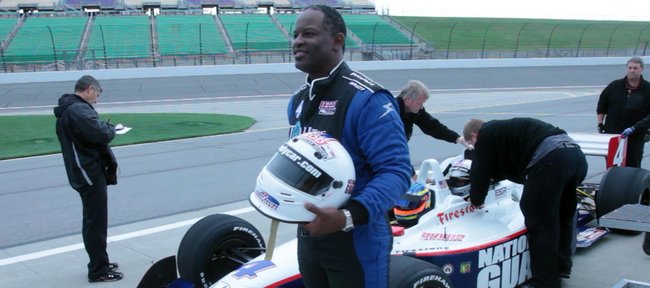 Kansas City, Kan. — Most father-daughter outings aren't like this.
Saturday morning at Kansas Speedway, as part of an ever-expanding list of meet-and-greet opportunities, Kansas University football coach Turner Gill, along with his oldest daughter Jordan, hopped into an Indy Racing League two-seater and roared two laps around the track.
"He called me the other day and said, 'Wanna go fast Saturday,'" Jordan said. "I had no idea what he was talking about, but when he told me, I was pretty excited."
Decked out in a black and blue jumpsuit, a fire-proof hood and a white helmet with red and blue stripes down the center, Gill said he felt like he'd been through something similar before.
"I felt like I was in a football game," he said. "Putting a football helmet back on. Same thing, nice, tight fit."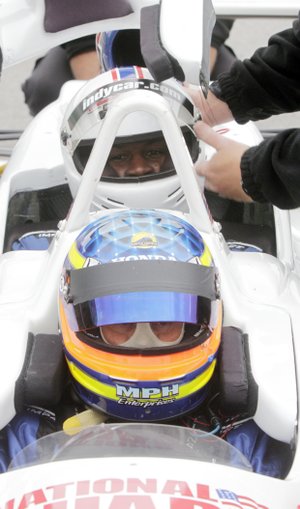 Other than that, very little about the experience resembled football. Driven by Indy 500 hopeful Davey Hamilton, both Gill and his daughter ran their laps at around 175 miles per hour. Neither looked nervous before getting buckled in and both appeared to be energized after getting out.
"It's unlike anything I've ever done," Gill said. "The speed, the force, it was thrilling."
Added Jordan: "It was fast, and I felt how fast it was."
Saturday was not Gill's first visit to a race track. When he was coaching at the University of Buffalo, Gill attended one race at Watkins Glen International in New York. For that one he took his youngest daughter, Margaux, with him. However, Jordan was quick to point out that there was one major difference between the two trips.
"(Margaux) went to Watkins Glen with him, but I don't think she got into a car, so I'm one up on her there," she said.
The ride itself resembled what dozens of drivers went through later in the day at the Road Runner Turbo Indy 300. Hamilton began at the north end of pit road. After gaining speed on the long straightaway that led to the track, he then massaged his way around the track, taking turns both high and low with the Gills behind him soaking up every bit of it. At one point, during her first lap, Jordan waved to her father in the pits as she raced past the starting line.
"We've been fortunate to have a lot of coaches, celebrities and stars in the cars," Hamilton said. "And we try to give the same ride to pretty much everybody. We're conservative but still very fast."
And also very loud. Gill said he's always admired auto racing and that he liked the Indy series the most.

"I like the Indy-car look, and it has a different sound, too," he said. "I like that buzzing, like a honey bee."
Added Hamilton: "It is loud, and I do have earplugs in to communicate with the team just in case something goes wrong, but he wasn't screaming like a girl or anything."
After completing his laps, Gill took a tour of the Speedway, hung out for a while and, later, was introduced to the crowd prior to the race.