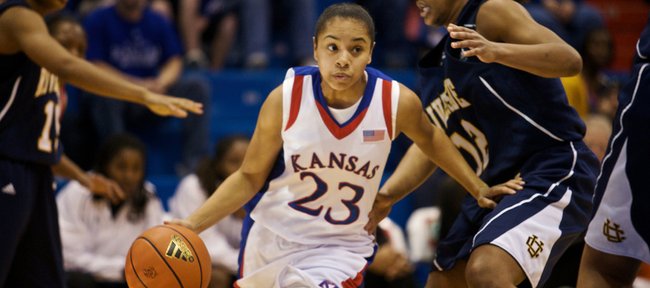 After a tear to her left anterior cruciate ligament sidelined her for the 2008-2009 season, Angel Goodrich, Kansas University's red-shirt freshman point guard, came into this past season with high expectations.
That's why it was a difficult sight when Goodrich tore her right ACL on Jan. 12 against Oklahoma State. At the time, she was leading the Big 12 Conference in assists (7.1 per game) and was the fastest player in Kansas women's basketball history to reach 100 for her career.

KU coach Bonnie Henrickson said Goodrich was on crutches for the first month after surgery. About a week ago, after 12 weeks of rehab, Goodrich was finally cleared to run again.
"Right now, she's progressed to doing other things than stationary," Henrickson said. "Now she can jog and walk, and now we're trying to get her to do other activities that other guards will, but she's not cutting live so she's still pretty controlled."
Henrickson said after another health assessment on May 14, which she expects Goodrich to pass, Goodrich will be cleared for live play including one-on-one and pick-up games. The Tahlequah, Okla. native won't be able to start in a game until July or August when she's expected to be 100 percent.
The injury should not affect Goodrich's starting position, and Henrickson expects her continue her play as a good driver and distributor on the floor. Henrickson wants Goodrich to be more confident from outside the lane next year. She said right now they've limited Goodrich to passing and shooting drills, focusing on her mechanics.
"I would expect her to be able to shoot the three better, more consistently," Henrickson said. "We've had numerous conversations about her being more of a perimeter player. You know, catch and shoot, three-point shooter, pull-up shooter, that part of her game. She really wants to, we need her to do that, so she's working really hard."
Henrickson said the four ACL injuries she has seen while coaching at Kansas are more than the total she had seen elsewhere in what's going on her 25th year as a coach. She said the comeback from an ACL tear could be just as taxing emotionally as it is physically for athletes who are used to competing at high levels.
"Those kids, they come here with a lot to offer," Henrickson said. "You know it's like all of a sudden you get hurt, and that can be devastating."