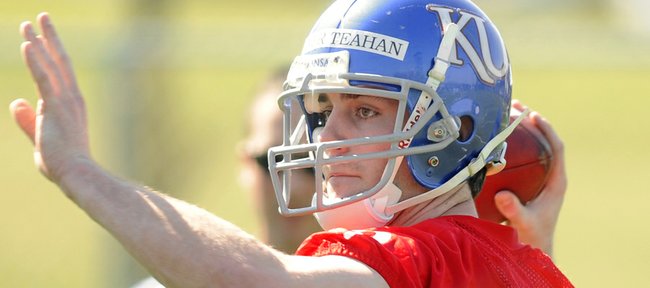 Audio clip
KU coach Turner Gill — March 31
Podcast episode
The guys (Tom Keegan, Matt Tait, Jesse Newell) give their observations on KU's top three quarterback candidates after watching part of the Jayhawks' practice on Wednesday, March 31. The guys also discuss Conner Teahan's decision to try football and the role Jeff Spikes will play on this year's team.
After missing the first two days of spring football practices, Kansas University basketball player Conner Teahan made his debut on Day Three.
Wednesday, decked out in a red No. 9 jersey — but devoid of pads, unlike the rest of the KU quarterbacks — Teahan went through his first football practice since his senior season at Rockhurst High.
Although the 6-foot-5 shooting guard stood out because of his obvious height advantage, Teahan was not afforded any special treatment from his new teammates or coaches.
"He's out here. He got right in the mix, and I just told him, 'Start in the back of the line and copy what the guy does in front of you,' and that's what he did," offensive coordinator Chuck Long said. "You could tell he's played quarterback."
Added freshman wide receiver Erick McGriff: "He's a KU athlete. He's all good with us. He looked good out there."
The bid to replace Todd Reesing appears to be wide-open, with as many as six quarterbacks in the mix to compete for the starting job. Most expect returning backup Kale Pick, junior-college transfer Quinn Mecham and red-shirt freshman Jordan Webb to fight it out at the top. But freshman Christian Matthews, junior Jacob Morse and, now, Teahan also could factor into the battle.
"I want him to have an opportunity to come out and try," KU coach Turner Gill said of Teahan. "(Kansas basketball) Coach (Bill) Self gave him his blessings, and I was willing to give him an opportunity. Obviously (it's) a long shot. We're already two days in, and he's catching up on some terminology and all those things."
This past year, Teahan, who was not made available to reporters Wednesday, played in 19 games for the Kansas basketball team and averaged 1.1 points per game.
"Conner and I talked about this, and I think it is a great idea that he go through spring ball to see if there is interest by both parties," Self said. "I know three years out of football is a long time, and it will be difficult for him, but his body is ready for football. He's in the best shape he's been in his life."
Self said Teahan's appearance on the gridiron did not mean he was thinking about leaving the basketball team. Gill said he and Self agreed that Teahan deserved a chance to see if he could cut it.
"I'm open to it," Gill said. "But his first priority is basketball. Coach Self and I have talked, and I'm a guy who's open to being able to play both sports. I'm a person who has come out of being able to play football and baseball (at Nebraska), so I'm definitely open-minded about having football players play other sports."
Self noted: "This doesn't change anything. I just want him on the basketball court when the football season is over. If he makes the team, he won't be out until after football season. I encouraged him to try this. I think he has an element of interest and also curiosity. He'd probably be disappointed in himself if he didn't try this and give it his best shot."
Should the experiment work, Gill said Teahan, a junior, would have three years of eligibility remaining. Teahan recently told the Journal-World he was offered a football scholarship from Tulsa and was recruited heavily by Missouri and Kansas State his senior year of high school.
Injury update
Gill told reporters that sophomore D.J. Marshall, who missed most of last season after being diagnosed with Hodgkin lymphoma, had been ruled out for spring ball. In addition, Gill said linebacker Drew Dudley, defensive end Jake Laptad and defensive tackle John Williams all were dealing with shoulder injuries and would be limited throughout spring drills.
"Those guys probably won't participate in any full, live scrimmages," Gill said. "But they will be participating in practice."
More like this story on KUsports.com