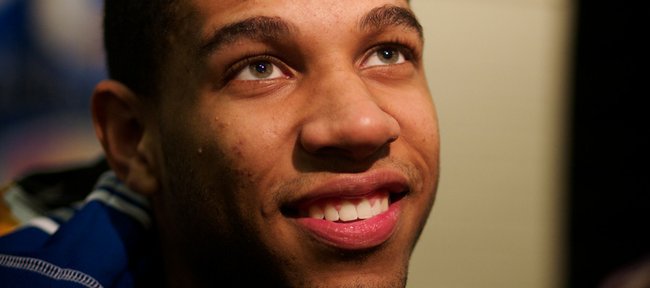 Kansas University coach Bill Self said freshman guard Xavier Henry had not decided whether to put his name in the NBA Draft.
"I am not under the impression he is leaning one way or the other right now," said Self, who has spoken with both Xavier and Xavier's dad, Carl.
"When we recruited X, it wasn't a foregone conclusion, but in my mind, we recruited him to play here one year. I'm fine with that. He obviously had a very good year. I do think he's projected to go pretty high.
"Of course, we'd love for him to come back, but I don't believe it's my place to try to convince him to come back. I am not going to do that at all. All I want to do is provide his family any resources they may need to try to get for them so they can make the best decision possible. I don't think his decision is imminent, but I do think (because of) the new rules, something needs to be done in the next 10 days to two weeks, but I think right now, it's still up in the air," Self added.
Players have until April 25 to declare for the draft and a May 8 early entry withdrawal date.
Self said a benefit of returning might be the big jump players make between their freshman and sophomore seasons.
"Coming back to a place where there's a lot of exposure and the competition is tough, that sort of thing would do anybody good, not just Xavier," Self said. "But if the time for him to go is now, then he needs to go, too, that's how I've always looked at it."
Selby wins slam dunk: Josh Selby, a 6-foot-2 senior guard from Lake Clifton High in Baltimore, won the McDonald's All-America game slam dunk contest Monday. Selby, who will announce for either KU, Kentucky, UConn, Arizona or Tennessee at the Jordan Brand Classic on April 17, told Kentucky's Rivals.com site that he may visit UK next weekend.
Doron Lamb, a 6-4 guard from Oak Hill Academy in Mouth of Wilson, Va., will announce for either KU, UK, Arizona, UConn, West Virginia or Oklahoma at the Jordan game. Selby said if he and Lamb go to the same school, "We might do the announcement together."
Brandon Knight, a 6-3 guard from Pine Crest High in Fort Lauderdale, Fla., also is considering KU and Kentucky. Selby said he and Knight could play in the same backcourt at Kentucky.
Of KU, Selby said: "You guys ever been to Kansas? Their fans are crazy. I like the way the players interacted with me. It was like another home to me. It attracts me because no one is there to play the point-guard position. It's also a lot of pressure because that's a big shoe to fill. Sherron Collins did a good job there."
CBS talk: Self said he enjoyed his stint as CBS studio analyst for last weekend's NCAA regional finals games. He's not going to work as a Final Four analyst for the network this weekend.
"The thing I thought we could get out of it was that there would be a lot of ninth-, 10th- and 11th-graders watching and hopefully their families, too," Self said of recruiting. "CBS has been really good to me, and those guys (in studio) have been really good to me, but I'm selfish, too, and I thought it'd help us down the road."
Jackson: Self said he had not yet spoken with former KU player Darnell Jackson, whose mother, Shawn, died Thursday. The two have texted, however, with a phone call on the immediate horizon. Services are set for 3 p.m. Saturday at Rolfe Funeral Home in Oklahoma City.
Lockout a factor: Walt Aldrich, father of Cole Aldrich, indicated that a possible NBA lockout after the 2010-11 season is another reason his son elected to enter the 2010 NBA Draft. The current collective-bargaining agreement expires after next season.
More like this story on KUsports.com