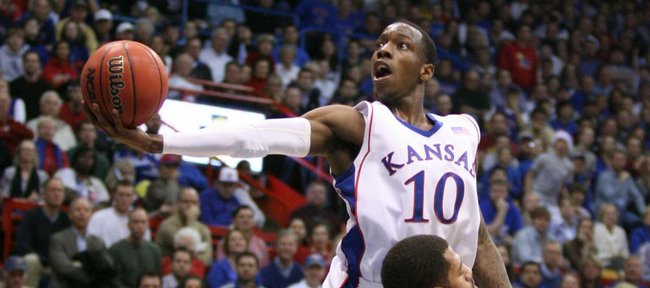 Kansas University sophomore basketball guard Tyshawn Taylor, who is featured in the documentary film, "The Street Stops Here," was able to view an advance copy of the 90-minute movie.
"I liked it," Taylor said of the piece on his alma mater — St. Anthony High School of Jersey City, N.J.
It will air at 9 p.m. Wednesday on PBS.
"I think they did a good job of showing coach (Bob) Hurley and who he really is. I think it did a good job showing our struggles and things we go through at that school. I think it was good, and I hope they can make lots of money off it (through DVD sales)," Taylor added.
"The Street Stops Here," is billed by Team Works Media "as a portrait of one of the country's best high school basketball coaches, Bob Hurley, Sr., and his career-long struggle to inspire and motivate those around him in order to keep open the doors of a poor, inner-city Catholic school."
The film chronicles the 2008 season in which Taylor and five other future Div. I players competed for St. Anthony — which went 32-0 and won USA Today's mythical national championship.
"This is a story about teenagers fighting their way out of the 'hood, armed with little more than a basketball and the hard wisdom of a fierce, demanding coach," Team Works Media added in its promo.
Job openings
It appears KU graduate Mark Turgeon will remain coach at Texas A&M.; Turgeon, who was listed as a candidate for the Oregon opening, will be offered a new contract that includes a raise of more than $250,000, according to ESPN.com. It will bump Turgeon's yearly salary to more than $1.5 million per annum. ... Fox Sports' Jeff Goodman says Charlotte is "targeting KU assistant Joe Dooley to replace Bobby Lutz" as 49ers coach. He says other candidates include Texas assistant Russell Springmann and Xavier assistant Pat Kelsey. The Charlotte Observer has mentioned Dooley, Kelsey, Florida assistant Larry Shyatt, former Alabama coach Mark Gottfried and former Wake Forest coach Dave Odom.
More like this story on KUsports.com