Document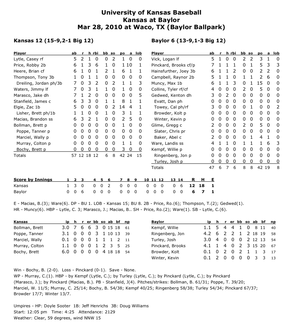 Waco, Texas — Kansas University junior reliever Brett Bochy threw six hitless innings, and senior Robby Price had four hits and a career-high six RBIs as the Jayhawks outlasted Baylor, 12-6 in 14 innings, on Sunday afternoon at Baylor Ballpark.
It was the Jayhawks' first series victory at Baylor. They split the first two games Friday and Saturday. KU came into the weekend series 1-20 all-time against the Bears in Waco.
"It can be a huge momentum swing for us," coach Ritch Price said after KU improved to 15-9 overall, 2-1 in the Big 12. "This is the first time we've gone to Waco and won a series since we've been in the Big 12. To have fought through the adversity that we did and found a way to win the two games that we did is huge. Obviously, we got three starting pitching performances that we're very good. Our bullpen picked us up twice. Hopefully it's something we can build off of."
Baylor fell to 13-9 and 1-3.
Bochy (2-0) played a huge role Sunday. The Jayhawks' sixth and final pitcher, he retired 18 straight. He didn't allow a hit, walked none and struck out four.
Bochy, a junior from Poway, Calif., anchored the Kansas bullpen which allowed no runs and no hits after Baylor scored six runs in the bottom of the third inning.
"He is absolutely special," Ritch Price said said of Bochy. "He's one of the best pitchers in America, and it was an absolutely fabulous performance by him today. We really didn't know if we could get more than two innings out of him today, because he had pitched two innings Friday. One of the things he did was get a lot of first-pitch outs. He wasn't running deep into counts. It made his six-inning performance feel more like two or three innings."
Kansas scored six runs in the deciding inning with three bases-loaded walks, a two-run single by Jordan Dreiling and an RBI single by Jimmy Waters.
The Bears scored six runs on seven hits to chase Kansas starter Brett Bollman after three innings, and then had just four base runners — all walks — after the third.
"(Freshman) Tanner Poppe came in and was absolutely fabulous," Ritch Price said. "I couldn't be more pleased with his performance. He set the tone for the rest of the bullpen. That might be the greatest performance by one of my bullpens in my entire coaching career."
The Jayhawks' 14-inning game was the longest Big 12 game in team history.
Junior Casey Lytle tied a school-record, being hit by a pitch in three plate appearances.
More like this story on KUsports.com