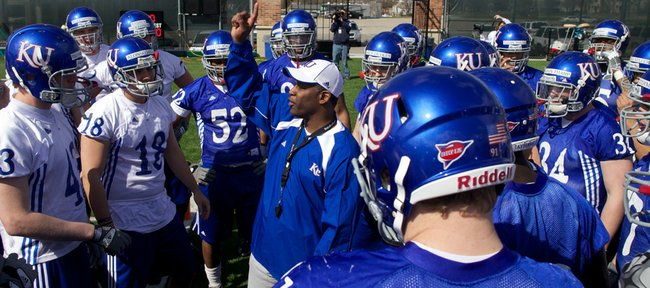 Sunday, after nearly three hours on the field for his first official practice with Kansas University's football team, KU coach Turner Gill had one final test for his troops.
This, perhaps more than any physical drill or simple instruction, best symbolized what Gill is all about as a football coach. With his team on one knee, huddled in front of him, Gill called on senior place kicker Jacob Branstetter to lead the Jayhawks in one of the team's new traditions: a letter-by-letter reciting of the team mantra "B.E.L.I.E.V.E."
B: Believe in each other and the things not yet seen.
E: Empower people by encouragement.
L: Learn and press on toward the goal.
I: Influence by being a positive role model.
E: Expect great effort all the time.
V: Visualize excellence.
E: Enjoy the college football experience.
This same idea served Gill well during his four years at the University of Buffalo and, according to wide receiver Chris Omigie, was one of Gill's priorities upon arriving at KU.
"It was the first day (he met with us)," Omigie said. "He told us what it was and then he said, 'Now, I'm going to expect you guys to memorize this before our season is over.' And he's going to expect all of us to be able to recite it word-for-word to the rest of the team.
"I'm close," Omigie continued. "I practice it almost every day. I think I've got it down to the second E. I think it's more just remembering how to spell it than remembering the words of it. Some people just get it mixed up."
The simple sound of the drill, with its almost military ring, invoked visions of a team that relies on discipline and togetherness. The hooting and hollering that followed — after the "enjoy the college football experience" part — demonstrated that things are a little different around the KU camp these days.
"(Coach Gill) was pretty laid-back," sophomore running back Toben Opurum said. "You know, there were a couple of mental mistakes, but that's expected at the first practice. We just went out and played our hearts out like we know he wants us to."
Added sophomore receiver Bradley McDougald: "The coaches, they were getting after us, but in the right way. It was definitely different, something I can get used to."
On a sunny day, with temperatures comfortably in the 50s, Gill looked very much like the same man he had been for the past four years at Buffalo. He wore a blue pullover, gray sweatpants and a white hat with blue letters. Of course, the setting, the increased media presence, the players in the helmets and even the other coaches served as constant reminders that Gill no longer was in New York.
As he has with just about everything that has been thrown at him since arriving in Lawrence, Gill greeted his new environment with his head held high and a smile on his face.
"The only word is just exciting," he said. "It's an exciting opportunity to be here, to coach in the Big 12 Conference and at the University of Kansas. I'm just excited to get this thing going."
While a large portion of opening day was a feeling-out process for both players and coaches — what senior defensive back Chris Harris called "a learning practice" — there were a few details that needed to be addressed:
• Linebacker Vernon Brooks, a senior-to-be who played in five games and made five tackles in 2009, has been dismissed from the team. Gill informed the media in his opening statement. "Vernon Brooks has been removed from our football team due to violation of our team policy," Gill said. "Permanently."
• Speaking of linebackers, Gill said senior linebacker Drew Dudley, who was rumored to be out for spring drills because of a shoulder injury, was day-to-day and would be limited during the first several practices. "He's just doing the minimum stuff. We'll just have to see how he feels. But our trainers are going to make all those calls, and we'll do the best we can with them. There's some guys who will be limited. On Wednesday, we'll give you more of a specific update on where we're at."
• Gill said he planned to make good use of the program's three-year-old practice fields that still look as if they were installed last week. "(In college football), everybody knows what everybody's doing, and I'm not a person that's going to be (worried) over somebody watching what we do and how we do it," said Gill, asked if he was concerned about spies observing practice. "We'll probably (spend) the majority of the time on the practice fields, but there will be times where we'll go into the stadium, too."
• The Jayhawks will return to practice at 3:30 today and also will practice Wednesday, Friday and Saturday to close out the first week of spring drills.
More like this story on KUsports.com