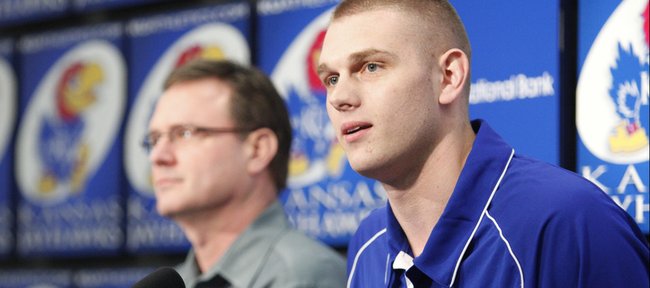 Audio clip
Cole Aldrich press conference
Videos
Videos: Aldrich to go pro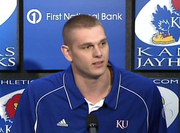 Kansas center Cole Aldrich spoke with media about his intentions to enter the 2010 NBA draft Monday, March 29, 2010 at Allen Fieldhouse.
Walt Aldrich was watching highlights of his son's news conference Monday afternoon in his home in Bloomington, Minn., when his beeper went off.
The volunteer firefighter responded to a call that turned out to be a false alarm.
"Someone hit a gas line with their weed wacker," Walt Aldrich, father of Kansas University junior center Cole Aldrich, explained.
He hurried back home to resume reviewing the big news of the day — Cole Aldrich's declaring for the 2010 NBA Draft in a 3:30 p.m. media gathering in Allen Fieldhouse.
"He loves college and the team, (but) I think he has a feeling he's ready. It's time to be paid for having fun," Walt Aldrich said.
Cole will be paid a bundle of money — in fact, he's ticketed to be an instant millionaire — after being tapped in the first round of the June draft.
The money should help in various ways.
"Cole has talked a lot about this being a tough year. I don't think the public or media would possibly know what his family members have gone through this year," KU coach Bill Self said in applauding the 6-foot-11, 250-pounder's decision to turn pro.
"I think it was a very, very easy decision and one that needed to be made."
Walt Aldrich has not had a steady paycheck the past four years. He has worked part-time jobs off and on — including jobs in Topeka and Kansas City — following a slowdown in the economy, specifically the sheet-metal construction business. Walt's wife, Kathy, also had been out of work the past school year.
"Our 'rainy-day fund' was getting pretty thin," said Walt, indicating that wasn't the reason Cole turned pro.
Walt's happy to report he recently obtained a full-time janitorial position with benefits at a plant that makes balloons, while his wife has contracted a pair of embroidering jobs.
"When we talked, we told him, 'It's your life, kid. You are an adult. Don't worry about us. We've always made it and always will,'" Walt said. "It's just time. He's almost 7-foot, can shoot and blocks a lot of shots. You'd think some team could use somebody like him."
Various NBA Draft sites list Aldrich as a certain lottery (top 14) pick.
"I'm hoping to go really high," said Cole Aldrich, who said he now is in the market for an agent as he enters the draft with no looking back. "I'll take the individual workouts (for NBA teams) from here on out until the draft and make sure I put myself in the best position to help whatever team I go to be successful."
Self — he said he has known since last April that Aldrich would be turning pro after three seasons — said it's "almost irrelevant" where Aldrich is selected.
"We all know he's going to go pretty high ... whether he goes No. 5 or 14, I think so much of it would be dependent on what other bigs are in the draft," Self said.
"Regardless of where he's projected, in his particular situation, I think it's the right move now for him to go ahead and enter. I'd strongly discourage him from coming back. I think he's paid his dues here, and it's time for him to move forward into another chapter. He's made a lot of sacrifices — and his family has — for him to come back (for junior year) in a time where he didn't have to. We're all very proud of him."
Aldrich, who recently was named college basketball's academic player of the year, said his goal is to graduate in May of 2011.
"It'd be cool to walk down the hill in May with Tyrel (Reed), Conner (Teahan), (Chase) Buford, and Brady (Morningstar) is probably going to get there sometime," joked Aldrich, who will be about 16 hours shy of his degree after this semester.
"It's going to be a busy summer. It's going to be a busy spring. I'm going to work hard on the basketball court, and if I have time, work hard in the classroom."
He fought back tears at a news conference attended by teammates, coaches, administrators and his girlfriend.
"I don't want to get choked up or anything, but the last three years have been pretty special. A lot of highs and a few lows this summer with my grandma (who died after bout with cancer)," Aldrich said.
"But it's a special time, I think, for me and my family. I have talked to them extensively. We went through somewhat of the same process last year figuring out what I wanted to do, whether I wanted to come back and have another great year or go from one great chapter to hopefully starting another great chapter in life."
Aldrich — who finished his KU career four blocks shy of Greg Ostertag's school-record total of 258 — said he wished the team were still playing.
"We were all upset that it had to end so short," said Aldrich, who was part of KU's national title team in 2008. "Being a part of a team that went and played all six games and then playing three games last year, we had high goals. But those goals are going to be there again. And I hope the team next year is going to be there again. I'm really going to support those guys."
Perhaps as a member of his hometown Minnesota Timberwolves?
"I think it'd be special, just being a kid from Minnesota all my life. I don't know how realistic it'd be. If it's the best situation for me as a player, it'd be great. I just want to be in the best situation for myself and my family," he said.
More like this story on KUsports.com