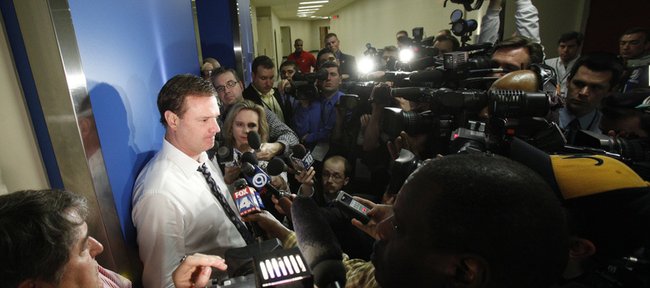 Kansas University basketball coach Bill Self and fellow CBS-TV panelists Greg Anthony and Seth Davis each went for the favorite when asked by studio host Greg Gumbel for a prediction before Saturday's West Regional final between Butler and Kansas State.
"Kansas State," Self said from behind the desk in the network's New York headquarters.
The trio's picks, jokingly referred to as boring by Gumbel, proved incorrect.
Butler bounced K-State, 63-56, and prevented the Wildcats from advancing to their first Final Four in 46 years.
"One thing coach (Brad) Stevens and his staff did," Self said after the game, "is they really rallied their guys when K-State took the lead (52-51 with 4:49 left after erasing double-digit deficit) and got the momentum.
"Just like when Syracuse went up by four (late in Sweet 16 game vs. Butler), that's when Butler played its best ball and just put them away down the stretch. In this particular game, they made the plays late."
Of Kentucky's 73-66 loss to West Virginia in the East Regional final, Self said: "Well, they didn't make shots. West Virginia forced them to play on the perimeter, and it just didn't work out today."
Self had a busy day in the studio.
He had this to say to Baylor coach Scott Drew and guard LaceDarius Dunn, who will face Duke in the South Regional final today:
"Congratulations to you from our league," Self said. "About Duke, though, your zone is so effective, you've got so much length, but they've got three guys who can really score from the perimeter. How are you going to get out to all their shooters?"
Drew responded: "They're going to get shots. We just have to make sure they are contested. They are going to make shots. We just don't want to give them wide-open ones because they are too good. We know those are going in."
Self also spoke with Tennessee coach Bruce Pearl, whose Volunteers meet Michigan State in the Midwest Regional final today.
"You put it on us very good," Self said of KU's 76-68 loss to the Vols on Jan. 10 in Knoxville, Tenn. "One thing I've been very impressed with is getting your full complement of players back, but also Brian Williams (6-10, junior). I think he takes a lot of pressure off Wayne (Chism) so you can move him (Chism) around a bit and play him inside/outside. I think he (Williams) has been a presence on the interior for you."
Pearl responded: "I think Wayne probably enjoys playing with Brian as much as anybody else because Brian is an excellent passer. He has excellent basketball IQ, and I think they play well off each other."
Banquet
KU's basketball banquet will be Monday, April 12, in the Holidome. The banquet is available to Williams Fund members. Reservation forms are sent out in the mail.
More like this story on KUsports.com