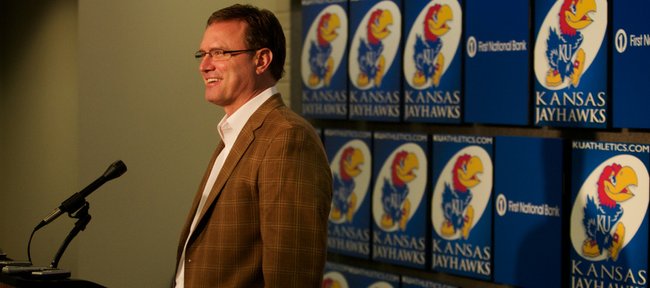 Kansas University basketball coach Bill Self traveled to New York City on Friday night for his weekend stint as NCAA Tournament studio analyst for CBS.
"I'd rather be in St. Louis," said Self, who, instead of coaching his Jayhawks in the NCAA Midwest Regional semifinals and finals, will join Greg Gumbel, Greg Anthony and Seth Davis in CBS' Manhattan offices from 3:30 to 8 p.m., today, and 1 to 6 p.m., on Sunday.
"It will probably be good to watch some ball and throw my two cents in," added Self. He will also serve as guest analyst for the network's Final Four show on Saturday, April 3, (2-3:30 p.m.) from Indianapolis.
"The only way I'd be excited is if we were playing," said Self, who added, "I like those guys a lot. They've been really good to me. When they asked me, I said to myself, 'Do I want to do it?' The answer was, 'It potentially could help us (in exposure for recruiting).' I am looking forward to seeing how it works on the other side."
Jackson's mom dies
Sources at Kansas University have confirmed that Shawn Jackson, the mother of former Kansas University power forward Darnell Jackson, has died. No details are yet available on possible services in Oklahoma City. Jackson, who was acquired by the Milwaukee Bucks on Thursday, headed back to OKC on Friday afternoon.
Recruiting
Rivals.com is reporting that KU coaches will be in San Diego on Monday to check in on Angelo Chol, a 6-8, 195-pound junior forward from Herbert Hoover High School. Chol, who is Rivals.com's No. 19-rated player in the Class of 2011, is considering KU, North Carolina, UConn, Florida and many others.
Collins in contest
Sherron Collins will participate in the three-point contest at next weekend's Final Four in Indianapolis, ESPN reported Friday. Cal's Jerome Randle, New Mexico's Roman Martinez and Maryland's Eric Hayes also are in the eight-player field, which will be completed next week.
The event takes place Thursday at the Indiana Convention Center and will be televised by ESPN from 8-10 p.m.