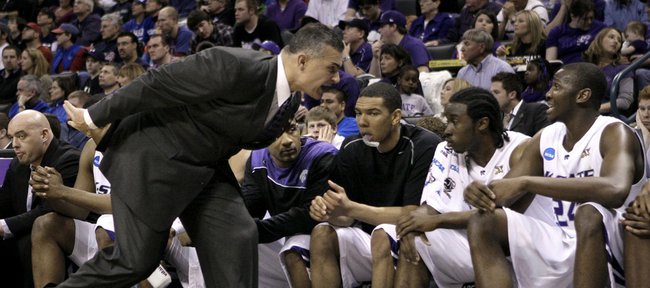 The beauty of sports is that you and only you decide which teams to root for when watching a game. Even so, it comes as a surprise that some television sets in Lawrence seem to be turned on for the sole purpose of rooting against Kansas State.
The lamest of excuses for such behavior: Kansas State fans rooted against Kansas in Oklahoma City in its surprising loss to Northern Iowa. So? Since when do Kansas fans take their lead on how to behave from people who wear purple and plaster their cars with Powercat logos?
Talk about an easy bandwagon to join. Such a lovable team, such a candid coach, such an exciting backcourt. Plus, the Wildcats have played in the two most exciting games of the 2009-2010 college basketball season. In the first, played in Manhattan, the 'Cats lost to Kansas, 81-79, when Sherron Collins bounced back from back spasms to lead KU to its first of three victories against its in-state rival. In two of those three games, Kansas State proved itself an ultra-intense, hard-working pack that did everything it could to stick with Kansas.
The overtime game in Manhattan, attractively flawed with mistakes made on both sides, seemed like a yawner compared to K-State's double-overtime survival Thursday night against a Xavier team that kept expanding its range and couldn't miss.
K-State senior guard Denis Clemente was so jacked afterward he said at Friday's presser he couldn't get to sleep until 3 a.m. and even then only for a bit.
"I (kept) waking up," Clemente said. "Just can't believe where we're at right now. I opened my eyes, say, 'That's for real, what I'm doing right now.' And I kept waking every 15 minutes, just relive the moment."
Clemente, from Puerto Rico, communicates with coach Frank Martin, the son of Cuban immigrants, in Spanish. Martin's eyes speak the universal language, one more profane than anything that ever has come out of his mouth. The glare works. So does the acidic tongue, self-censored during the portion of Martin's halftime talk Thursday that was filmed. It was hilarious watching Martin shout in measured tones, an approach he needed to take so as not to get CBS fined by the FCC.
Clemente and Pullen have given the glare a rest. They've combined to average 46 points during the NCAA tourney, have made 25 of 26 free throws and have had 22 assists against nine turnovers.
Competing in the high altitude of Salt Lake City two days after playing an emotional 50-minute game won't be easy against Butler — tired legs could cheat Pullen and Clemente of their three-point touches — but K-State never craves easy.
The 'Cats' best shot at a national title lies with someone upsetting Kentucky before it advances to the title game. DeMarcus Cousins would eat up K-State's big men. Other than Kentucky though, there isn't a team remaining that should be considered a heavy favorite against KSU. (By the way, even detractors must admit, the Wabash is one catchy tune).
Should K-State reach the title, West Virginia, coached by former Martin boss Bob Huggins, would make for the most dramatic opponent. Nobody's saying we should dye the river purple, but by then, here's hoping all of Lawrence is backing the 'Cats.