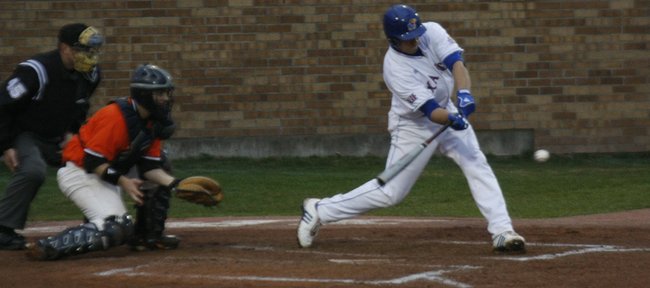 Zac Elgie was in need of a good, old-fashioned slump-buster entering the Kansas University baseball team's Wednesday-night matchup with visiting Baker University, and that's precisely what the Jayhawks' struggling first baseman got.
Elgie finished 3-for-3 with a home run, triple and four RBIs to lead the Jayhawks in a five-inning, rain-shortened 16-0 victory against the overmatched Wildcats at Hoglund Ballpark.
"It's kind of been awhile since that happened," a smiling Elgie said. "So it felt good out there today."
In a game meant to serve as a last-minute tune-up before KU kicks off its Big 12 Conference season with a three-game series against Baylor this weekend, several players took advantage of the opportunity, as Kansas pounded out 11 hits in four innings and recorded its highest run total of the season.
Starting pitcher Thomas Taylor, for instance, got his fifth start of the season, pitching three scoreless innings to improve to 2-0, while preseason All-America third baseman Tony Thompson notched his first hit of the season and added four RBIs in just his second game back from a knee injury.
"(It's a) confidence boost," said Taylor, who didn't allow a hit but walked four in three innings. "It gets us comfortable."
Arguably the biggest benefactor, though, was Elgie.
Despite entering the season with high expectations, Elgie, a former high school All-American at North Dakota's Minot High, had batted just .114 and seen his playing time fluctuate through the first 20 games.
"What is shocking about what's happened to him is (that) he was one of our best offensive players in the fall, and he was really good in our scrimmages before we started our season," KU coach Ritch Price said. "And he's just been in a funk since the first game that we've played, so it's great to see him break out and be physical."
Kansas' offensive onslaught came at the expense of a Baker team that had hoped for a better showing in spite of a wide talent gap.

The Wildcats (7-10) managed just one hit, a Jeremy Wright single in the fifth inning and couldn't slow a KU team that had won just two of its previous seven games heading into Wednesday.
"Every day you've got to show that you're ready to play baseball," Wildcats coach Phil Hannon said. "It's a grueling sport. ... The biggest thing is, always challenge yourself to do better, and that's what we're going to get out of this game tonight."
Kansas, on the other hand, accomplished what it had set out to accomplish, regaining a bit of the momentum it had lost after a 2-1 series victory over then-No. 1 LSU earlier this month and leaving Price with little room for complaint.
"To me, that's a developmental game for us," the coach said. "It's one of the four you're allowed to play and not affect your RPI, and I was hoping that Elgie would break out, because I'm going to need that guy's help if we're going to make a regional."
More like this story on KUsports.com