Videos
KU vs. UNI pregame
Kansas will take on Northern Iowa Saturday in the 2010 NCAA tournament. The Jayhawks are looking to advance to the Sweet 16.
Photo Gallery
Pregame interviews: KU vs. UNI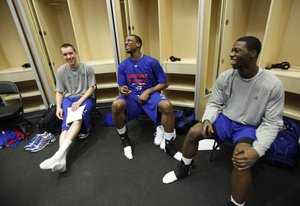 Kansas basketball players answer questions from the media Friday, March 19, 2010. The Jayhawks will face Northern Iowa Saturday afternoon.
KU vs. UNI
Check out these stories for more about KU basketball's upcoming game against Northern Iowa:
• Center stage: Big men Eglseder, Aldrich ready for battle
• Teahan flirts with football future
Oklahoma City — Ben Jacobson printed off the sheets of paper — one for each member of his team — then entered the Northern Iowa locker room.
Though the UNI players can't agree on the exact date, they all still remember the day they were first introduced to OER.
"I didn't even know what it was," sophomore guard Johnny Moran said. "I'd never seen anything like it."
Turned out that Jacobson was about to take his players into his world.
They'd always trusted Jacobson before. He was the one who made them learn more than 100 plays, all without a playbook, and told them he didn't care what shots they took, as long as they played hard defensively.
But here they were, the day after a game, giving each other confused looks in the locker room while staring at a sheet of paper with highlighted statistics about free-throw count and rebounding and defensive-field-goal percentage.
And something they'd never heard of: OER, short for offensive efficiency rating.
So Jacobson preached to his team about OER. He talked about its meaning —points scored per possession — and how his coach at North Dakota, Rich Glas, had kept the statistic for years.
Then he told them why it was important. When UNI kept its opponents under 1 point per possession, it had won over 90 percent of its games.
The Panthers, who'd never heard of the stat before that day, all bought in.
"The stuff he brings in is real," Moran said, "and everything is legit."
"I guess over time," Missouri Valley player of the year Adam Koch said, "you kind of realize he knows what he's talking about."
And why question him now? The Panthers give up the second-fewest points per game in the NCAA this season (54.3) and, according to Statsheet.com, are 21-1 this season when their defensive OER is below 1.
"I try not to bother them with those things very often," Jacobson said, "but I felt like it was important that they had a handle on why those numbers are so important."
It might not have been a conventional method, but then again, Jacobson never has been confused for a conventional Div. I coach.
Here's an example: The 39-year-old native of Mayville, N.D., rarely curses around his players.
He also will never take out his players for a bad shot or a turnover on offense.
Many Panthers seem to have a story about this.
Against Creighton in mid-February, Mason started to put up a long, stepback three with time left on the shot clock.
"In the middle of my shot, I hear him go, 'Johnny!' He was mad," Mason said. "There was nothing I could do then, so I had to shoot it."
The desperation heave went through.
And Mason managed to sneak a peek at the bench to see if his coach was upset.
Instead, Jacobson was cracking up.
"We just shared a pretty good laugh," Mason said. "Everyone's just so comfortable playing for him."
Six-foot guard Ali Farokhmanesh remembers times heading to the bench just knowing that a teammate was going to get reamed for taking an ill-advised shot.
Instead, Jacobson cut a joke.
"Coach will yell at you if you don't block out, if you don't hustle, if you're not playing defense the right way, if you don't know the scout," Farokhmanesh said. "But you know you're never getting yelled at for taking a certain shot that some coaches might think are bad."
Some coaches might have thought that Farokhmanesh's final shot Thursday wasn't a good one. Still, with the game tied at 66 and seven seconds remaining, the senior didn't hesitate in hoisting up a 25-foot, game-winning three-pointer against UNLV.
"I don't think you see any of us pump-faking at a shot when we're wide open," Farokhmanesh said, "thinking we're going to get yelled at."