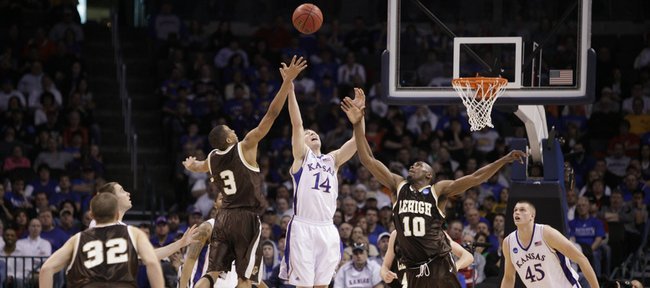 KU scoring — Marcus Morris 26 (12-for-15 shooting), Collins 18, Reed 12, Aldrich 11, X. Henry 11, Taylor 6, Morningstar 4, Markieff Morris 2.
KU was 38-for-69 from the floor (55.1 percent), 9-for-21 from three (42.9 percent) and 5-for-10 from the free-throw line (50 percent).
Lehigh was 25-for-62 from the floor (40.3 percent), 7-for-19 from three (36.8 percent) and 17-for-21 from the free-throw line (81 percent).
KU defeats Lehigh, 90-74
It's only fitting that KU goes into one of its lulls to end the game.
McCollum hits two free throws. Buchberger puts in a three. Carrington puts in a layup with a foul. The 9-2 run cuts KU's lead to 13 with just under two minutes left.
KU composes itself offensively, holding the ball until late in the shot clock before Reed puts in his fourth three.
C.J. Henry misses a three for KU's reserves, and Elijah Johnson later dribbles out the clock.
KU comes away with a 90-74 victory.
KU 83/Lehigh 64 — 3:32 left in game
Self calls a play out to his team, then his players run it to perfection. From the left wing, Morningstar lobs the ball across the glass to Marcus Morris, who grabs it above the rim before slamming it home.
"Execute it! Execute it!" Self screams from the bench before an inbounds play. After some screens, Reed does get an open shot from the corner, but misses it. Marcus cleans up the rebound, though, putting it in for two with a foul.
Reed is left alone again, and he knocks down a three from the right wing. KU having no bench points at halftime seems like a distant memory. Reed is now 3-for-5 from three-point range this half for nine points.
Every time Self calls a set play, it seems to work. After Self gives the instructions, Taylor fires in the lane to Marcus Morris for an uncontested dunk.
KU's defense has been shoddy in the late stages of this one, but it doesn't matter because the Jayhawks' offense has been so good. McCollum is up to 21 points, but it's taken him 22 shots to get there.
KU 68/Lehigh 53 — 7:52 left in game
Morningstar shows some leadership offensively, passing up a wide-open three to get it to Reed, who has been a hotter shooter lately. The unselfishness pays off, as Reed swishes the long attempt.
Morningstar gets his own try a few seconds later, as Collins pitches out after driving into the lane. Morningstar buries the three from the corner.
Another pitch to the outside, and another open three-pointer for KU, as Reed cans the three.
Perhaps it's fatigue, but Lehigh isn't putting up much resistance on the defensive end any more. Morningstar misses a layup, but Marcus Morris is there for the rebound and stickback.
Collins swishes an 18-footer, and Brett Reed signals for timeout, griping to the nearest ref for a few seconds. KU has its largest lead at 68-53.
KU 52/Lehigh 44 — 11:59 left in game
The double-digit lead doesn't last long.
Marquis Hall drills a three, and Knutson follows with a long jumper. The two teams trade five-point runs.
KU executes well with the lead down to six, as Reed sets a solid screen inside, freeing up Aldrich for an alley-oop slam. Give the assist to Collins.
KU 50/Lehigh 39 — 14:29 left in game
KU looks much more crisp to start the second half.
Aldrich gets a bounce pass deep in the lane, and he drops it in with his left hand. On the other end, Xavier Henry reaches out on the baseline for a steal.
Xavier Henry gets the ball in transition, and he takes two big NBA steps before putting in the contested layup.
Marcus Morris picks up a silly foul on a reach-in, and that hurts the Jayhawks a few seconds later. While helping on a screen, Marcus shuffles his feet well, but picks up a ticky-tack foul call. That's his third whistle, and Self shakes his head in disbelief at the whistle. Marcus has to check out.
Carrington picks up his own cheap call on a bump in the post, and that's three fouls on him. He gives a shocked look to the official.
McCollum with a deep three, and though the Jayhawks are playing better in the second half, their lead isn't any bigger than it was at halftime.
Collins once again starts a mini run for KU, as he hits a three from the left wing. He's picked a good day to not have a bad shooting game (5-for-11).
Xavier Henry follows with a steal, and Taylor gives it back to him for a one-handed sky jam. Lehigh calls timeout, and KU's lead is up to double figures.
KU scoring — Marcus Morris 12, Collins 11, Taylor 6, Aldrich 3, X. Henry 3.
KU was 14-for-32 from the floor (43.8 percent), 3-for-11 from three (27.3 percent) and 4-for-8 from the free-throw line (50 percent).
Lehigh was 12-for-33 from the floor (36.4 percent), 1-for-9 from three (11.1 percent) and 4-for-7 from the free-throw line (57.1 percent).
KU had eight first-half turnovers, while Lehigh had seven. KU out-rebounded Lehigh, 23-20.
Halftime thoughts
• Should we start with some positives for KU? Well, C.J. McCollum, the leading freshman scorer in the nation, mustered just six points on 2-for-10 shooting with four turnovers. Give credit to Tyshawn Taylor (four steals) and Cole Aldrich (three blocks) for slowing him down.
• Another positive for KU: Lehigh hasn't been able to get it going from the outside. The Mountain Hawks are just 1-for-9 from three after coming in as the ninth-best three-point shooting team in the nation (40.1 percent).
• OK, here's a negative: eight turnovers for the Jayhawks. It might be a bit more acceptable if the Jayhawks were trying to hammer the ball inside, but they're not exactly doing that either.
• KU's bench had 24 minutes but contributed no points, 0-for-4 shooting and just three rebounds. For a team that has won many games because of its strong bench this year, I'm sure this isn't the kind of effort that Self was looking for.
• Lehigh's Zahir Carrington said quite a few things yesterday, but he's backed up his talk so far. He had 12 first-half points on 6-for-11 shooting with five rebounds, a block and a steal. He also played all 20 minutes, so he might wear down a bit (especially with Aldrich now rested after sitting with foul trouble).
KU 35/Lehigh 29 — Halftime
KU's game Saturday will be at 4:40 p.m. That is, if the Jayhawks win today.
McCollum hits a stepback two, and Lehigh draws within one. The Mountain Hawks have stayed close without shooting well, too (32 percent).
Markieff and Aldrich both have two fouls, forcing Self to go to Robinson in the post. I'm a bit surprised the Jayhawks don't just play a smaller lineup, though, to put in the more experienced Morningstar or Reed. It's not like Lehigh is churning out 7-footers.
Collins hits a three from the wing, and KU needed that shot badly.
Robinson gets beaten in the post, as Carrington spins around him for a layup with a foul. KU's lead is trimmed to two again.
Collins answers, going under the basket for a reverse layup.
Robinson with a big block, and it leads to transition for KU. Collins finds Taylor for a layup, and the Jayhawks put together a much-needed 4-0 spurt in the final 40 seconds.
Still, the Jayhawks lead by just six.
KU 25/Lehigh 23 — 3:24 left in 1st half
Marcus Morris is killing Lehigh single-handedly inside. He adds another layup, then rips down two more offensive rebounds on the next possession before getting fouled. This all happened after he was called soft by Self earlier this game.
Taylor picks McCollum's pocket out top, and he takes it all the way for a two-handed throwdown. No pose afterwards, either.
KU gets two cheap fouls away from the ball offensively, one on Marcus Morris and the other on Aldrich. Self disagrees with both of them, screaming at the referees afterwards. Either way, it's two straight turnovers for KU.
Carrington puts in a jumphook over Marcus Morris, and the two get tangled up before heading down the floor. I don't think there's any love lost there from the two Philly natives.
Another turn-around in the lane from Carrington. Lehigh has trimmed KU's lead to two.
Like the Jayhawks today, the KU fans start to bring their best only when the game gets close.
KU 21/Lehigh 14 — 7:58 left in 1st half
McCollum tries another layup that's swatted away by Aldrich. I guess Aldrich's first block on McCollum didn't scare him enough.
Marcus Morris, after a slow start, has had an impressive last minute. He puts in a layup around a defender, then on the next possession, grabs an offensive rebound before putting in a baseline jumper.
Lehigh coach Brett Reed calls timeout, as KU has upped its run to 12-0.
Xavier Henry adds a wide-open three from the left wing. That's more of the shot that KU is looking for.
Carrington breaks Lehigh's drought, as he grabs a defensive rebound and dunks it over the top of Thomas Robinson, hanging on the rim until Robinson clears out of the way. That's two current Jayhawks that Carrington has dunked on in his career now.
Lehigh 12/KU 11 — 11:53 left in 1st half
KU once again settles for a three from the top, but this time, Marcus Morris' try hits off the back iron then gets a friendly bounce before dropping through.
Collins' pressure defense helps to force a steal, as Tyshawn Taylor steps in the passing lane. After a spin move, Taylor finishes on the other end with a layup.
Aldrich is starting to have his way inside. He's now blocked Carrington and C.J. McCollum — Lehigh's two best players. Those two might think twice about putting up shots in the lane.
Aldrich puts in a shot in the lane with a foul. The Jayhawks have a 7-0 run following Self's timeout.
Lehigh 12/KU 4 — 13:58 left in 1st half
Collins puts in a layup, but Markieff Morris gets beat down the floor, and he's forced to foul Gabe Knutson on a layup attempt. Aldrich checks back in for KU.
The Jayhawks are settling for too many outside shots. Markieff hoisted up a quick three a few seconds ago, and Xavier Henry followed by chucking up a deep three without setting his feet. KU should at least try to look inside before hoisting up the deep ones.
Self screams to Marcus Morris, "How soft are you?" after he fails to set a solid screen.
Carrington puts in a jumper over Aldrich, and Self calls timeout with KU trailing, 12-4. I can't imagine a worse start for the Jayhawks.
Lehigh 4/KU 2 — 15:59 left in 1st half
KU starts horribly offensively.
Tyshawn Taylor and Sherron Collins combine to miss three shots on the first possession, and it doesn't get much better after that for the Jayhawks.
Marcus Morris, Cole Aldrich and Collins post four turnovers in the next two minutes, and KU coach Bill Self is quick to substitute Markieff Morris and Brady Morningstar into the game.
Marcus Morris finally gets a layup to go in for KU's first points at the 16:31 mark.
8:40 p.m.
KU should tip off at about 9:05 p.m. after the Northern Iowa-UNLV game ran a bit late.
And, looking around, Lehigh is going to have other teams' fans cheer for it, as I can barely see any brown-shirted fans in the bleachers.
7:30 p.m.
Welcome back to the Newell Post Live, coming to you from the Ford Center in Oklahoma City where the No. 1-seeded Kansas Jayhawks are getting set to take on the 16th-seeded Lehigh Mountain Hawks.
There's an interesting subplot that will take place tonight between KU forward Markieff Morris and Lehigh forward Zahir Carrington.
During high school, the two faced each other during a game in Pennsylvania. The way Carrington tells it, after he missed a free throw, the rebound was tapped back out top. Once he retrieved it at the three-point line, he took one dribble before throwing down an emphatic dunk in the lane.
Right over Markieff.
"It was pretty far," Carrington said. "I'm sure I caught him by surprise."
Markieff and brother Marcus actually watched Lehigh's Patriot League game against Lafayette last week in their hotel room in Kansas City during the Big 12 tournament. The bad memory of Carrington immediately came to Markieff's mind.
"You should never get dunked on," Markieff said. "He caught me. My back was turned. He just ran down the lane and dunked it."
Markieff said having a player dunk over him — even in high school — was not something to laugh about.
"I definitely owe him one. I definitely owe him one," Markieff said. "Maybe if I get him, I get him. If I don't, I don't.
"I'm just going to go into the game playing up my game and not worried about dunking on him. But if I get him, I get him."
When I told Carrington that Markieff said he owed him one, the 6-foot-7 senior responded immediately.
"Good luck with that," Carrington said. "I've never been dunked on in a game. That'd be a first."
Be sure to vote in our poll on the left, and also use the hashtag #kubball to have your Tweets appear on the left side of this page.
For more on the NCAA Tournament, check out NCAA.com.