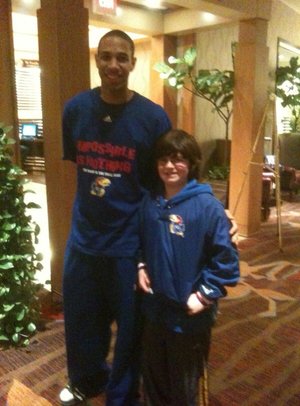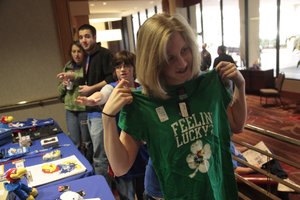 Feature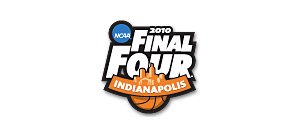 Oklahoma City — They say television adds 15 pounds, but the screen also manages to shave six or more inches from KU players, coaches and anyone else wearing crimson and blue on the sidelines at Ford Center.
Especially Xavier Henry, to hear Carter Jones tell it.
"He's really different in person," said Carter, a 9-year-old from Overland Park, who caught a picture with the KU freshman at the team hotel. "Compared to all the other guys on the floor, he looks really small. Then, when you stand next to him, he's about twice the size of me."
The nearly 5-foot-tall KU fans smiles, his temporary "KU" tattoo crimping slightly on his cheek: "I feel small."
Welcome to the Lilliputian world that exists for normal folks this week in downtown Oklahoma City, where eight college basketball teams are playing for a chance to take on even more giants for a chance to win a national championship.
Walk the lobby at the team hotel, and you come across plenty of youngsters and adults acting like youngsters when surrounded by their hoops heroes.
Lauren Miller, 14, didn't need to look up far — she's 5-foot-8 and still growing — to see assistant coach Danny Manning when he exited a van out front, but she may as well have been gazing up at a giant.
"Wow, he's tall," she said, after the brief encounter. "He's huge."
Matthew Greenfield, 6, and his older brother Jeffrey managed to catch up with four KU players, who dutifully signed the bills of their KU caps: Marcus Morris, Markieff Morris, Tyrel Reed and Elijah Johnson.
"They're a lot taller than they look on TV," Matthew said.
But Matthew stood tall, despite the pressure of standing in the company of real-life college basketball players, on the top-seeded team in the tournament and President Obama's pick to win the national title.
"Thank you for the autographs," he told them — looking up, of course. "Good luck on winning the championship."
More like this story on KUsports.com