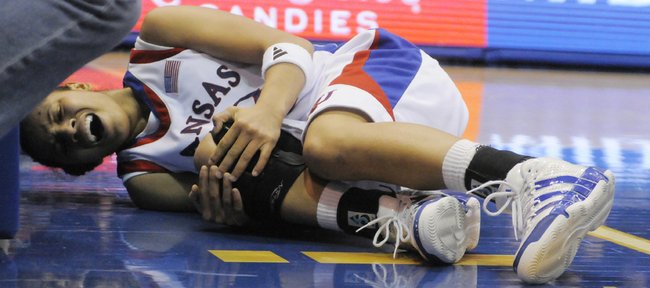 No doubt Kansas University's women's basketball season has been marred by the loss of Danielle McCray, the Big 12 Conference's preseason player of the year.
But would you believe virtually the same thing happened to Prairie View A&M;?
Six days before McCray suffered a torn anterior-cruciate ligament during a Feb. 4 practice session, Prairie View's Gaati Werema underwent exactly the same ordeal. And, yes, Werema was the Southwestern Athletic Conference preseason player of the year.
So it will be two teams trying to make up for the loss of their best player colliding tonight in a first-round WNIT game.
Tipoff will be at 7 p.m. in Allen Fieldhouse. The game won't be televised.
Tickets are $5 for adults, $4 for youths.
"The kids are excited," KU coach Bonnie Henrickson said of her players. "They're excited to play somebody else."
The Jayhawks should be excited to leave Big 12 foes behind after losing eight of the 10 games they've played without McCray, including six in a row.
Then again, seven of those eight defeats were inflicted by teams selected for the NCAA Tournament. The other loss was to Texas Tech, and the Red Raiders are also in the WNIT, so the Jayhawks' post-McCray nosedive has been somewhat deceptive.
Prairie View, meanwhile, hasn't stumbled as badly without Werema. Picked to win the SWAC, the Panthers (15-13) finished second. But they're coming off the downer of a 50-48 loss to No. 7-seeded Alabama State in the first round of the SWAC Tournament.
Even without Werema, the Panthers have a first-team all-league selection in guard Candice Thomas (15.5 ppg) and a second-teamer in Dominque Smith (13.6), also a guard.
"Their guards are very good one-on-one players," Henrickson said. "They're athletic, and overall they have very good team speed."
Kansas would, of course, love to advance to the WNIT championship game like last year, but McCray was the catalyst of that stirring run, and her college career, like Werema's, is over.
Without McCray, Henrickson has relied on 6-foot-3 freshman Carolyn Davis to pick up the slack. Davis scored a career-high 31 points in Thursday's 76-69 loss to Oklahoma State in the first-round of the Big 12 tournament, but she was the only KU player who scored in double figures.
Tonight's winner will meet the winner of Friday's game between Stephen F. Austin and Creighton in Omaha, Neb., at a date and site to be determined.
More like this story on KUsports.com