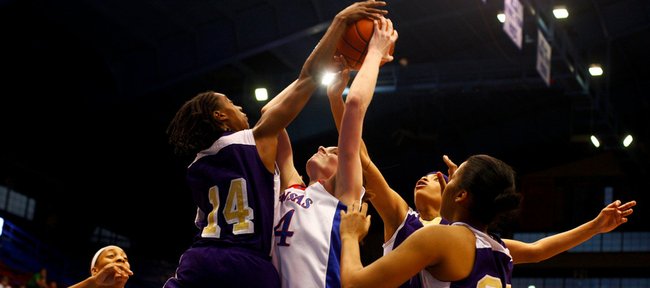 Photo Gallery
KU women vs. PVAMU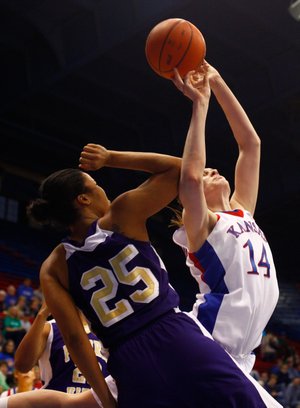 Photos from the lady Jayhawks' WNIT game against PVAMU on March 17, 2010.
Oh, Canada.
Saskatchewan native Krysten Boogaard produced a career-high 37 points in a rare start as Kansas plunked Prairie View A&M;, 82-70, in its WNIT basketball opener Wednesday night in Allen Fieldhouse.
"I just knew I needed to fill some big shoes," Boogaard said.
Back in January, the 6-foot-5 junior lost her starting job to Carolyn Davis, but Davis suffered a recurrence of an earlier concussion and had to sit this one out.
With Boogaard dominating the paint against the undersized Panthers, the Jayhawks didn't miss Davis at all.
"It was a huge evening for her," KU coach Bonnie Henrickson said. "She did a great job of getting in front of the rim, and the guards got a lot of passes to her, too."
Kansas was credited with 16 assists, and most of them led to Boogaard's 12 field goals. Curiously, Boogaard matched her previous career high of 24 points with those dozen goals.
Even more impressive was her dazzling 13-for-13 shooting at the free-throw line.
"I was struggling at the beginning of the year," Boogaard said of her foul shooting, "so it was a great feeling."
Boogaard was referring to a November game against TCU when she made only five of 14 free throws.
Certainly there was no foreshadowing for Boogaard's eruption against the Panthers. While serving as Davis' caddy during the Big 12 Conference portion of the schedule, she averaged just 4.1 points a game.
And when she made her first start in two months against Texas A&M; 10 days ago, also subbing for the ailing Davis, she scored only nine points.
"I don't think we were prepared for the intensity that she brought tonight," Prairie View coach Cynthia Cooper-Dyke said of Boogaard. "She maintained that level of intensity on both ends of the court all game long, and that we weren't prepared for."
Odds are Boogaard will go right back to the bench when the Jayhawks meet the winner of Friday's Creighton-Stephen F. Austin game at 1 p.m. Sunday in Allen Fieldhouse.
Unless she takes another blow to the head during practice between now and then, Davis should be cleared.
"We're cautiously optimistic," Henrickson said.
Davis, a 6-3 freshman, sat out the Texas A&M; game after suffering a concussion during a practice session the day before. But she was given the OK to play against Oklahoma State in the Big 12 tournament and scored 31 points off the bench.
Then Davis took another blow to the head during Tuesday's pregame work.
"I got hit in the same spot," Davis said. "I tried to walk it off, but it was the same thing again. It was frustrating, but (Boogaard) showed we're tough inside."
Tough enough that Henrickson said the Davis and Boogaard make the Jayhawks "as good as we've been at that position since I've been here."
Kansas (16-15) snapped a six-game losing streak. The Jayhawks had lost eight of their last 10 since standout Danielle McCray was lost for the season due to a knee injury.
KU hadn't won in Allen Fieldhouse since clipping Kansas State, 70-60, on Feb. 7, three days after McCray went down.
Monica Engelman added 12 points and Sade Morris 10.
"It was a disappointing season," Morris said, "but we still have a chance to win a championship."
More like this story on KUsports.com