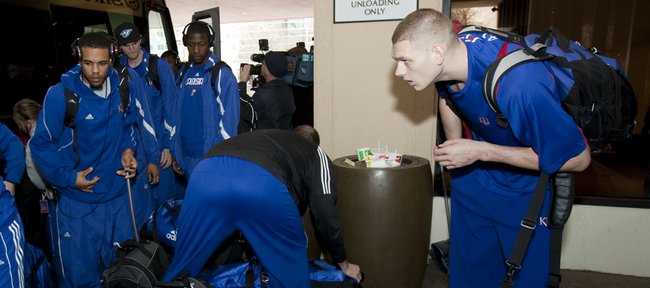 The Kansas University men's basketball team is the favorite to win this year's NCAA championship — and their report cards don't look too shabby, either.
The Jayhawks have the top Academic Progress Rate scores of any of the 65 teams participating in the tournament. The APR is a figure used by the NCAA to determine academic performance, and includes factors such as eligibility, retention and graduation. The metric provides a semester-by-semester snapshot, taking into account the academic progress of each student-athlete.
For the last five years, an online publication, "Inside Higher Ed," has used each team's APR scores to create an "Academic Performance Tournament" using the teams in the men's tournament. This year, KU defeated Brigham Young University in the Final Four before going on to beat Duke in the final to claim this year's title.
In the same mock tournament, Big 12 rivals Kansas State University lost its first-round game to North Texas, while the University of Missouri made a second-round exit to West Virginia.
Teams with an APR below 925 are subject to NCAA penalties. The KU men's basketball team has an APR of 1,000, using data from 2004-08, according to a study done annually among the men's basketball tournament teams by the University of Central Florida's Institute for Diversity and Ethics in Sport.
Jim Marchiony, KU associate athletics director, attributed the success to a number of factors.
"First of all, you have to have kids who want to do well. You also have to have coaches who want to help the kids do well. And you have to have a faculty who is made up of outstanding teachers and flexible teachers," who can accommodate the travel demands of student-athletes, he said.
He said that's accompanied by a large student support staff that helps tutor student-athletes in their courses.
"We have all of that in place," Marchiony said.
The NCAA also tracks Graduation Success Rates, a formula that attempts to measure how many of a team's student-athletes go on to graduate, while taking into account transfers and students who leave in good academic standing.
KU's men's team has a 73 percent GSR, according to the Central Florida study. That's up from a 64 percent score last year, and was tied for 27th highest in the tournament field.
The study also measured graduation rates for black student-athletes compared to white student-athletes, and noted that, overall, the disparity between the two was growing — with 65 percent of the tournament teams showing a gap of 20 percentage points or greater between black and white graduation rates.
For KU's basketball team, however, the rates were closer — with a GSR of 75 percent for its white athletes, compared to 67 percent among black athletes.
More like this story on KUsports.com