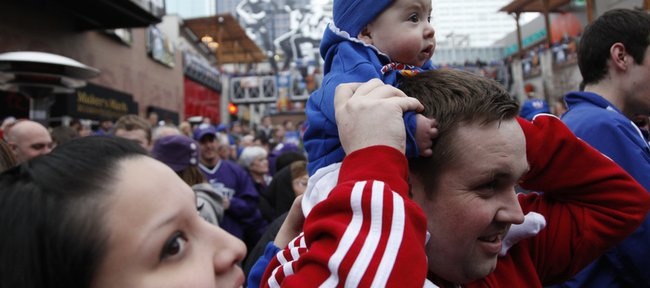 Kansas University fan Craig Bastemeyer has been waiting for this for the last 25 years.
Every time KU made a basket Saturday in the Big 12 Tournament title game, fans cheered. Every time Kansas State University made a basket in the game, fans cheered. Both groups cheered so loudly it was sometimes difficult to tell who was putting up points.
"I think the rivalry is finally here," Lawrence native Bastemeyer said. "It's been a long time coming."
Hundreds of fans supporting both teams packed Kansas City's Power and Light District early in the afternoon and stayed well after the championship had been decided in KU's favor, 72-64. During the game, fans from both teams stood shoulder-to-shoulder as they watched the teams battle on the big screen.
"This place wouldn't be like this if these two teams weren't playing," Bastemeyer said.
Basketball fans stood and sat anywhere they could find space, which made moving anywhere more difficult.
No one was complaining.
Sara Lansing stood toward the back of the large viewing area, taking in the atmosphere as the game wound down, with the Jayhawks taking control.
"This is awesome," Lansing said. "I'm just glad we finally have some good competition."
Lansing, who lives in Tonganoxie, said her family had split loyalty between Kansas and K-State. Lansing said she aimed most of her trash-talking at her Wildcat-supporting family members during games but stayed civil toward strangers.
Lansing and her family members made a friendly wager on the outcome of Saturday's championship.
"Tonight we said the winner gets the bragging rights," Lansing said.
The Jayhawks secured those rights, taking home the Big 12 Tournament trophy.
More like this story on KUsports.com