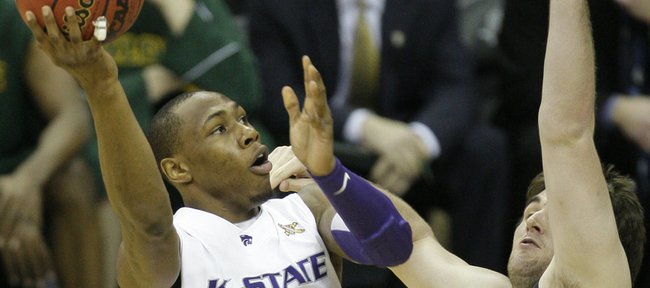 Standing along the baseline opposite the ball, Dominique Sutton raced to the other side of the rim and snatched on offensive rebound, setting up the decisive shot.
A single play, one of hundreds on the night made all the difference for Kansas State and set up what should be one of the biggest nights in Kansas City sports history.
Sutton grabbed a key offensive rebound that led to Jacob Pullen's 3-pointer with 2:02 left, giving No. 9 Kansas State an 82-75 win over No. 21 Baylor on Friday night and setting up a monumental Big 12 title game matchup against rival Kansas.
"That's a big-time play," Kansas State coach Frank Martin said. "That's a guy making a play who has an unbelievable desire to win."
Pullen burned Baylor for the second straight game, finishing with 26 points, and Denis Clemente added 24 and seven assists to give Kansas State a school single-season record for wins.
Sutton was the difference, though, playing with the relentless energy he'd been missing over the final weeks of the season.
The junior provided the spark for listless Kansas State (26-6) early on and made the big plays when it got tight, finishing with 14 points and 14 rebounds to send the second-seeded Wildcats into their first conference title game since 1993.
"He had the will tonight," said Pullen, who had 25 points the first meeting with Baylor. "He decided he wanted to get every rebound that came off the rim."
If it weren't for Sutton, Baylor (25-7) would likely be headed to a second straight Big 12 title game.
The Bears baffled Kansas State with their zone early, shot 54 percent overall and got big nights from LaceDarius Dunn (26 points) and Ekpe Udoh (18 points, 11 rebounds). Baylor's biggest problem was keeping the Wildcats off the glass, giving up 17 offensive rebounds that led to 18 points, including eight by Sutton.
"He definitely was a difference-maker tonight," Baylor coach Scott Drew said.
After dismantling Oklahoma State in the quarterfinals, Kansas State found itself in a steel-cage match against a Baylor team with similar traits: long, athletic, aggressive.
The Bears had the edge early, the Wildcats responded and the two latched on like rottweilers the rest of the way, neither willing to back down.
Kansas State grinded out a win, but it doesn't get any easier from here.
Next up for the Wildcats is a shot at Kansas on Saturday in a super Sunflower Showdown that will likely go down in the annals of Kansas City sports, up there with the 2007 Border War at Arrowhead Stadium, the 1988 national title game at Kemper Arena and the 1985 "Show Me" World Series.
The top-ranked Jayhawks swept the season series, so, yeah, the Wildcats will be up for it.
"I've got to think it's going to be the best environment of any conference championship in the country," Martin said.
Baylor made an improbable run in last year's tournament, winning three straight games to reach the title game as the No. 9 seed. The Bears had a better season that led to a better seed this year, and had won five straight after beating Texas for the third time this season in Thursday's quarterfinals.
The Bears are done in the Big 12 tournament, but are sure to get a good seed in the NCAA tournament after their taught battle with K-State.
"Everything they normally look for — high RPI, good road wins and strong conference performance we had — hopefully we get a good seed," Baylor coach Scott Drew said.
Baylor had no trouble with Kansas State's overplaying man defense early, hitting eight of its first nine shots.
Of course, the offense was pretty simple: get the ball to Dunn.
The Big 12's second-leading scorer hit a postup and a 3-pointer in the first 60 seconds, and had 10 points in five minutes — even with Pullen waving a hand in his face like a windshield wiper.
Sutton put an end to Dunn's run, hounding him all over the court for a scoreless final 15 minutes. But like any good shooter, he kept firing, finishing 9 of 17 from the floor.
Kansas State needed a little time to figure out Baylor's 1-3-1 zone, keeping it close with nine offensive rebounds — four by Sutton — in the first 9½ minutes. Pullen and Clemente then solved the Bears' zone; Pullen by shooting over it (four 3-pointers) and Clemente with his barely-in-control sprints through it.
They combined for 27 of Kansas State's 36 points, leaving the Wildcats just one behind at halftime, and kept firing in the second half to set up one of the biggest games in program — and Kansas City — history.
"I just hope we've got some juice left in the tank to try and compete with the best team in the country tomorrow," Martin said.
More like this story on KUsports.com