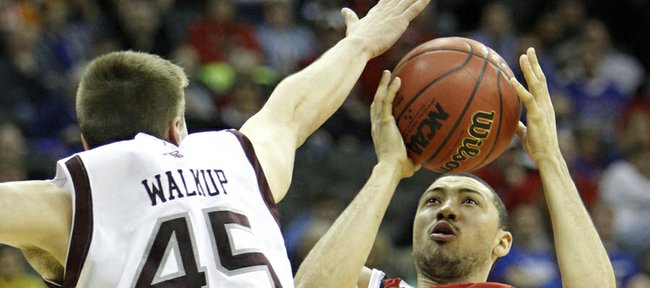 Kansas City, Mo. — Donald Sloan scored 23 points and Bryan Davis had a key three-point play at the 1:01 mark, enabling No. 23 Texas A&M; to stave off upset-minded Nebraska 70-64 in the quarterfinals of the Big 12 tournament on Thursday.
Nebraska, trailing all game while trying to become the first No. 12 seed in Big 12 history to win two tournament games, cut the lead to 62-58 with 1:35 left on Sek Henry's 3-pointer.
Davis then managed to get behind the Nebraska defense for a layup, was fouled by Jorge Brian Diaz and make the free throw to make it 65-58.
In Friday's semifinals, the Aggies (23-8) get a rematch with No. 1 Kansas, which beat them last month 59-54.
The Huskers (15-18), who lost all but two of their 16 regular-season conference games but beat No. 5 seed Missouri in the first round, will sit out the NCAA tournament for the 12th straight season.
Anderson had 16 points for the Huskers, Diaz 14 and Sek 13.
Khris Middleton had 17 for the fourth-seeded Aggies, including two key free throws with 28 seconds to go after Brandon Richardson's two free throws had cut the lead to 66-62.
About midway through the second half, Sloan's free throw gave the Aggies a seemingly comfortable 49-36 advantage. But Lance Jeter scored four quick points and the Huskers went on an 11-0 run, slicing the lead to 49-47 when Anderson made a 3-pointer at the 9:02 mark.
After an A&M; timeout, Sloan's basket stopped the drought and a few minutes later, B.J. Holmes's 3-pointer made it 54-49.
Sloan's 3-pointer put the Aggies on top 57-53 after the Huskers, trailing by 13 in the second half, cut it to 54-51 on two straight baskets by Diaz, their 6-foot-11 freshman.
Ryan Anderson came right down court and scored for Nebraska, cutting the lead to 57-55. Then Khris Middleton made a 3-pointer, Sloan rebounded Anderson's missed 3-pointer and came back and dropped in a layup for a 62-55 advantage.
The Aggies, headed for a school-record fifth straight NCAA tournament appearance, scored the game's first eight points and never trailed even though the Huskers shot 50 percent.
Sloan, with 12 points in the first half, made a 3-pointer for an 8-0 lead which reached 27-15 before A&M; settled for a 37-28 halftime advantage on Sloan's 3-pointer just before the buzzer.
Nebraska's Brandon Richardson who had 19 points in the victory over Missouri, played just 9 minutes in the first half and did not even take a shot. He got his first points on a 3-pointer early in the second half and finished with four points.
More like this story on KUsports.com