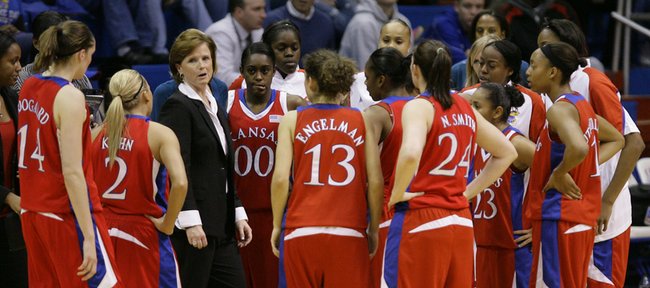 Injuries have taken a toll on Kansas University's women's basketball team. And the impact hasn't been just physical.
"It's been tough mentally," senior guard LaChelda Jacobs said. "All my four years here we've never had this many people hurt, especially star players."
The Jayhawks appeared demoralized last Saturday when they wrapped up the regular season with a 78-54 spanking from Texas A&M; in Allen Fieldhouse. But the Big 12 tournament gives them new hope and hopefully new life.
"Everyone is zero-zero now," Jacobs said.
Kansas will meet Oklahoma State at 5 p.m. today in Kansas City's Municipal Auditorium. Metro Sports (Sunflower Broadband 37) will have a live telecast.
As if it weren't bad enough losing starters Danielle McCray and Angel Goodrich to knee injuries during the Big 12 chase, the Jayhawks didn't have Carolyn Davis for the A&M; game.
Based on the way the Jayhawks performed against the Aggies — notably their 30 turnovers — the Davis injury may have been the straw that broke the proverbial camel's back.
Whatever, what began as the most promising KU season in at least a decade has reached the stage where the postseason — even the WNIT — is iffy.
If the Jayhawks (15-14) fall today, their losing streak will have grown to six, and a half-dozen losses in a row wouldn't appear likely to translate into postseason consideration.
Losing McCray, Goodrich and Davis punctuated the shallowness of KU's bench. In the A&M; game, for example, Henrickson used six reserves for considerable minutes and only one of them scored.
"That's been a problem since Danielle went down," coach Bonnie Henrickson said. "Those kids have to step up and produce."
On a more positive note, Davis resumed practicing on Wednesday and might be cleared to play today.
"She feels good," Henrickson said, "We'll be cautious, but we think she might be able to go."
The 6-foot-3 Davis was the Jayhawks' leading scorer during conference games and earned a berth on the All-Big 12 Freshman team.
Kansas and Oklahoma State met in the conference opener back on Jan. 12 in Allen Fieldhouse, and it turned out to be a double disappointment for the Jayhawks.
Not only did O-State win, 70-68, on a basket by Toni Young with just four ticks remaining, but Goodrich suffered her season-ending ACL tear late in that contest.
McCray pacing the Jayhawks with 28 points while Goodrich added 13. Since losing those two, KU has just one legitimate three-point shooting threat in freshman Monica Engelman.
"I think we'll see more zone without Danielle," Henrickson said. "That's their base defense, but they didn't use it much because of Danielle."
In that first meeting, KU also couldn't slow All-Big 12 point guard Andrea Riley who finished with 30 points and seven assists.
More like this story on KUsports.com