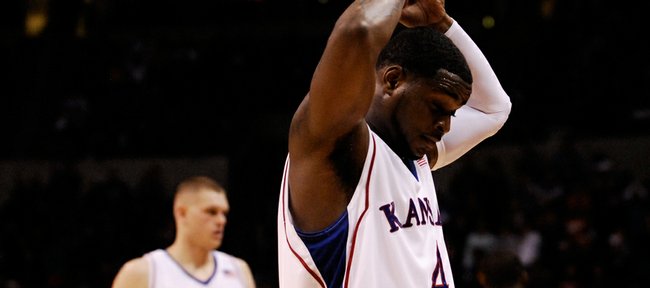 Kansas City, Mo. — Bill Self likes to check in with each of his Kansas University basketball players to see how they're feeling — physically and mentally — heading into the postseason.
"A couple guys have got a cough, but that's about it. Sherron (Collins) said his throat was scratchy and he was coughing a lot," Self said Wednesday before boarding a charter bus for downtown Kansas City — site of today's Big 12 tournament quarterfinal between KU (29-2) and Texas Tech (17-13). Tipoff is 11:30 a.m. in Sprint Center.
"I said, 'Do you have a fever?''' Self said, indicating Collins' answer was, "No."
"I said, 'Are you throwin' up?'''
Again, Collins' answer was, "No."
'''Well, you're fine then.' That's how it works this time of year," Self added.
"This time of year" is tournament time. The Jayhawks hope for a longer stay at the 2010 Big 12 tourney than last year's one-and-done. KU fell to Baylor in a quarterfinal in Oklahoma City.
"We all said, 'What happened?''' Collins said of the Jayhawks' reaction to their 71-64 loss to the Bears, which preceded KU's Sweet 16 NCAA Tournament run. "We felt if we played them again right after that game, we've have beat them bad. We were not ready to play," Collins added.
This year?
"We want to win it all. Might as well finish off what we started," Collins said.
A win would push KU into Friday's 6 p.m. semifinal against Texas A&M; or Nebraska. Finals are 5 p.m. Saturday.
KU is matched against a Tech team that downed Colorado, 82-67, on Wednesday. The Jayhawks ripped the Red Raiders, 89-63, on Jan. 16 in Allen Fieldhouse.
"In the second half, we played them almost even, so we're going to use that as confidence (builder) and take that into tomorrow," said junior guard John Roberson. He scored 19 points with nine assists and five rebounds versus CU.
He was referring to Tech being outscored, 47-45, in the final 20 minutes in Lawrence.
"It's always nice to play the No. 1 team in the nation because there's no pressure on you. They have everything to lose. We're going to come out with no pressure and play ball," Roberson added.
Mike Singletary, a 6-6 junior forward, who scored 13 versus the Buffs (two under his average), had zero points off 0-for-4 shooting in the first meeting against KU.
"They played me real tough. I wasn't adjusting," Singletary said. "That really hurt my confidence.
"It's always tough whenever you put up a goose egg. Whenever you put up a zero, it's kind of tough," Singletary added. "I think I'm a scorer so it's tough to bury. I think it'll be different."
He'll be ready for a physical matchup this time.
"I like to curl into the lane and get jump shots in the lane and get to the basket. They kind of bumped me a little bit," Singletary said. "It's a matter of adjusting and playing basketball. We're playing the No. 1 team in the country. What more can you ask for?"
2,000 on the line
A KU victory today would be the 2,000th in school history. Kentucky is all-time leader with 2,017 wins. North Carolina has 2,000 heading into today's game against Georgia Tech.
"Certainly I can use that as motivation, but I will not make a big deal out of that because that's not a big deal to our guys and shouldn't be any huge deal," Self said. "But any little motivation this time of year you definitely try to use and I think they'll want to play well for themselves and for how we played last year and for seeding (in NCAAs). Certainly this is an extra carrot for us."
Baylor revisited
Roberson and Singletary were reminded that Baylor, the winner of last year's No. 8-9 Big 12 tourney game, downed No. 1 seed KU in last year's quarterfinals.
"We know anything can happen," Roberson said. "When we're playing — when we're on our A game — we're playing well. When we're playing on the offensive end and the defensive end, I think we can beat anybody in the country. So we're just going to see what happens, just try to play with the same energy we played with today (in 82-67 first-round victory over Colorado)."
Singletary said: "I think Kansas is a good team. And it's just a matter of just going out there and just being in the right spots and listening to the scouting report that we're going to have today. And it's all about just containing their guards and trying to limit their big men to offensive rebounds and stuff like that. So it's going to be a big challenge for us, but I think we're ready for it.
Pat's take
Tech coach Pat Knight was asked about the challenge of trying to beat the country's No. 1-ranked team.
"It's going to be tough. It's like comparing my win/loss record to my old man's," he said of Bob Knight. "You have to look at it as a situation from a college coach and player. You get a chance to play the No. 1 team in the country and anything can happen on any given day. We just have to go out there and play hard and just compete and see what happens. Because a lot of funny things happen in these conference tournaments.
"We have to go back to playing in the passing lanes, getting into the ball, because we had to back off all that because of the Princeton offense that Colorado runs. So that's really all we can do. Then we've got to talk to them about helping down the post."
Self on Wednesday's CU-Tech game
"I thought Colorado played great the first six to eight minutes. Then all of a sudden flip a switch and Tech was terrific the rest of the way. We didn't get a chance to watch the second half because we were practicing."
And Self on today's matchup: "We haven't played Tech since the second game of the conference season. It has been awhile. We have tape on them. We have a pretty good book, just like we would all potential opponents and I'm sure they've got a good book on us. Last year we played the winner of the 8-9 game and didn't fare so well. I think we'll go over there excited this time."
Rush likes Jayhawks
Former KU player Brandon Rush of the Indiana Pacers likes KU in the upcoming NCAA Tournament.
"A.J. (Price of Pacers) swears up and down that my team is terrible and we're not going to make it far, but his squad isn't even going to make the tourney," Rush told the Indianapolis Star. "Kansas has it all. They can get it done in the low post, they've got great point guard play and they're playing at a high-level defensively now."
Collins likes being close to home
KU senior Collins on playing the Big 12 tourney so close to home in K.C.: "Maybe it's a little bit of an advantage. I think we have more fans in Kansas City. It's nice to have it in Kansas City in my last year rather than go to other places like back to Oklahoma."