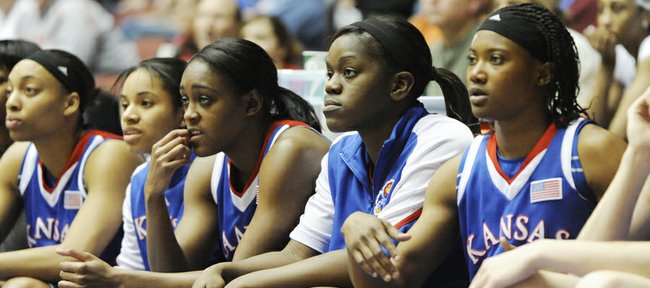 Kansas City, Mo. — Six losses in a row. Eight defeats in the last 10 games.
No matter. Kansas University's staggering women's basketball team will be making its second straight appearance in the WNIT.
In the wake of Thursday night's 76-69 loss to Oklahoma State in the first round of the Big 12 tournament, KU coach Bonnie Henrickson confirmed the Jayhawks will be in the WNIT again.
"Based on conversation," Henrickson said, "we would possibly have an opportunity to play at home next week."
In fact, you can probably mark Thursday night on your calendar as the Jayhawks' next opportunity to stop the bleeding.
WNIT officials no doubt remembered when they agreed to re-invite the '09 runners-up that last year's championship game in Allen Fieldhouse drew an announced crowd of more than 16,000
Last season, the Jayhawks barely missed an NCAA bid, then snatched the WNIT offer. This time, their 15-15 record was barely good enough for the WNIT because teams with losing records aren't eligible.
"We didn't help ourselves enough in the last 10 days to be in the (NCAA) conversation," Henrickson said, "but we can go back and draw on the pride we played with last year in the NIT."
And they can draw on the pride they displayed against NCAA tourney-bound Oklahoma State in Municipal Auditorium. After losing their last three games by an average of 24 points, the Jayhawks were in this one until the waning minutes.
"Honestly," Henrickson said, "as bad as we've been … as well as we played at times tonight feels so much better."
Last year KU rode to the WNIT title game on Danielle McCray's back. Now, with McCray on the shelf because of a knee injury, Carolyn Davis might be able to assume the role of the Jayhawks' Atlas.
Davis was dynamite against the Cowgirls, scoring a career-high 31 points and collecting 11 rebounds off the bench. The 6-foot-3 freshman hadn't practiced in five days after suffering a concussion during practice a week ago today.
"So now I'm going to have a team full of kids that will think they need five days off and get 31," Henrickson said with a smile.
Davis was cleared by team physicians Wednesday.
"I just tried to rest up and not exert myself," she said. "I took a few shots in practice, but I just tried to take it easy until today."
Henrickson decided not to start the Houston prep product, saying: "I thought she wouldn't feel like she wouldn't have to do something right away."
Davis entered about two minutes after tipoff and scored seven straight points. She wound up playing 32 minutes and making 12 of 13 shots. Her only miss was a block credited to OSU's Precious Robinson.
Davis, however, was the only KU player who scored in double figures.
Take away her sizzling shooting, and the Jayhawks made only 24 of 50 shots (24 percent). Notably, starters Aishah Sutherland, Sade Morris and Monica Engelman couldn't hit the World War I Museum from the top of the Liberty Memorial. They were a combined 4-of-34 from the floor.
Meanwhile, OSU's Andrea Riley didn't shoot very well, either … just 33.3 percent. However, she took a tourney-record 30 shots, and half of her 10 goals were three-pointers, at least three from NBA range.
Riley finished with 37 points and broke the Big 12 tournament single-game scoring record of 36 set by former Oklahoma standout Courtney Paris.
More like this story on KUsports.com