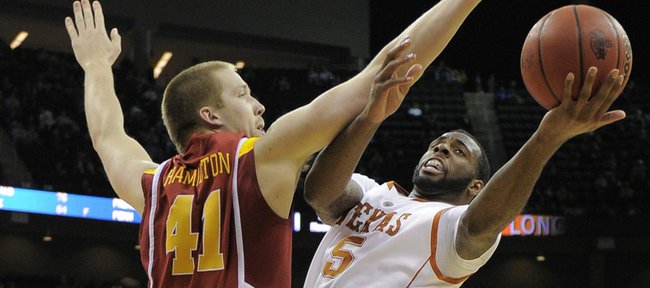 Feature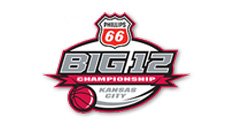 Feature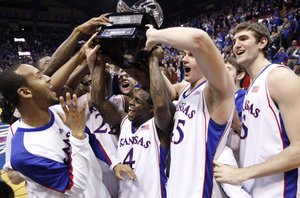 Download these wallpapers from the 2010 Kansas basketball season for your computer's desktop.
If you want to join in the Big 12 Tournament conversation, use the hashtag #big12ku to have your Tweets appear in our grid on the left side of the page.
UT defeats ISU, 82-75
Texas makes enough of its free throws down the stretch. James comes away with two significant offensive rebounds off free throws.
Brackins checks out, and he tries to hold back tears as he hugs teammates. It looks like he's checked out of his last collegiate game.
Be sure to check back Thursday for full coverage of KU's quarterfinal game against Texas Tech. Also remember that at 4 p.m., Tom Keegan and I will be shooting a Spodcasters Live from the Live Block of the K.C. Power and Light District. Hope to see some of you there.
UT 71/ISU 64 — 2:10 left in game
ISU picked a bad time to miss seven straight shots — an offensive lull that will most likely cost the 'Clones any chance at winning this game.
UT 67/ISU 59 — 7:50 left in game
Just when the Cyclones start to make it interesting — pulling within one — the Longhorns respond with three straight productive offensive possessions. James hits a huge three, and Pittman follows with two consecutive shots in the paint.
You have to give credit to UT, which has had an answer each time ISU starts to make a run.
UT 45/ISU 40 — 13:39 left in game
At least part of UT's struggles offensively this season have to be attributed to the Longhorns' inability to share the basketball. UT is averaging assists on just 49.2 percent of its field goals, which ranks 275th nationally (national average is 53.6 percent). For comparison purposes, KU gets assists on 59 percent of its made field goals.
Tonight, the Longhorns have just seven assists on 19 field goals (36.8 percent). It's a lot tougher to score when teammates aren't creating open shots.
UT 31/ISU 28 — Halftime
Two bad turnovers by ISU — one by Diante Garrett, one by Craig Brackins — ruin a golden opportunity for the Cyclones to tie the game or take the lead.
UT's offense has gone into its "Which long jumper should we settle for this time?" mode, so I definitely wouldn't count the 'Clones out of this one.
UT 29/ISU 25 — 3:00 left in 1st half
Damion James is well on his way to another double-double (10 points, 6 rebounds). It's amazing that with such a talented cast around him that no one else has been able to step up as a consistent second scorer behind him this year.
UT 27/ISU 21 — 7:23 left in 1st half
ISU's Craig Brackins is playing with a heavy brace on his knee. This year couldn't have turned out the way he planned. To me, he's a lot like Kansas' Cole Aldrich — many fans might tell him he should stay for another year, but he should go pro to make sure to get paid.
The Cyclones are scoring OK, but they're not making it tough enough on Texas defensively. The way to beat the Longhorns isn't to outscore them, but instead, it is to make them earn every point.
UT 15/ISU 15 — 10:50 left in 1st half
Iowa State hanging close. Marquis Gilstrap and Justin Hamilton both help, stepping up to make mid-range jumpers. It's amazing how much better a team's offense looks when players make open 15-footers.
UT 11/ISU 9 — 15:30 left in 1st half
I haven't been able to see much of the game yet (after coming back from interviews), but I can tell you that Iowa State has a great crowd here tonight. We'll see if the home-like atmosphere helps the Cyclones tonight.
8:38 p.m. — Little Mac update
I've got some sad news to report in my quest to change Keiton Page's official nickname to "Little Mac".
Turns out Page doesn't even know who Little Mac is.
"I'm going to have to find that one out," Page said to me with a laugh following OSU's 81-67 victory over OU. "I'm going to have to look that one up."
Even though Page doesn't know (yet) of the boxer of Nintendo fame, that doesn't mean he isn't endorsing the "Little Mac" nickname.
"That's fine with me. These guys have pretty much given me every nickname there is," Page said. "I'll take any nickname that's out there. ... These guys — they call me anything that has to do with small. Anything that has to do with short in their head, they're going to call me it."
OSU defeats OU, 81-67
James Anderson and Tiny Gallon exchange one-handed slams to add some life to the end of this game.
OSU coasts to the 14-point victory.
OSU 79/OU 59 — 3:59 left in game
Backup point guard Fred Gulley hits a three for OSU. He was 0-for-19 from beyond the arc this season before that attempt.
Why not, right?
OSU 65/OU 50 — 7:51 left in game
I've decided I'm going to ask Keiton Page about his new nickname, "Little Mac," after the game. Will he endorse it? Stay tuned ...
OSU 55/OU 40 — 11:46 left in game
I can't believe what I just saw. Keiton Page missed a three. Take a moment to let that sink in.
Muonelo hits a free throw, breaking OSU's six-minute, 44-second drought to start the second half. OU put together an 11-0 run before that.
Just after a three pulls OU to within 10, Little Mac comes back with an uppercut blow. He picks Mason-Griffin's pocket in the backcourt, then puts in a layup with a foul, screaming to the crowd a few feet in front of me. That completes a quick 6-0 run for OSU.
OSU 45/OU 32 — 15:39 left in game
OU's Tommy Mason-Griffin is one inch taller than OSU's Keiton Page. I just noticed that by looking at them guarding each other. That's even with Page gaining an extra half-inch by growing his hair long.
I'd love to say that OU scoring the first nine points of the second half means the Sooners can still get back into this game, but I can't. I just don't see it happening, especially because the Sooners' defensive lapses usually sabotage their comebacks.
It's interesting to see how different coaches deal with their underachieving teams. Texas Tech coach Pat Knight screams until his face is red. OU coach Jeff Capel, meanwhile, encourages and claps for his team until his hands are red. Different philosophies for sure.
OSU 45/OU 23 — Halftime
What an embarrassing half for Oklahoma. OSU coach Travis Ford has had his team hold the ball up top to waste time, and there's still two minutes left in the first half.
Can we get a mercy rule? A running clock? Both coaches to sign a contract for the game to end at halftime?
OSU 40/OU 19 — 3:50 left in 1st half
Not much to add. Page is 9-for-9 from three against KU/OU this game, and Matt Pilgrim is 11-for-11 from the floor against KU/OU this game. Amazing.
OSU 36/OU 15 — 6:10 left in 1st half
Can there be a call for over-the-back when a player is laying on the floor? I just saw it. Obi Muonelo slipped getting out to Steven Pledger, and the rebound came back toward both of them. While still on the ground, Muonelo lunged for the ball, and Pledger was whistled for over the back when he went, well, way over Muonelo's back (Muonelo was still on the floor; he had to go over his back).
Vicious, vicious one-handed dunk off an alley-oop by Matt Pilgrim. There's another guy I haven't seen miss a shot live this year.
"Little Mac" strikes again! Another three, and he's 4-for-4 from deep — matching his shooting against KU.
It doesn't take him long to do one better. Little Mac hitches up another deep three, and it hits front rim, then backboard before bouncing in. I'm beginning to wonder if I'll ever see him miss a three in person.
OSU 24/OU 5 — 11:21 left in 1st half
Ken Pomeroy just responded to me on Twitter. Wow, the power of the Internet.
Page with another long two. He can't miss.
OU can, though. Two points for OU in the first six minutes and counting. Is it too early to wonder whether Jeff Capel's job might be in jeopardy next season?
Ho hum. Page hits another three-pointer a couple steps behind the arc. OU calls timeout, and I love Roger Franklin's reaction for OSU. He goes into an Incredible Hulk-like pose, flexing his biceps while bringing his fists toward his stomach. He then holds the pose, waddling forward toward the bench while crouched over a bit. You'd have thought it was Franklin that hit the three-pointer himself.
OSU 13/OU 2 — 15:55 left in 1st half
Keiton "Little Mac" Page only seems to light up the nets when I'm watching him.
He went 4-for-4 from three during the OSU-KU game. Then he went a combined 1-for-13 from three against Texas A&M; and Nebraska.
Sure enough, he opens this game with two consecutive threes. That's 6-for-6 in games this year that I have seen live. Meanwhile, with help from the two threes, OSU opens the game on a 9-0 run, perhaps already delivering the knockout blow against lifeless Oklahoma.
5:45 p.m.
Some quotes from my interviews with Texas Tech's Mike Singletary and John Roberson in the locker room after their victory over Colorado about about their upcoming game against KU.
Singletary
"We're playing the No. 1 team in the country. What more could you ask for?"
"I don't think anybody is picking us to win this game by any means. It's OK. They can do all that. We're going to stay tight in here as a family, and we're going to go out and compete. We've beat Kansas before. We beat them last year, and we're a better team than last year. It's not that they're unbeatable by any means. They're a great team, but they're not unbeatable."
Roberson
"It's always nice to play the No. 1 team in the nation, because there's no pressure on you. They have everything to lose. We're going to come out with no pressure on us and just play basketball."
Also of note:
• Both players talked about how physical KU was — especially defensively — in the teams' first matchup.
• Singletary said it took him a few days to get over the fact that he didn't score any points against KU in the first matchup. He said KU's physicality took him out of his game. After watching the film, he think he can attack KU's defense differently on Thursday.
• Singletary said that while he was able to get some layups today against CU, he's expecting that he'll have to rely a lot more on his jumpshot Thursday against KU because of shot-block presences Cole Aldrich, Markieff Morris and Marcus Morris inside.
FINAL: NU defeats MU, 75-60
MU cuts it to eight at one point, but gets no closer.
Pretty funny gesture by the KU fans in attendance, as a few of them start up the "Rock Chalk Chant" with 39 seconds left in NU's victory.
The Huskers close out an impressive 15-point win.
NU 64/MU 51 — 3:36 left in game
Nebraska goes scoreless over the next four minutes, which isn't the best way to protect a lead. The Huskers still keep most of their advantage, though, thanks to their defense. MU isn't much of a jump-shooting team, and it has showed with the bad shooting we've seen in the last few minutes.
Richardson follows with what will probably be the game-decider for Nebraska. He launches in a deep three while also getting fouled, giving NU a 13-point lead with just over three minutes to go.
NU 61/MU 47 — 7:30 left in game
The Missouri boo-birds are out. A round of boos from the faithful here follows every call against the Tigers. NU actually still has more fouls than MU this half, 8-5.
I can't help but think of this story when I see Miguel Paul. Anyone else?
NU 54/MU 39 — 11:57 left in game
NU is hanging in there. Coach Doc Sadler uses one of timeouts to give his players a rest, and it will be interesting to see how he uses his other three timeouts. The coach will most likely be using his timeouts for breathers rather than strategy.
NU 48/MU 33 — 15:41 left in game
Brandon Richardson hits a three and Jorge Brian Diaz follows with a layup. MU falls further behind.
Meanwhile, MU's Kim English keeps jacking up terrible shots for the Tigers. Those are especially bad when MU desperately needs points.
Halftime thoughts
• Nebraska shooting 13-for-22 (59.1 percent) and 5-for-10 from three (50 percent) explains the halftime score pretty well.
• Like I said earlier, as hard as it is to believe, NU had the height advantage. The Huskers out-rebounded the Tigers, 19-11, in the first half. If MU can't rebound any better than that, then this will be the second-to-last game of the Tigers' season.
• Interesting stat: No NU player took more than four shots, and no NU player missed more than two shots in the first half.
NU 39/MU 28 — Halftime
Scary moment for MU, as big man Steve Moore appeared to bang his head on a camera lens while falling out of bounds. After grabbing the side of his head, he walked off under his own power a few minutes later.
Meanwhile, the photographer underneath the basket seemed to have no sympathy for Moore. Instead, he was giving him the death stare, as I'm pretty sure Moore snapped one of his lenses in half — something I'm sure that could cost in the hundreds of dollars to repair.
MU's Laurence Bowers puts in a layup before the halftime buzzer, but MU is still scuffling.
All seven NU players have scored at least four points, and the Huskers lead by 11 at half. You have to wonder if fatigue might play a factor late, though.
NU 36/MU 24 — 3:27 left in 1st half
The craziest thing about this game so far? Nebraska has an overwhelming height advantage.
Missouri has had its chances to cut into NU's lead, but the Tigers can't seem to get a timely three-pointer to fall. Every time I watch MU, though, I keep waiting for that quick 8-0 run it always seems to get.
NU 29/MU 16 — 7:47 left in 1st half
The GameDay Cram Session for Thursday's KU-Texas Tech matchup is now available for those of you that are interested.
Just when it looks like Missouri is starting to recover from its slow start, NU's Jorge Brian Diaz finishes a transition opportunity with a fast-break layup and foul.
The Cornhuskers have creatively attacked the Tigers' press so far, having one player cut upcourt while having the passer lead a long bounce pass to his intended target. Not only has that helped NU escape pressure, it's also led to fast-break opportunities for the Huskers.
NU 20/MU 9 — 11:34 left in 1st half
The Sprint Center has filled up since the start of the Missouri game. I'd say we're at about 85-percent capacity right now — pretty impressive considering the day/start time.
The hometown MU fans can't like what they're seeing right now, though. Nebraska is not only playing smart, it's hitting a ton of shots.
I still think once MU turns up the heat defensively, NU is going to have problems in this game.
NU 10/MU 6 — 15:47 left in 1st half
When I positioned myself on press row after postgame interviews, the score was Nebraska 8, Missouri 2. Don't know how it happened, either. This game isn't going how I thought it would yet.
When I get time, I'll share some postgame comments from Texas Tech's John Roberson and Mike Singletary talking about their upcoming matchup against KU.
FINAL: TTU defeats CU, 82-67
TTU isn't seriously challenged by CU in the games final minutes, coasting to the victory.
I'm off to get quotes, so I might not get back until a little after the start of the next game.
TTU 71/CU 58 — 3:59 left in game
This game has slowed to a crawl with numerous free throws, and that's not good for anyone in the arena.
Both teams have been sloppy with the basketball. Tech keeps turning it over against the press, but CU hasn't been able to cut the deficit. Not the prettiest of games.
TTU 61/CU 46 — 7:54 left in game
CU at least is trying to catch up by speeding up play, but the Buffs' full-court press is woefully inadequate. Twice, CU guard Nate Tomlinson has been the last line of defense on a three-on-one break for TTU. Full-court presses shouldn't be that risky.
It's "shoot threes and pray" time for the Buffs.
TTU 52/CU 39 — 11:50 left in game
What a meltdown by CU. Up to 15 turnovers, and now the Buffs are starting to get manhandled on the glass (27-19).
Knight tells his team to slow a possession down, but the Red Raiders charge instead, as David Tairu gets a pass under the basket and dunks it home. Knight claps his hands together.
TTU 43/CU 34 — 15:17 left in game
Lots of "I'm going to jump in the air without knowing where to go with it" passing from TTU. The Red Raiders have gotten away with it today, but I'm not sure it will be as easy to do that tomorrow.
The turnover problems continue for CU. The Buffs are turning it over before they can get a shot up.
Halftime thoughts
• First off, if you haven't seen it yet, check out our plans at KUsports.com for the Big 12 Tournament here in KC. We'll have plenty of stuff going on at the Live Block of the K.C. Power and Light District, so be sure to stop by there if you're coming to the game/s.
• A quick glance at the stat sheet shows where it has all gone wrong for Colorado: turnovers. The Buffs have 11 already, and during their three-game winning streak, they haven't had more than 14 turnovers in any game.
• Roberson has the line of the game with 12 points, 4-for-5 shooting from three, four assists, two turnovers and a steal.
• CU's Marcus Relphorde has 10 points on 4-for-9 shooting with three steals. He's played like an all-conference guy every time I've seen him live this year.
TTU 35/CU 31 — Halftime
Roberson knocks down a stepback three just before the buzzer. He screams, "Let's go!" to his teammates, the happiest scream TTU has had all day.
TTU 32/CU 26 — 1:34 left in 1st half
Suddenly, the once-efficient Buffaloes can't score. TTU takes advantage, taking its first lead.
John Roberson is starting to heat up for the Red Raiders, as he has nine points on 3-for-4 three-point shooting. My only regret with him is that I wish his name was easier to pronounce. I always say "Ro-ber-son" instead of the correct "Rob-er-son".
CU looks tired. Alec Burks looks especially winded, getting back slowly on defense after a made basket. Are the Buffs not used to the low altitude?
CU 20/TTU 16 — 7:49 left in 1st half
It's either all going good or all going bad for Tech. Doesn't seem to be much in between.
The last four minutes, the Red Raiders played with emotion. More importantly, they also played defense. A big key was simply getting back defensively, as CU had been getting easy opportunities by simply running faster. That shouldn't happen.
On another note, I thought it was interesting to see the entire TTU coaching staff yell at the same time when a Red Raider player didn't dive on the floor for a loose ball. I know that always happens during a KU loose ball, but the screams were just as loud for TTU. Then again, the Red Raiders have already shown today that they like screaming in any circumstance.
CU 18/TTU 8 — 11:20 left in 1st half
It's not getting any prettier for TTU. Mike Singletary screams at Nick Okorie to play defense before the media timeout. Usually, you don't see players single each other out on the court like that.
On the less serious side, Cory Higgins has averaged 27 points over his last three games, and he finished a nice move under the basket with a reverse lay-in. I'm thinking it has to be his shiny pink shoes, which stand out like Cole Aldrich in a sea of Colorado Buffaloes forwards.
CU's Dwight Thorne II has some nice white sneaks as well, which would be the best fashion statement on perhaps every other team in the Big 12. Too bad for him that Higgins is on his team.
CU 10/TTU 5 — 15:54 left in 1st half
Colorado has won three straight, and Texas Tech has lost seven straight. The game here has reflected that so far.
Texas Tech is getting beat in transition. Colorado, one of the worst rebounding teams in the nation, is getting offensive rebounds.
Lots of yelling for TTU: Coach Pat Knight at his players, players at each other, players at coaches. This has the look of a torn team.
11:37 a.m.
I thought I'd share this link with you before the actual Big 12 Tournament begins.
The link shows KenPom's projections of the Big 12 Tournament. KU fans should be happy, as the Jayhawks, according to the projections, have a 65.2 percent chance of winning this year's conference tourney.
Kansas State (11 percent) is second, followed by Baylor (8.2 percent) and Texas (5.1 percent).
11:20 a.m.
Welcome back to the Newell Post Live, coming to you from the Sprint Center in Kansas City, Mo., where the Big 12 Tournament is about to begin.
I'll be live-blogging from here all day, so be sure to check back early and often.
If you want to join in, use the hashtag "#big12ku" to have your Tweets appear in our grid on the left side of the page. I'm going to venture into the Twitter world for the first time today, so be sure to help guide me along.
More like this story on KUsports.com