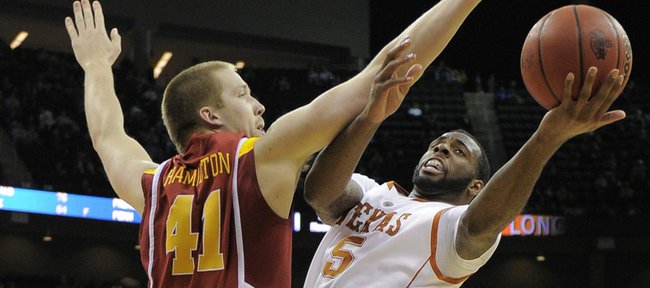 Pour fiery determination into a talented, experienced player like Damion James, and what do you get?
Texas got 28 points, 16 rebounds and an 82-75 victory over plucky Iowa State Wednesday night in the Big 12's opening round.
The Longhorns all-conference senior was unstoppable, crashing the boards and hitting timely shots every time the Cyclones seemed about to pull even.
"Before the game, I told my teammates, 'Me and Dex (Pittman), all we're promised is two more games. We're not ready to go home,'" said James. "I was really focused, especially on defense. I wasn't going to let my teammates down."
The 6-foot-7 James had three points, three rebounds and an assist during an 11-0 run that turned a one-point lead into a 12-point spread. The sixth-seeded Longhorns (24-8) play third-seeded and No. 21 Baylor, a team that beat them twice during the regular season, in the quarterfinals.
With a little under nine minutes left, LaRon Dendy hit from inside, Chris Colvin drilled a 3-pointer and Marquis Gilstrap nailed two free throws, bringing the Cyclones to within a point at 60-59.
But James responded with a 3-pointer. Gilstrap went back to the line and could have cut the lead to two points, but he missed both foul shots, and Texas got buckets from Dexter Pittman on its next two possessions and again held an eight-point advantage.
"To their credit, I think it was 60-59, we had a good, solid double-team, and Damion James hit a (3-pointer) from the top as we rotated out of it," Iowa State coach Greg McDermott said. "That's what great players are supposed to do. He misses that, and we come down and score, we get the lead and we get the momentum, and maybe it's a different story."
After Iowa State (15-17), the No. 11 seed, cut the lead to six points at 75-69, Jai Lucas hit a free throw for Texas and missed the second attempt. James grabbed the rebound, and Avery Bradley sank a pair of foul shots to put the Longhorns on top 78-69.
Gary Johnson had 15 points and 10 rebounds for Texas.
"We were attacking on offense and defense," said James. "When you're doing that, you're having fun."
The Cyclones, seeking their first Big 12 tournament victory since 2005, got 17 points from Marquis Gilstrap. Craig Brackins had 15, Diante Garrett 14 and Scott Christopherson 10.
"I think some of it was that (James) outworked us," said McDermott. "And there were other times we were right there, and he just went over the top of us. He played tonight like a man on a mission."
After Gilstrap's 3-pointer made it 78-72, Lucas against missed a second foul shot, and James again grabbed the rebound. He then went to the foul line and sank one shot for an 80-72 lead with 50 seconds remaining.
Texas, which started 17-0 and rose to No. 1 in the polls only to fall out of the national rankings altogether, nursed a small lead throughout the first half, never up by more than seven but trailing only briefly by one.
James' 3-pointer put the Longhorns up 25-19, and Pittman later made it 31-25 with a stuff. But Gilstrap's free throw and Brackins' bucket cut the halftime lead to 31-28.
"I really focused on my defense because I have let my team down on defense," said James. "I was just focusing on that, and I was going to let everything else come to me."
James had 10 points and six rebounds in the first half. Texas hit only 4 of 16 3-point attempts, and James made three of them. He also was 7 for 8 from the line.
More like this story on KUsports.com