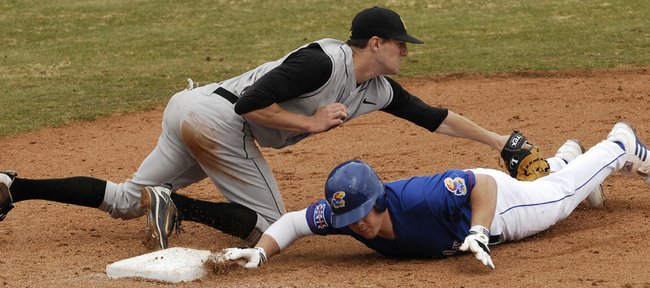 The storylines were plentiful Saturday during the Kansas University baseball team's 8-4 victory against Iowa.
One Jayhawk (freshman catcher Alex DeLeon) picked up the first hit of his career, another (senior starter Cameron Selik) tossed his third straight quality start of the season, and the bottom of the Jayhawks' lineup produced five hits and five RBIs in helping the Jayhawks jump out to leads of 5-1 and 7-2 before settling for the four-run victory.
But the one story that stood above all others at Hoglund Ballpark was the performance at the plate by first baseman Brett Lisher, a senior part-time starter and graduate of Free State High.
Lisher, who started in place of sophomore Zac Elgie on Saturday, recorded hits in his first three at-bats and helped KU jump all over the Hawkeyes for the second time in three games. The first, a two-RBI single to left field, drove in Robby Price and Casey Lytle and paced Kansas to a 2-0 lead.
Lisher added a fourth hit — and third RBI — in the eighth inning with a rocket single to right field. For the day, he finished 4-for-5, marking the first four-hit game of his career.
"I'm thrilled for him," KU coach Ritch Price said of Lisher. "He's one of the greatest kids in America. He's worked his tail off, he's prepared every day to play, and when you give him an opportunity, he's made great progress. I'm hoping he'll have a great senior year for us."
Saturday certainly was a good start toward that goal. Lisher entered the day with six hits and four RBIs in 16 at-bats this year. He nearly matched his season output in one game and was the proud owner of a wide smile at the conclusion of the contest.
"It's nice getting to do this in my hometown, but any place you do this is great," Lisher said.
DeLeon, who hails from Woodland Hills, Calif., had a similar feeling to Lisher after Saturday's victory, but for an entirely different reason.
"It just feels good to have an average," he joked, indicating that, for the time being, this might inspire his teammates to ease up on the ribbing.
And then there was Selik, a senior who sat unable to play for nearly 17 months when he first transferred to KU out of junior college. As the third starter in the team's deep and talented rotation, Selik showed, yet again, that the Jayhawks are in good hands no matter what game of the series they're playing.
"I thought he pitched very well for us," Price said. "If he can continue to pitch like that for seven innings every time we give him the ball, we have a really good chance to win series and that's what it's all about."
In improving to 3-0, Selik gave up six runs in six innings and struck out six Iowa batters while walking just three.
Kansas (6-3) and Iowa (4-4) return to the diamond at 1 today for the final game of the series. Freshman Thomas Taylor is slated to take the mound for the Jayhawks, while the Hawkeyes will send freshman Matt Dermotty to the hill.
"If we win (Sunday), we've had a really good weekend," Price said. "They're playing really well and if we can find a way to win, and take three out of four, it'll be a really good series for us."
More like this story on KUsports.com