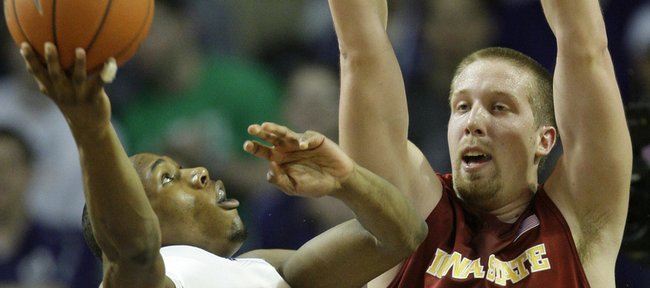 Manhattan — Iowa State 85, No. 5 Kansas State 82, OT
Diante Garrett scored five points in overtime, and Iowa State stunned Kansas State on Saturday, snapping a 21-game losing streak to ranked teams.
The Cyclones (15-16, 4-12 Big 12) hadn't won in Manhattan since 2001 and were 7-104 in their last 111 games against ranked teams on the road before coming in Saturday as 15-point underdogs.
Kansas State (24-6, 11-5), the No. 2 seed in next week's Big 12 tournament, shot a miserable 34 percent for the game but still managed to forge a 74-all tie and send the game into overtime when Denis Clemente hit his second three-pointer in 12 attempts with a little more than a minute left.
Craig Brackins had 19 points before fouling out for Iowa State, which had lost seven of nine. Scott Christopherson had 18 points and Marquis Gilstrap 13.
Christopherson iced the win with a pair of foul shots with 3.2 seconds to go in one of the Big 12's biggest upsets this season.
The Wildcats, who won at Iowa State on Feb. 6, needed one victory to tie their best regular-season record ever.
No. 21 Baylor 92, Texas 77
Waco, Texas — LaceDarius Dunn scored 30 points, Quincy Acy had 10 dunks among his 24 points, and Baylor wrapped up its winningest regular season in 64 years.
The win assured the Bears (24-6, 11-5) a first-round bye in the Big 12 tournament.
Tweety Carter, one of two seniors playing his last home game for Baylor, had 16 points and 10 assists. His reverse layup with just under six minutes left in the first half broke a tie, igniting a 12-4 half-ending run that put the Bears ahead to stay.
Gary Johnson had 25 points for the Longhorns (23-8, 9-7), who have lost eight of their 14 games after a 17-0 start made them the No. 1 team in the country on Jan. 11.
Seven weeks later, the Longhorns are unranked and headed into the 12-team league tournament as the No. 6 seed after being swept in the regular season by Baylor for the first time since 1998.
No. 23 Texas A&M; 69, Oklahoma 54
Norman, Okla. — Khris Middleton scored 15 points, Bryan Davis added 13 points and 10 rebounds, and Texas A&M; dominated the paint.
Texas A&M; outscored the Sooners 38-16 in the paint and shot 52 percent while winning for the eighth time in their last 10 games. Oklahoma (13-17, 4-12) has allowed its last seven opponents to shoot at least 50 percent during an eight-game losing streak, the school's longest since February 1969.
The Aggies (22-8, 11-5 Big 12) got Oklahoma's frontcourt players in foul trouble early and then pulled away after Tiny Gallon injured his right ankle on a blocked shot against Middleton early in the second half.
Tommy Mason-Griffin scored 16 points to lead Oklahoma.
Oklahoma State 74, Nebraska 55
Stillwater, Okla. — James Anderson scored 25 points in what likely was his last game at Gallagher-Iba Arena. Oklahoma State (21-9, 9-7 Big 12) clinched a winning record in conference play.
Colorado 101, Texas Tech 90
Boulder, Colo. — Cory Higgins scored 30 points, and Alec Burks added 24. Nick Okorie scored a career-high 34 points, and Mike Singletary had 21 for Texas Tech, which has lost seven straight.