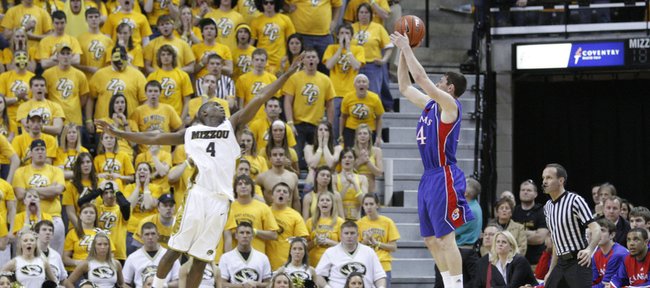 FINAL: KU defeats MU, 77-56
Wow, Tyshawn Taylor has looked great in the second half of this game. At the end of the shot clock, he spins in the lane before putting in a fallaway jumper. He's a perfect 5-for-5 after starting the game 0-for-8.
Xavier Henry is knocked to the floor on a foul. The MU fans cheer. Guess if you can't beat 'em, beat 'em up?
Elijah Johnson misses a three, but Robinson is there for the rebound and stickback to put in KU's final points.
KU closes out an impressive 77-56 victory.
KU 61/MU 42 — 7:39 left in second half
KU breaks MU's press, and Xavier Henry uses an aggressve move to take advantage on the other end. He draws contact, putting in a layup while drawing a blocking foul. He also adds the free throw.
Aldrich with a big block inside, and it leads to a runout for KU. Collins beats two Tigers down the court, throwing in a quick layup to extend KU's lead back to 11.
Reed swishes a three for KU, then turns to Tiller and barks something at him. You can tell Reed gets a little bit more pumped to play MU as a Kansas kid.
Taylor comes away with a defensive rebound, and he leads the break. He makes a great decision in transition, kicking out to the hot hand Reed for another three that swishes through. Reed is pumped, thumping his chest twice with his fist before MU calls timeout. Suddenly, KU has rebuilt a 15-point lead and sucked a lot of life out of the arena.
After starting 0-for-8, Taylor finally gets his first shot to go in, putting in a shot off the glass. Reed comes away with a defensive rebound, and he throws ahead to Taylor for another layup. Reed is having perhaps his best game of the year with 11 points and four rebounds.
KU 46/MU 40 — 11:45 left in second half
Collins misses two free throws. KU needed those.
Markieff Morris misses a shot inside, and Keith Ramsey puts a short jumper in on the other end to cut KU's lead to nine.
Morningstar loses the ball in the lane, and that's another turnover for KU. Once again, MU gets points on the run, as English is fouled on his way to the rim. He makes two free throws, and MU's fans crank up the noise level down only seven.
MU is starting to rack up the team fouls with its aggressive play. Two quick whistles, and the Tigers are up to five this half.
Morningstar with another turnover, dropping the ball out of bounds in the backcourt. Self is furious. It looked like Morningstar wasn't sure if he could pick up the ball in the backcourt when, in fact, he could. The fans let Morningstar have it, chanting, "D-U-I. D-U-I."
Tiller drives into the lane, putting it in for two with a foul. He completes the three-point play, and MU has a 10-0 run.
Collins is fouled, and he hits two free throws to break KU's drought. Perhaps more importantly, KU will be in the bonus the rest of the way.
Hustling for a rebound, Marcus Morris bangs his head hard into the scorer's table — so hard the scorer's table gives way a few feet. Play is stopped for him (predictably, the MU fans boo), and Marcus lays motionless for a few minutes while trainers attend to him. Even when he starts to get up, some MU fans clap, but others continue to boo. He finally gets to his feet and walks off on his own power to a mix of cheers and boos, but I don't think we'll see him back in this one. The trainers take him straight to the locker room.
KU 44/MU 33 — 15:57 left in second half
Aldrich makes it look easy on the first possession of the second half, catching it in the post, turning and putting in the short shot.
English follows with an open three for MU. The Tigers immediately press, and Taylor turns it over out of bounds after getting double-teamed in the backcourt. Zaire Taylor follows with a mid-range floater, and MU's fans have reason to get back into this game.
Two more turnovers by KU, one from Collins and one from Marcus. That's three straight empty possessions for KU. Not a good start to the second half offensively.
Taylor misses a jumper, but Aldrich is there to slam home the rebound. He hangs on the rim a few seconds to avoid an MU defender below him. The MU fans clamor for a technical foul but don't get one.
Marcus Morris with another turnover, and Tiller finishes with a fast-break layup. Timeout KU, which has started the second half with four turnovers in the first 3:59. The Jayhawks had just seven turnovers in the first half.
KU scoring — Marcus Morris 10 (5-for-6 shooting), Collins 8 (3-for-4 shooting), Markieff Morris 6 (3-for-3 shooting), Aldrich 5, Reed 5, Morningstar 2, X. Henry 2, Robinson 2.
KU was 17-for-34 from the floor (50 percent), 3-for-7 from three (42.9 percent) and 3-for-4 from the free-throw line (75 percent).
MU was 11-for-32 from the floor (34.4 percent), 1-for-11 from three (9.1 percent) and 1-for-3 from the free-throw line (33.3 percent).
KU out-rebounded MU, 25-15, in the first half. KU had seven first-half turnovers, while MU had six.
Halftime thoughts
• Two stats scream at me in the first half. No. 1 is the three-point shooting, where MU is just 1-for-11. The Tigers have missed plenty of open looks, too. No. 2, is turnovers, as KU has just seven giveaways. Those were two of the biggest keys coming into this one, and MU hasn't capitalized in either area.
• Once again, KU is dominating the boards with a 10-rebound advantage. I'm sure Self would have taken that spread had you offered it to him before the game.
• Remember, MU came back from a 14-point halftime deficit to win last year. I wouldn't count them out of this game just yet.
• It's pretty amazing how well KU can play even when some of its best players don't play or shoot well. Xavier Henry and Tyshawn Taylor combine to go 1-for-11 in the first half, and KU still leads by 16. So many teams in the tournament will have to have their best players play well. KU doesn't necessarily need that to win.
KU 40/MU 24 — Halftime
Xavier Henry pulls down and offensive rebound and puts it back in for KU. Marcus Morris follows with a drive and tough layup off the glass.
Markieff Morris has checked back in for KU. Looks like he's OK.
KU's offense is really clicking now. Collins — who had shot just once all half — buries a three, and MU calls timeout.
The Jayhawks are one of the best teams I've ever seen at executing and getting two-for-ones at the end of the half. After getting possession with a minute left, Self motions for his team to hurry, and Collins buries a quick three. KU, once again, will have the last possession.
The execution pays off. Taylor gets a steal late in the shot clock for MU, and he's able to bat the ball ahead to Collins, who puts in a layup with three seconds left.
Collins scores the last eight points of the half for KU, and the Jayhawks end the half on a 16-0 run.
KU leads, 40-24, at the break.
KU 26/MU 24 — 3:20 left in 1st half
The public address announcer keeps calling Markieff Morris, "Markrieff Morris". Kind of a weird pronunciation.
After seeing his brother take over the scoring load for KU, Marcus Morris does the same. Marcus puts in two short shots inside, then buries a two with his foot on the three-point line. He holds his follow-through for a few extra seconds, and MU calls timeout down, 24-20.
Markieff Morris stays down on the court with an injury (maybe to his foot?). We'll see if he checks back in this game.
Morningstar with an offensive rebound, and he puts in a fadeaway on the baseline. KU starting to pull away on the boards, 18-13.
MU 19/KU 18 — 7:16 left in 1st half
KU finds some success inside the paint, as Markieff Morris puts in consecutive baskets. The Jayhawks have a huge edge in there if they can get the ball to their bigs.
Reed misses a three, but Markieff is there once again for the rebound and stickback. That's a 6-0 run for Markieff himself.
KU has pulled closer with lots of help from MU. The Tigers have missed three straight open threes.
KU is on the run, but Collins dribbles the ball off his foot, which results in a turnover. Bowers dunks it on the other end, and Collins' struggles to be productive have continued in this game.
Thomas Robinson has checked in, and he comes out offensively with an NBA-like spin move around a defender to get a clear layup. Robinson has always showed those kinds of flashes of greatness.
MU 17/KU 10 — 11:30 left in 1st half
Bowers gets a tip-in for two on the offensive glass. The next possession, he fights for another offensive rebound. MU is more than holding its own on the boards so far.
Sherron Colins falls down defensively, and Self motions for him to get up. Collins is late doing that, and J.T. Tiller puts in a jumper over him. Self calls timeout and checks in Tyrel Reed for Collins.
Marcus Morris ends the KU drought with a layup, but English follows with another three and Marcus Denmon hits a jumper. The crowd is going crazy here, already sensing that the Tigers are playing well enough to pull the upset.
KU 5/MU 4 — 15:30 left in 1st half
Laurence Bowers sinks a long two for the first points of the game. Once again, KU is late getting out to a shooter near the perimeter.
After turning it over on KU's first possession, Cole Aldrich responds with a dunk and foul. He completes the three-point play with the free throw.
Kim English misses a long three, Better defense there by KU.
Marcus Morris takes at least four steps on a move to the rim, and he's called for a travel. Two turnovers already for KU.
Aldrich misses a shot, but he tips in the follow. The big man is too eager on the defensive end, though, getting a reach-in whistle. KU coach Bill Self makes the quick substitution to get Markieff Morris into the game.
12:37 p.m.
Our pregame chat is open. I'll be talking there until gametime.
Just a reminder to use the "Submit a question" link to post a score prediction, to submit a comment or to ask a question.
Today's random question: Did you think the Antlers' prank on Tyshawn Taylor was funny or mean?
12 p.m.
Welcome back to the Newell Post Live, coming to you from spacious Mizzou Arena in Columbia, Mo., where the second-ranked Kansas Jayhawks are getting set to take on the Missouri Tigers.
After nearly getting run off the road by J.T. Tiller's red truck in the parking lot, we have arrived safely in the arena. KU's players are trickling onto the court for warmups, and they are all being greeted warmly with, as you'd expect, a round of boos from the Missouri students gathered here.
I actually always enjoy when KU matches up with Mizzou because I know that there will be great pregame analysis over at the MU fan site Rock M Nation.
Friend of the blog Bill Connelly once again provided an extensive and interesting statistical breakdown of the Jayhawks. Yeah, there's a twinge of homerism you'll have to deal with, but it's worth it to read the statistical breakdown he's done.
Perhaps the most interesting I found is his breakdown of KU's adjusted game score per minute statistic, which attempts to illustrate the complete performance of a player over the course of the season. In that statistic, Collins is fifth among KU's regulars (behind Cole Aldrich, Marcus Morris, Xavier Henry and Markieff Morris). I think this once again says what most of us have suspected for a while: Collins has received a lot of deserved praise, but because of his recent slump and poor shot selection, he hasn't had nearly the positive value to the team as he did earlier in the year and perhaps last year as well.
Also, Ross Taylor compiled two pregame, 10-minute podcasts that you still have time to check out. One of those interviews features yours truly, so it's obviously the best breakdown of the game that is available on the Internet (I'm joking of course).
Be sure to check out those links and also interact with our features on the left side of this page. We have a poll up, and also be sure to use the hashtag #kubball to have your Tweets appear in our grid.