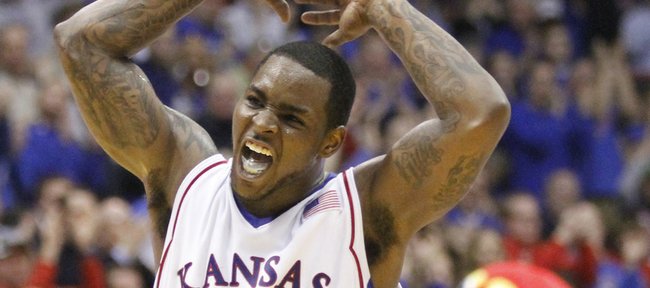 Sherron Collins — who readily admits to being a "mama's boy" — tonight gives his mother the best present ever.
"Ever since his freshman year, I said, 'I need my Senior Day,''' Collins' mom, Stacey Harris, said at last year's Kansas University basketball awards banquet — the one where Sherron said he was returning for his senior season.
"It's not about basketball to me. You need an education, regardless," Stacey added.
Collins, who will receive his degree in African American Studies this May, tonight will have the Senior Day stage to himself.
As KU's only senior in the Class of 2010, he'll be honored with Stacey before the 7 p.m. KU-K-State Sunflower Showdown, and grab the microphone and speak to mom and 16,299 others after the contest.
Sherron's uncle/father figure, Walt Harris, recalls Stacey telling him many times that her dream was for her son to have a Senior Day celebration in Allen Fieldhouse.
"I think she got that from watching the seniors the year they won it (2008 national title). It influenced her a lot in wanting to see it, seeing how much they grew as a family," Walt Harris said.
"I didn't know it until I came down here the first time when he (Collins) was a freshman. It (KU) is a special place, like a family."
Walt Harris, who works as a juvenile-division corrections officer in Chicago, took it upon himself to make sure his nephew made something of his life.
"I've seen a lot of kids go to the gym, others die in the streets. A lot didn't make it. They ended up going to the penitentiary," Walt said.
"For Sherron to come up in the neighborhood, the West side of Chicago and make it, is good."
Walt — he'll be in the fieldhouse stands tonight with Sherron's mom, grandmother, daughter, aunts, uncles, cousins, high school coach and assorted friends — says the key to keeping Sherron on the path to KU was introducing him to sports.
"I started him with baseball. That's his best sport, actually. He started playing at 7," Walt said. "I knew he'd be a basketball player because before he was walking, he was in a walker bouncing a ball."
Collins pitched, and played shortstop and the outfield at Chicago's Crane High.
"He had no-hitters in high school. I'm surprised he never played baseball at KU," Walt Harris said. "Basketball season keeps him busy, but I wouldn't mind him going out for the team. I think he can still throw it, hit it, field it."
Collins said baseball "was my second sport — the one I loved most after basketball. I played so many positions. I was a pretty good pitcher. I got clocked at 90 (mph) two times. Sliding, getting dirty, it was fun."
As a football wide receiver, Collins broke a Chicago Public League record with 250 receiving yards against Carver High his sophomore season.
"I think he could have been a good running back," Walt Harris said.
Sherron agrees.
"I think I could have played college football," he said. "I liked to hit, but not take the hits."
Collins hopes to make his living playing basketball.
As coach Bill Self said, the 205-pound sparkplug is not as explosive as he was in high school when he concluded the McDonald's All-America game with a spectacular dunk, but he's "a better basketball player."
Don't hold your breath for Collins to conclude his home career with a similar jam.
"Everybody wants that to happen," said Collins, who hasn't dunked in a college game. "In high school, I loved dunking it so much. Now I think it takes way too much energy to do that. I'm 5-11. Two points is two points. You don't get a point for style."
He remembers a near dunk.
"My freshman year — the Niagara game in the (NCAA) Tournament — Russell (Robinson) threw me a lob. I tried to dunk it with two hands, but I just missed it. I was up high enough," Collins said.
Collins — he averages 15.3 points (off 42.2 percent shooting) per game with 126 assists against 66 turnovers — is currently considered a late-first- round NBA draft pick by draftexpress.com.
"He has a legitimate shot. I think they wanted to see him as a true point guard," Walt Harris said of NBA officials. "He can do that. His shooting is a plus."
"I think I can play in the NBA," Collins said. "I think I've showed teams I can do everything a point guard can do."
Like beat K-State in his final home game. The No. 2-ranked Jayhawks enter 27-2, 13-1; No. 5-KSU 24-4, 11-3.
"I think he'll play even better because he's got family here," Walt Harris said. "I think he's going to be pumped up and the team as a whole. They'll be amped because of the last loss (Saturday at Oklahoma State) and they are at home. They know Kansas State is going to be good. I've seen them play. I like that team. They're good."
Win or lose, the postgame Senior Day show will go on.
"I tell him I know he's gonna cry. He says he's not," Walt Harris said.
More like this story on KUsports.com