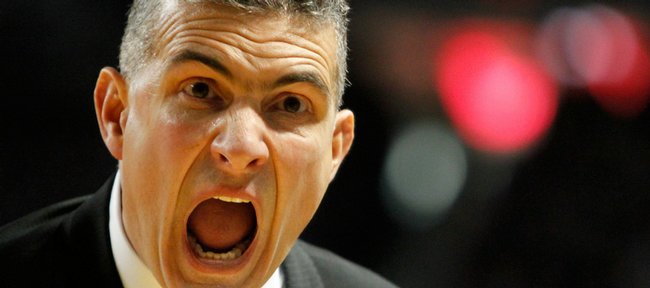 On the street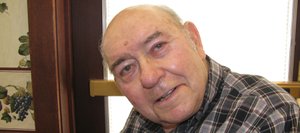 Kansas State's basketball team halted rival Kansas' 55-game homecourt win streak on Jan. 30, 1988, in Allen Fieldhouse.
That incredible stretch ranks as the third-best in Jayhawk history.
At 7 tonight, the No. 5-ranked Wildcats (24-4, 11-3) are in town hoping to put an end to the Jayhawks' current 58-game streak, which is just four games off the school-record 62-gamer set from 1993 to '98.
"That would be amazing. We would go down in history, I think, as the best K-State team," KSU sophomore forward Jamar Samuels told the Salina Journal after practice Tuesday. "Even if we don't win a national championship, we'd have to go down as the best K-State team, just because we beat KU at KU (to end) their amazing streak."
The Wildcats fell to KU, 81-79, in overtime in a classic Sunflower Showdown contest on Jan. 30 in Bramlage Coliseum.
"They've won 58 in a row for a reason," KSU coach Frank Martin said of the Jayhawks (27-2, 13-1). "It's not just because it's the Phog Allen (Fieldhouse). It's because their basketball players are real good, and they're very well coached."
KU coach Bill Self returned the compliment earlier this week when he said KSU's Martin should be named Big 12 coach of the year. Self said either Martin or Syracuse's Jim Boeheim should net national coach-of-the-year honors.
"When we won in Manhattan, I told our staff they will not lose again," Self said of KSU, which has won seven straight since the game at Bramlage. The Wildcats (like the Jayhawks) are 6-1 on the road in league play.
"They go after every ball. They are relentless," Self added of the Wildcats, who outrebounded KU, 38-37, at Bramlage. "We can talk about technique, whatever, forget that, 'Hey go hit your man and go get the ball.'"
KU center Cole Aldrich, who had 18 points and 11 boards in the first meeting, realizes it'll be an all-out battle for rebounds.
"It'll be typical KU-K-State, as they say the 'Showdown War.' It's what it is — a battle on the boards and on defense," Aldrich said.
KSU senior guard Jacob Pullen had 22 points and five assists in the first meeting.
"Right now, they're the heavyweight champs, and we just want to get another shot at the title," Pullen said. "They're still winning the league. They're still in front of everybody. We just want to get our opportunity."
The Wildcats, who are two back, close at home Saturday versus Iowa State. KU travels to Missouri.
"It's a great opportunity for us as far as March Madness goes, as far as the Big 12 goes. It puts a lot of pressure on them to go win at Columbia (Mo.) if we can win there," Pullen said.
A victory would also soothe the Wildcats' ears. Samuels was asked what he remembered about his first trip to Allen.
"The Phog and the way they just start the Rock Chalk Jayhawk chant. It gets annoying after a while," Samuels said. "I know they're a good team, and all credit to them, but we're trying to get a victory this year."
Recruiting
Josh Selby, a 6-foot-2 senior guard from Baltimore's Lake Clifton High, was unable to make a scheduled visit to UConn because of car trouble, Rivals.com reports. He has a final four of KU, UConn, Kentucky and Arizona. Selby's mom told Rivals that "Kansas has been the most consistent throughout the process." He is expected to pick a school in late April.
More like this story on KUsports.com