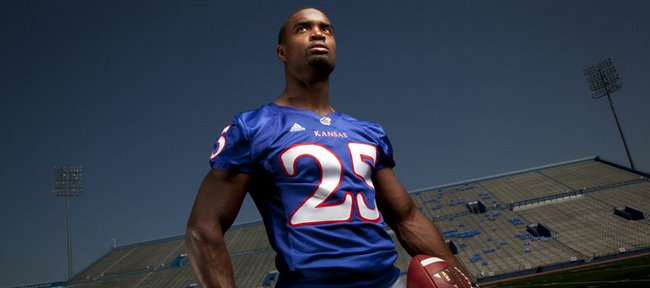 If Louisiana Tech wide receiver Phillip Livas happened to be watching Tuesday's coverage of the NFL Combine, he likely was not surprised by what he saw from former Kansas University safety Darrell Stuckey.
Participating in the 11th and final group to go through the on-field drills at this year's combine in Indianapolis, Stuckey ran a 4.49-second 40-yard dash, highlighting a solid day for the Kansas City, Kan., native.
Livas, you might recall, was the man who Stuckey ran down from behind to preserve KU's 29-0 victory against La. Tech in 2008, a feat that drew major praise from everyone who saw it considering the fact that Livas was known to possess 4.4-second 40 speed.
Like that play did in '08, Stuckey's time on Tuesday caught some by surprise.
"Ooh, better than I thought," NFL Network analyst Mike Mayock said after Stuckey's first run. "That's a good time for Stuckey. He helped himself today."
The former KU captain's 4.49 tied for the third fastest time among safeties at the combine this year, behind USC's Taylor Mays (4.43) and Tennessee's Eric Berry (4.47). Mays' time initially came in as a 4.24 but when the official times were released that changed significantly. Mays still registered the fastest 40 among all defensive backs at this year's combine. Stuckey's second run came in at 4.5.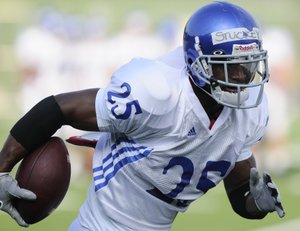 Despite the top-tier time, Stuckey isn't likely to put too much stock into his 40 and how it relates to his professional football future.

"The combine's all about track speed," said Stuckey by phone prior to arriving at the combine. "It doesn't tell you anything about football speed. In football, you get a bunch of people who are faster in cleats and on grass than they are running a straight line in the 40."
Speed wasn't the only skill that Stuckey flashed on Tuesday. He also recorded 17 reps of 225 pounds in the bench press, turned in a 39.5-inch leap in the veritcal jump (tied for third best among safeties) and was praised by NFL Network analysts for his footwork and quickness in position drills.
Next up for Stuckey is the March 10 Pro Day at KU. Fellow-combine attendees Dezmon Briscoe and Kerry Meier also will compete at the school's Pro Day. They'll be joined by most of KU's outgoing seniors in working out for a handful of pro scouts.
More like this story on KUsports.com