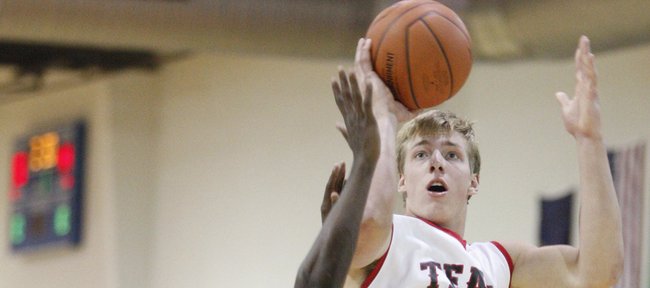 The 16 high school basketball players at last week's Amar'e Stoudemire Skills Academy weren't allowed to scrimmage against the camp's college counselors in accordance with NCAA rules.
Nothing prevented the preps from watching the collegiate group of Marcus Morris, Denzel Bowles, Gus Gilchrist, JaMychal Green, Enes Kanter, Curtis Kelly, Vernon Macklin, Gary McGhee, Greg Smith, Jared Sullinger, Trey Thompkins and Derrick Williams play nightly pick-up games at Chicago's Attack Athletics gym, however.
Future Kansas University power forward Zach Peters, a 6-foot-9, 235-pounder from Prestonwood Christian Academy in Plano, Texas, who observed the action, said KU junior forward Morris emerged as the best of the lot.
"He's looking really good," said Peters, who also has accepted an invitation to the 80-player LeBron James Academy, starting this weekend in Ohio.
"I don't know what his jump shot was like before, but it's really good. He's shooting the ball really well."
Peters — he averaged 15.3 points and 9.0 rebounds his sophomore season in leading Prestonwood to a Class 5A state title — said he learned a lot at the camp.
"It was awesome. I've never been to anything like it," Peters said. "Being able to learn from Amar'e and see how his game is … let's face it, he's one of the best in the NBA now. Anything he can tell us will help us in our games.
"It was awesome to get to play with a lot of players as far as the talent there," Peters added of the group of preps that consisted of Peters, Angelo Chol, Rakeem Christmas, DaJuan Coleman, Mikael Hopkins, Kevin Johnson, Sidiki Johnson, Deng Leek, Trey McDonald, Daniel Ochefu, Norvel Pelle, Marshall Plumlee, Zach Price, Julian Royal, Bernard Sullivan and Cody Zeller.
"John Lucas ran the camp. There was a ton of conditioning. John Lucas is big on conditioning. He had ex-NBA players and coaches in the NBA and D-League working it. We learned a ton of stuff — everything from pick-and-rolls to setting screens. You'd think setting a screen is simple, but there's a lot of technique to it. My favorite part was learning some of the post moves that NBA players do — face up and rip through, be more violent with the ball."
Peters recently spent about a week in Lawrence. The stay reinforced his decision to end his recruitment early.
"Playing in the fieldhouse is like nothing else," said Peters, who played some pick-up ball in Allen Fieldhouse. "There's so much history in there. I just got that feeling in the stomach," he added of the feeling to choose KU back on April 21 over Texas, North Carolina, Kentucky and others.
"I felt God was calling me to make the decision now to take the pressure off my back. I feel it takes a lot of weight off my shoulders. There's responsibility now, too. I have to be a KU athlete now. I have to play a lot harder. It'll help me work harder and get my game to where it needs to be to play at Kansas."
Of the pick-up games here, he said: "The players were great to me. Everybody impressed me. The guards, big guys were all playing well. The Morris twins play hard. I want to work with them to see if I can get my game to their level."
More like this story on KUsports.com