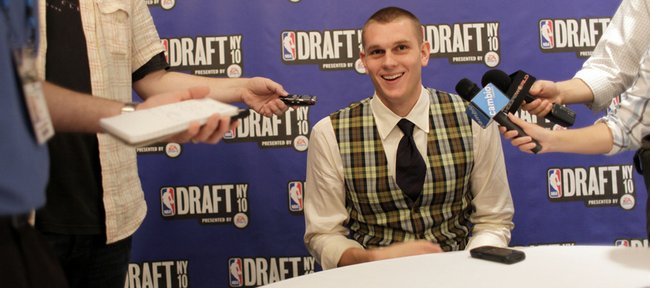 Oklahoma City is as much the right place for Cole Aldrich to baptize his professional career as declaring for the NBA Draft after his junior season was the right time.
Based on little more than his size, hands, shot-blocking timing and Final Four performance against North Carolina's Tyler Hansbrough, Aldrich would have been selected in the 2008 draft, probably somewhere in the back of the first round to a winning team with an established front-line center.
That would have put the likable center from the Twin Cities on the same path former one-year Ohio State post player B.J. Mullens took, the project path, the one which, if all goes well, might lead to backup-center status. Mullens, a rookie for Oklahoma City last season, appeared in 14 games for the Thunder and played part of the season in the NBA Developmental League. It's also known as the D League, or better known as the No D League. Head cases pursuing points, not victories, infect the league. It's no place to develop, but it's better than riding the bench and getting overmatched by more developed bodies and minds with NBA experience. Playing for a winning, elite college basketball team benefits a young post player far more than either of those paths.
Players who enter the NBA too soon tend to learn how to survive, rather than thrive. The NBA does not offer fertile soil for re-planting shattered confidence.
Wisely, Aldrich stayed three seasons at Kansas, developing confidence and muscles enough that the Thunder, starved for a first-string center, will give him a chance to win serious minutes, even starts.
If Aldrich doesn't have enough talent to become an NBA starting center, it won't happen anywhere. If he does, it can start happening right away for him because nobody intimidating stands in his way.
Nenad Krstic, 26, started but averaged just 23 minutes per game. He averaged 8.4 points and five rebounds. He's skilled, not a bad defender, but he never has been a shot-blocker or a rugged rebounder. He averaged 0.6 blocks per game.
Krstic's knack for missing easy shots down low in the playoffs against the Lakers didn't win him any friends. Defenses collapsing on Kevin Durant will provide the sure-handed Aldrich with ample scoring opportunities. (Note to Cole: Go straight up with it and shoot. Don't pump-fake when it's not necessary.)
Serge Ibaka, who came to the Thunder after an extra year of polishing in Spain, averaged 6.3 points, 5.4 rebounds and 1.3 blocked shots in 18.1 minutes per game, but most of his time comes at power forward. The contract of veteran Etan Thomas has expired and he's expected to sign elsewhere.
The Thunder's choice of 7-foot-1 Tibor Pleiss with the first pick of the second round drew praise from many corners and so did the Thunder's decision to send him back to the German League for at least one more year, where the mobile center with a soft shooting touch can increase his strength.
Even though Aldrich had a shaky junior season in many ways, the extra year of physical and emotional maturity gives him a better shot at a long and successful NBA career.
More like this story on KUsports.com