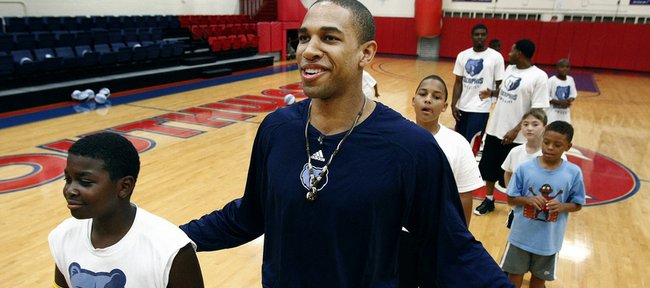 Memphis, Tenn. — A millionaire at the age of 19, Xavier Henry already is working hard for his money.
The former Kansas University guard, who is ticketed to make $1,683,500 during the 2010-11 season following Thursday's selection as 12th overall pick in the 2010 NBA Draft, had a busy first day on the job Friday.
In order, the 6-foot-6 Memphis Grizzlies guard ...
• appeared at a morning news conference with fellow first-round draft pick Greivis Vasquez of Maryland.
• held an online chat for the team's official website.
• spoke at a camp for 7-to-14 year olds.
• worked out for Grizzlies' coach Lionel Hollins.
• threw out the first pitch at the Memphis Redbirds' minor-league baseball game.
"I feel great. I was supposed to be here a year ago, but got detoured to Kansas for a bit," Henry told fans in the online chat. He originally signed a letter-of-intent with the University of Memphis out of Putnam City (Okla.) High School, quickly switching to KU after Tigers' coach John Calipari bolted Memphis for Kentucky.
"I'm glad to be here and I'm looking to have a lot of fun while I'm here," Henry added.
Henry, who started as a freshman in his only season at KU, is expected to be one of the first players off the bench his rookie season in Memphis. He'll be spelling both O.J. Mayo and Rudy Gay while playing both shooting guard and small forward.
"If I keep working hard and do the best I can on the court, I'll get my opportunity," Henry said at the news conference attended by his mom, Barbara.
Henry will debut for the Grizzlies in the Las Vegas NBA summer league July 12-18.
"First, I look forward to practicing with the guys," Henry said. "It will be fun to play in the summer league to see the guys I just saw in the draft. I'm looking forward to playing basketball for my new team."
Asked who is most looking forward to playing against, Henry said: "My teammates in practice — O.J., Rudy and those guys. O.J. was big when I was in (high) school. I'm looking forward to playing with great college players like Sam (Young) and Mike Conley. Those days in practice will be fun."
Henry said, in retrospect, he had no idea he'd be selected by Memphis.
"Not a clue, but I was so excited. My mom was so excited she got teary eyed and then so did I. I am so happy to be here," said Henry, who coach Hollins said appeared to be a more talented version of Shane Battier.
Former Maryland point guard Vasquez and Henry figure to become fast friends.
"I'm just excited to be here with my new little brother (Henry)," Vasquez, the 28th pick in the draft, told the Memphis Commercial Appeal . "It's going to be fun. Just like he (Henry) said, all we have to do is work hard. If we work hard, we'll be fine."
Vasquez during the 2009 NCAA Tournament criticized the conference that the University of Memphis plays in. The Tigers of Conference USA beat his Terrapins, 89-70, to reach the regional semifinals, and the Maryland guard was reminded of those comments Friday.
"That was obviously a mistake," Vasquez said to laughs. "I'm responsible. I don't think I would do that again. ... I will go to the games and support. I don't want the fans to be mad. I couldn't even imagine ... If I'd known I was coming to Memphis, I would've never said that so it's a learning process. That's how I take it.
"I love the Tigers now, love them."
Memphis finished 10th in the Western Conference and went into the offseason needing to add size and production off a bench that was last in the NBA in points production last season. The Grizzlies also were the league's worst three-point shooting team in both attempts (1020) and made threes (344), finishing 26th with a 33.7 percentage shooting from beyond the arc.
"We're trying to add people that enhance our team in every fashion, not just limited in one area. I know Xavier can shoot the ball. I know 'G' can shoot the ball, but they bring a whole lot more than just that isolated talent, and that's what put them high on the list," coach Hollins said.