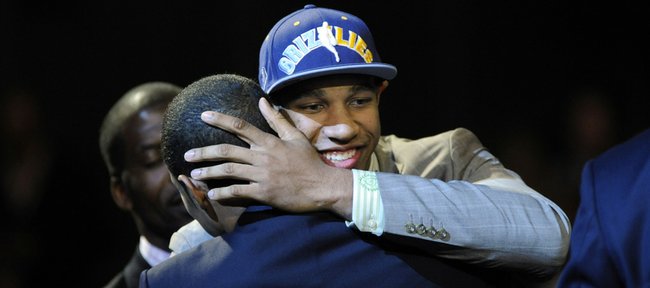 Bill Self apparently has some influence not only in college basketball circles, but in the NBA, too.
Self, Kansas University's eighth-year coach, revealed Thursday night, that he flew to Memphis on Monday to speak with Grizzlies' officials about "players" eligible for the 2010 draft.
Voila ... his own Xavier Henry was selected by Memphis at No. 12 in the first round, just a few minutes after KU's Cole Aldrich was tapped by New Orleans at No. 11 and traded to Oklahoma City.
His and KU's luck ran out regarding a third potential draftee, late in the evening, however. Sherron Collins, who was considered a likely second-round pick, was not selected in the 60-player draft and now must hook on with a team as a free agent.
"Of course we knew X was on their board at that particular time," Self said of Henry and the Grizzlies. "They have a good starting five. They need somebody who can score off the bench and make shots. X is an improved player just in the last two months. I think he'll be a guy down there who will have a chance to play an awful lot of minutes and a chance to be a legitimate double-figure scoring threat for them as a rookie."
Self downplayed his own influence regarding the pick of the 6-foot-6 Henry.
"I'm not the only coach in the country who has done it," Self said of providing input in person to NBA teams. "They asked us to come down there. I thought it'd be good for us to do that, especially if it could help our guys."
Self also was aware that Oklahoma City management was a real player for the 6-foot-11 Aldrich.
"Sam Presti, their GM ... word had gotten to us he'd love to be able to make a play to move up to possibly draft Cole," Self said. "It worked out perfectly. To have him down there with (Kevin) Durant is unbelievable. The opportunity to have Nick (Collison, former KU forward) down there to help mentor him will be great."
KU coach Self on Thursday gained some valuable material to use in recruiting players in the Class of 2011.
The Jayhawks had two lottery picks for the first time since 2003, when Kirk Hinrich and Collison were taken at Nos. 7 and 12 respectively. What's more, KU since 2000 now has nine first round NBA draft picks, tying UConn for second most of any school in that 10-year span. North Carolina leads the way with 11.
Also, the Big 12 Conference on Thursday boasted seven first-round picks, most in conference history and most of any league in this year's draft.
"I think it helps us without question," Self said. "Any time you have players that go that high, especially where Durant, (Michael) Beasley and Blake (Griffin) have gone ... our league has been on quite an uptick for quite a few years. I think it brings immediate attention to your program. Our league is here to stay from an exposure standpoint and being able to sell seven first-round draft picks will bode very well for our league in the future."
Self on senior Sherron Collins, the winningest player in KU history, not being drafted:
"I think it's disappointing," Self said. "I can't believe he's not one of the best 60 prospects to come out of this draft. I feel for Sherron, but certainly it's not lost. He's put himself in a situation he's going to have to work harder and be more disciplined than he ever has been to show everybody they made a mistake. Hopefully this will be a big carrot for him to basically prove everybody wrong."
NBA sources have told the Journal-World that Collins' height and weight were major factors in teams passing on him. Just 5-foot-11, he weighed 217 at the NBA combine in Chicago and his weight has fluctuated from 207 to 229 the past two months.
Self did not wish to discuss any specifics he heard from NBA officials regarding Collins' draft stock.
"What I'd educate him is don't be mad at anybody, just change it," Self said. "You'd probably rather not be drafted if you are not going to be drafted in the first half of the second round. Now he can pick and choose where he goes as opposed to maybe going to a situation where there's no contract available because they have everybody locked up."
The bottom line is a consensus All-American did not get taken in the 2010 Draft.
"To me there's many guys picked that can't help a team win like Sherron can," Self said. "(But) everybody has their own needs. It's very difficult to be critical until you actually have been in the room to hear their discussions and that kind of stuff."
Collins was in his hometown of Chicago for the draft. He had not spoken to Self or his KU teammates on Thursday.
Collins nets summer league invitation
Luke Winn of Sports Illustrated reported late Thursday night that former KU guard Collins already has landed an NBA summer-league invitation from the Charlotte Bobcats.
Former KU coach Larry Brown is the Bobcats' third-year coach.
Tweet of the day
Former KU forward Nick Collison posted this on his Twitter feed to his new Oklahoma City teammate, Cole Aldrich on Thursday night: "I'm excited to have u on the squad. Even more excited 4you to bring me my newspaper &eggwhite; omelete every morning rookie.''
Salary figures
KU's Cole Aldrich and Xavier Henry hit the jackpot financially on Thursday.
As No. 11 overall draft pick, Aldrich receives $1,772,100 next season, $1,905,000 in 2011-12 and $2,037,900 in 2012-13.
As No. 12 pick, Henry will make $1,683,500 next season, $1,809,700 in 2011-12 and $1,936,000 in 2012-13.
More like this story on KUsports.com