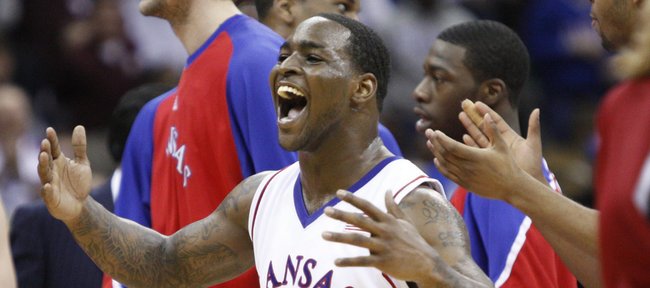 The NBA delivered a cold slap in the face not only to Sherron Collins, but the entire city of Chicago late Thursday night.
So says former Crane High basketball coach Anthony Longstreet, who was both surprised and upset that league officials passed on Kansas University's winningest player of all-time in the 2010 NBA Draft.
"I've heard some things from people. This city embraced him. He's one of Chicago's favorite children," Longstreet, Collins' prep coach, said Friday.
"Back in '08, the city was split when Sherron and Derrick (Rose, Chicago's Simeon High) played for the national championship. People on the West side were pulling one way (for Collins and KU); people on the South side the other way (for Rose and Memphis).
"Last night, everybody was pulling for Sherron."
Longstreet saw his own mood brighten considerably when the sun came up in the Windy City on Friday morning.
That's when he learned 5-foot-11 point guard Collins had agreed to play for the Charlotte Bobcats' summer league team July 5-9 in Orlando, Fla.
The Bobcats are led by third-year coach/former KU coach Larry Brown. The team's owner is Michael Jordan.
"Looking at the roster, there's a very good chance Sherron can make the team," Longstreet said of a Bobcat squad that has a pair of point guards in Raymond Felton and D.J. Augustin.
"I think he came out smelling like a rose, actually. He's with an organization that's familiar with him. He played in the Jordan Classic (all-star game in high school). Michael Jordan was at that game.
"Larry Brown was at the national championship game (in '08) in San Antonio. He was at the post-game celebration. I'll never forget he came up to me and said so many nice things about Sherron. Coach Brown said, 'You did a great job with him in high school. I love your kid. He can run a team. He is a winner,''' Longstreet added. "The fact Larry Brown and Michael Jordan already know a lot about him means a lot."
KU coach Bill Self, who initially said he was "disappointed" Collins didn't get drafted, agrees with Longstreet's assessment.
"I think last night was probably a disappointing night for (Sherron)," Self said. "But to wake up this morning and know that Michael Jordan and Larry Brown want him in their camp is something to certainly take the sting off from last night. Hopefully he will go in there with the right frame of mind and with an attitude to go earn it. I am excited for him and I certainly think he will make the most of it."
Longstreet said he heard that Collins' fluctuating weight — not ability — is what kept him off NBA teams' draft board. He's fluctuated between 207 and 229 the past month, checking in at a hefty 217 at the all-important NBA combine in Chicago.
"No NBA personnel (official) has said anything (negative) about his playing ability," Longstreet said.
Longstreet was asked if Collins can win the battle of the bulge, which will be pivotal in his standing a chance to make the Bobcats' roster.
"Sherron is the guy who will answer that question," Longstreet said. "He is not in high school any more. He is not in college any more. This is something he has to get better at."
Longstreet, who has yet to speak with Collins since the draft — "nobody has been able to get through to him," he said — said he would not bet against Collins.
"It's devastating to him. It had to be," Longstreet said. "To play four years in college and win a national championship, to see some of the guys who were drafted ... you can't tell me he's not one of top 60 players in America.
"I know this. If you challenge Sherron Collins or if he's out to prove something, he comes back strong. There's no doubt in my mind he is good enough to play in the NBA. If he fights like I know he can fight, he'll be on a team."
Longstreet said Collins can take solace in the fact one of his best friends, Crane graduate Will Bynum, also went undrafted, yet has been in the NBA the past two seasons.
"I really believe if you slide past 40 (in 60-pick draft) you are better off not getting drafted," Longstreet said. "You can pick the right team. You have to pick the right team because if you go to a camp and stay there until (late) October, you can't get cut and go work out somewhere else. At that point it's too late. I think he picked the right team."
More like this story on KUsports.com