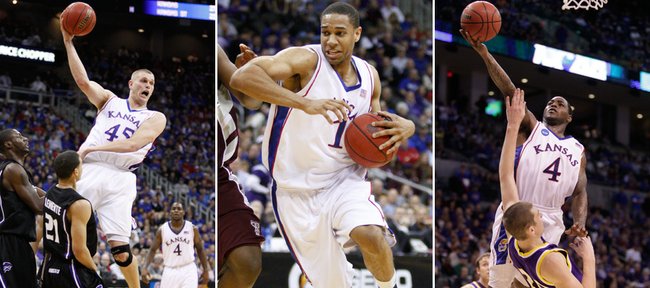 Now, more than ever, scouts who work for NBA teams wear a muzzle. That's why now, more than ever, Jim Clibanoff, an independent scout several NBA teams use, is a man in demand. He works without a gag order and has no agendas.
Clibanoff shared his thoughts Sunday night on the three Kansas University players and a few other Big 12 players eagerly awaiting the outcome of Thursday's NBA Draft.
Clibanoff said he thinks KU center Cole Aldrich could leave the board as early as No. 6, to Golden State, or as late as No. 14, to Houston.
"I personally wouldn't pick him that high," Clibanoff said from his Philadelphia home. "I'd take him somewhere in the 18-to-24 range. If someone puts him under a serious microscope, is he well-conditioned enough to play up-tempo? I watched him play against Temple, and he was the last guy up and down the court."
Any other concerns?
"He's not smooth, graceful or elegant with his finesse game, nor is he brawny or powerful enough as a power player," Clibanoff said. "He's somewhere in between. Usually, that's not a recipe to become an NBA starter. However, the NBA is a center-starved league, so depending on time and place, he could get a lot of minutes."
On the plus side, according to the operator of a scouting service known as Clib Hoops, Aldrich has proven he knows how to fit in with talented players and knows how to embrace his role.
"It's easy to like his game and really hard to love it," Clibanoff said.
He added that a former North Carolina center Brendan Haywood is as good a guess as any for what sort of a career Aldrich might have in the NBA. Haywood's career averages: 7.7 points, 6.4 rebounds and 1.5 blocks in 24.6 minutes per game.
Moving onto Xavier Henry, KU's only one-and-done player, Clibanoff voiced the opinion that if he had stayed in school longer and developed more scoring weapons, Henry could have worked his way to becoming something along the lines of a No. 6 pick.
"Because he didn't stay at Kansas longer, he didn't develop a versatile skill set," Clibanoff said. "He didn't show that off-the-dribble game. My concern is he might be a one-dimensional shooter. He does have that poise and NBA-readiness some players never will have."
Clibanoff said he expects Henry to be taken somewhere in the 12-to-20 range, which is higher than where he graded him. If Clibanoff were doing the picking, he said he'd have him going somewhere in the 18-to-26 range.
The scout said he would be surprised to see a third Kansas player chosen in the first round. He does like the chances of stocky 5-foot-11 point guard Sherron Collins going in the second round and earning a job.
"When it gets down to that last round of cuts, I'll put my money on tough guys who have that football mentality," Clibanoff said. "Character kept Jacque Vaughn in the game for many, many years. I think toughness is the ingredient that could keep Sherron in the NBA for a long career."
Collins, Clibanoff said, helped himself greatly by staying in school four years to polish his game and would be good fit for an up-tempo team.
More like this story on KUsports.com